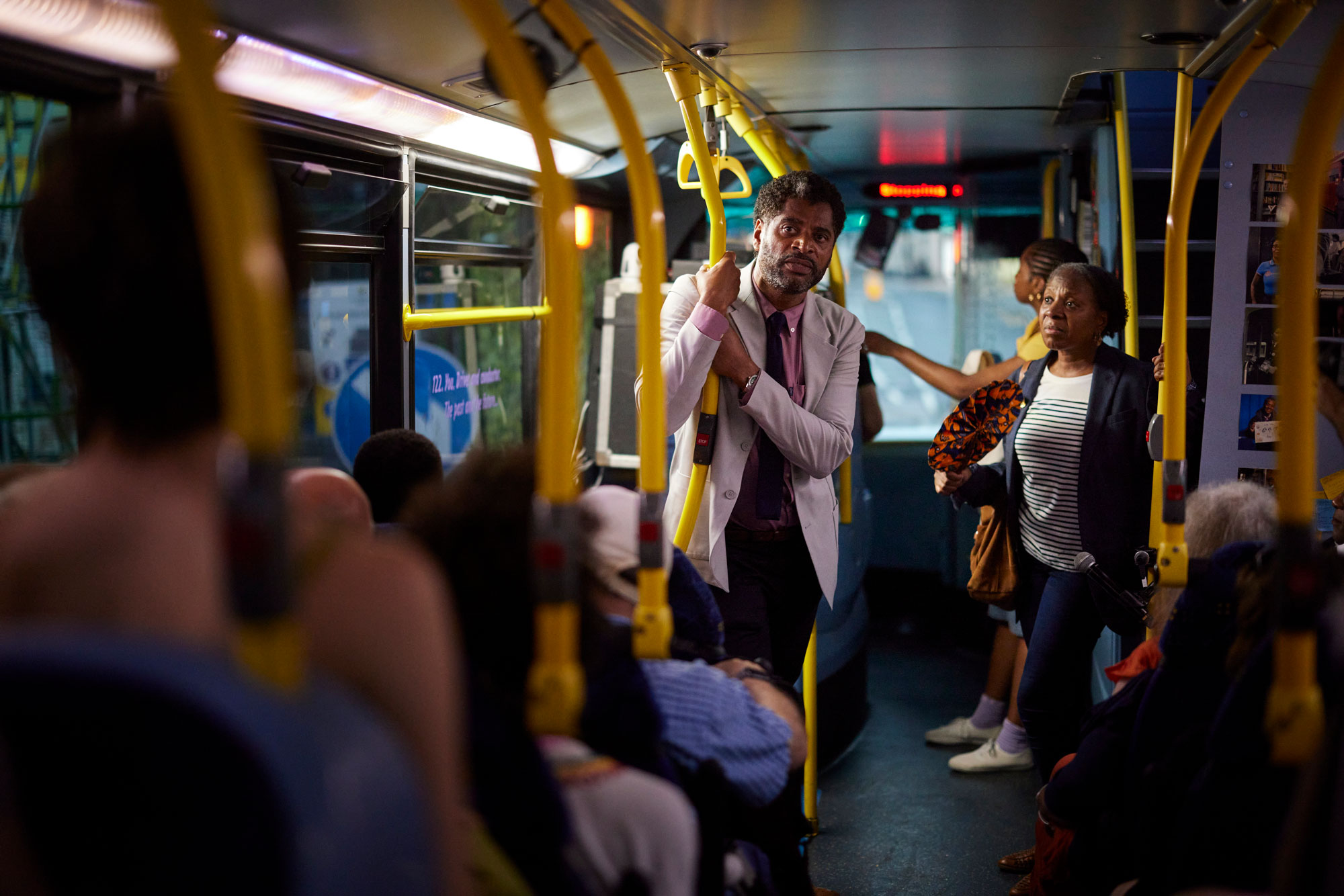 The Architect is a celebratory and stirring immersive theatrical experience, taking place entirely on a London bus. Commemorating the murder of teenager Stephen Lawrence 30 years on, and inspired by his ambition to become an architect, the show uses performance, music and spectacle to explore the lives of Black Londoners, imagining the potential of uninterrupted Black lives and the hopes, ambitions and dreams that accompany this. The lighting for this special project was designed by Chris McDonnell, who approached White Light, a d&b solutions company, to supply the lighting equipment.
Unlike more traditional pieces of theatre, The Architect sees its audience members board a London double-decker bus which then travels to different parts of the city, as well as back and forth through time. So how did Chris approach such a unique production? She explains: "Whilst this show is incredibly ambitious, I was actually given quite a practical brief. The priority was for the various sections of the bus along with the locations we visited to have enough light and coverage so that the audience could see the action as it took place across the ever-darkening evening. The various locations include the bus stop, Well Hall Road, General Gordon Square as well as the actual bus itself so we also had to ensure each location felt distinct. One of the biggest factors I knew I'd have to face was how I could practically light these various places; in regards to what fixtures would work, how these would be rigged and how we would be able to control them".
This was something Chris would discover following discussions with her fellow creative team as well as during the rehearsal process when the piece started to come to life. She comments: "For this show, it was that classic outdoor lighting issue of only being able to see your work once it got to dusk.  There was also the logistical issue of wanting to light several areas that are all about a half hour drive from each other, and figuring out how and when to set everything up. A lot of what we had to create was so different from the normal theatre lighting I have an instinct for that I wasn't sure how any of it would work until it was all actually in place. For example, at the starting bus stop, I was attaching lights to a park fence and didn't know how these would look until they were up and the performers were in place!
She adds: "I also had to take into consideration the fact that everything needed to be rigged outdoors, which meant a large emphasis on battery-powered equipment, as well as fixtures that could be easily set-up and packed away quickly after every performance".
It was during this time that Chris approached the WL Hire team to draw on the fixtures she requited. She explains: "To light the bus stop, I used the Astera AX3 little LED Spots. These are small and incredibly discrete so blended into the aesthetics. They are also magnetic which meant I could use the fence as a rigging position, as opposed to having to put up some truss which would be immediately noticeable and take the audience out of the immersive journey they're on. On the bus itself, we were limited to what we could use so settled on using the gel on the internal lighting, which allowed for more texture yet actually kept that authentic feel of travelling on the night bus. For the stage at General Gordon Square, I drew on some Chauvet IP65 rated kit; due to their reliability when used outdoors. This included the COLORado Panel Q40s along with the Ovation Profiles. Specifically, these were used to light a steel pan band on the outdoor stage, as well the final speech and final backdrop image".
Of course, a project as ambitious as this is not without its challenges. Chris comments: "As expected, we were given several safety parameters by the bus company, which, if broken, could have impacted on the company's license to operate buses in London. As such, these had to be respected and upheld by all of the creative team. One of these was no directional lighting on the bus, which obviously impacted my initial design. That said, and as I mentioned previously with the gel-usage, this actually helped us recreate the immersive atmosphere of being on a regular London bus – which was obviously one of the project's main aims".
The Architect ran last month to audience and critical acclaim, achieving a five-star Guardian review which labelled the show as a 'deeply moving ride'.
Andrew Smaje, Executive Director & Joint CEO of Actors Touring Company who produced the show, comments: "The Architect was an immensely complex project involving many moving parts – quite literally in terms of the London bus! – with indoor and outdoor sites, a range of public spaces, a variety of moving vehicles, and a large cast and crew. The response of audiences and participants has been so gratifying, and it's clear that the event meant a great deal to people. We're continuing to direct those interested in the project to discover more about Stephen Lawrence Day Foundation, a charity that stands against discrimination, working towards a more hopeful tomorrow."
Photo courtesy of David Levene.
Share this story