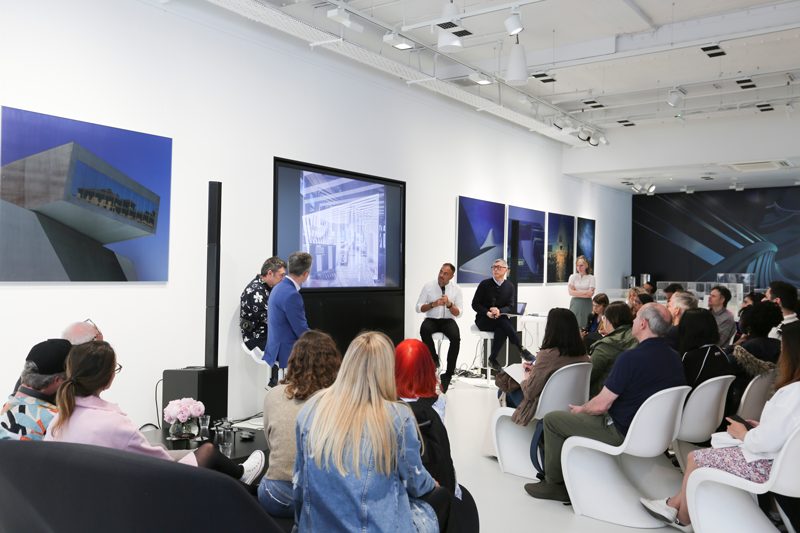 Last month ERCO Lighting and Zaha Hadid Architects announced a collaborative event between the two renowned design brands exclusively for Clerkenwell Design Week. The event ran from 23rd to the 25th May 2023, as a special exhibition which featured responsive lighting design with a bespoke material showcase and a series of inspiring talks from leading industry experts.
This collaborative event showcased the Zaha Hadid Architects and ERCO lighting approach to design within the Zaha Hadid Architects Gallery on Goswell Road – which has recently been illuminated by ERCO.
Zaha Hadid Architects (ZHA) redefined architecture for the 21st century with a repertoire of projects that have captured imaginations across the globe. One of the world's most consistently inventive architectural studios, ZHA marries advancements in design technologies with ecologically sound materials and sustainable construction practice.
ERCO is an international specialist in architectural lighting and the first established luminaire manufacturer with a portfolio based entirely on LED technology. ERCO Lighting UK, delivers innovative lighting solutions, integrating high-quality and efficient luminaires across the built environment. Working to create future-proof and sustainable solutions. ERCO understands the power of light within all applications and environments.
Post-Pandemic, Zaha Hadid Architects established work environments which promote individual and overall wellness, as well as adapt to a post-Covid future that requires new ways of working, reviewing their needs for space, layouts, fit-outs, systems, and operations in a responsive approach to the design. ERCO lighting were specified to illuminate the Goswell Road offices and bring the vision to life.
Building on their collaboration, ZHA and ERCO welcomed guests across the design industry to their exhibition during Clerkenwell Design Week that showcased lighting as an integral element of ZHA's architecture.
Part of this, was an evening event on Tuesday 23rd May, entitled Responsive Design for a Sustainable Future. The evening was dedicated to exploring the future of design, sustainability, and human-centric technology, within the workspace. This was a panel discussion with Jim Ashley-Down, Managing Director of ERCO UK & Ireland, Ulrich Blum, Senior Associate at Zaha Hadid Architects, Paul Traynor, Head of Light Bureau UK and Imogen Privett, Associate Director and Workplace Innovation at UnWork. The talk explored the future of workplace strategies and the user experience. Each expert brought their knowledge and experience from lighting design, manufacturing, architectural design to workplace innovation.
The panel discussed the important role lighting plays in employee experience to create sustainable and responsive spaces, which provide visual comfort and wellness. This holistic approach moves away from facility centric to people centric design, seeing buildings as experiences and not objects. The discussion evolved to the need for neurodivergent spaces, curating rooms which are easily adaptability and interchangeable giving the user control over their environment with Bluetooth control for temperature and lighting.
The workplace is evolving and there is a drive to personalise the workspace for occupants to create desirable office environments, which promote wellness, productivity, and creativity. Through the discussions, it was deemed imperative to incorporate responsive design and future-proof technology from the very beginning of projects, this approach should be built into the fabric of the design not added on at the end as an afterthought.
Additionally, the two brands hosted a lunchtime talk on Thursday 25th May, Illuminating Desire: Lighting for Retail & Exhibition Design. The talk was chaired by ZHA's Head of Interior Architecture, Kar Hwa-Ho, alongside Jim Ashley-Down, Managing Director of ERCO Lighting UK & Ireland, Gerardo Olvera, Design Director of Light.IQ and Giulio Antonutto, Associate Director at Arup.
The psychology of longing and wanting, attaining and then craving more, is to a greater or lesser extent, the starting point of the conceptual narrative for retail and exhibition design.
In addition to solving the functional requirements in a design brief, the esteemed panel discussed the need to address the experiential journey and how lighting can make this better. Drawing on their knowledge and experiences, the panel explained how to tell a story using light, what comes first the technical or experiential aspect of lighting and what tools can be used to create a mood and a desirable atmosphere.
Each panellist conveyed a considered approach to illuminating spaces, drawing on the iconic Richard Kelly principles of lighting design as well as drawing on the similarities between lighting artwork for a gallery and a product in retail. Light draws the gaze to textures, colours and forms in a space and enhances the way we perceive our environment, creating a visual experience.
The collaborative event between ERCO and ZHA, was truly inspiring and educational, championing the need for responsive design and future proofing client strategies.
Photography ©Luke Hayes.
Share this story