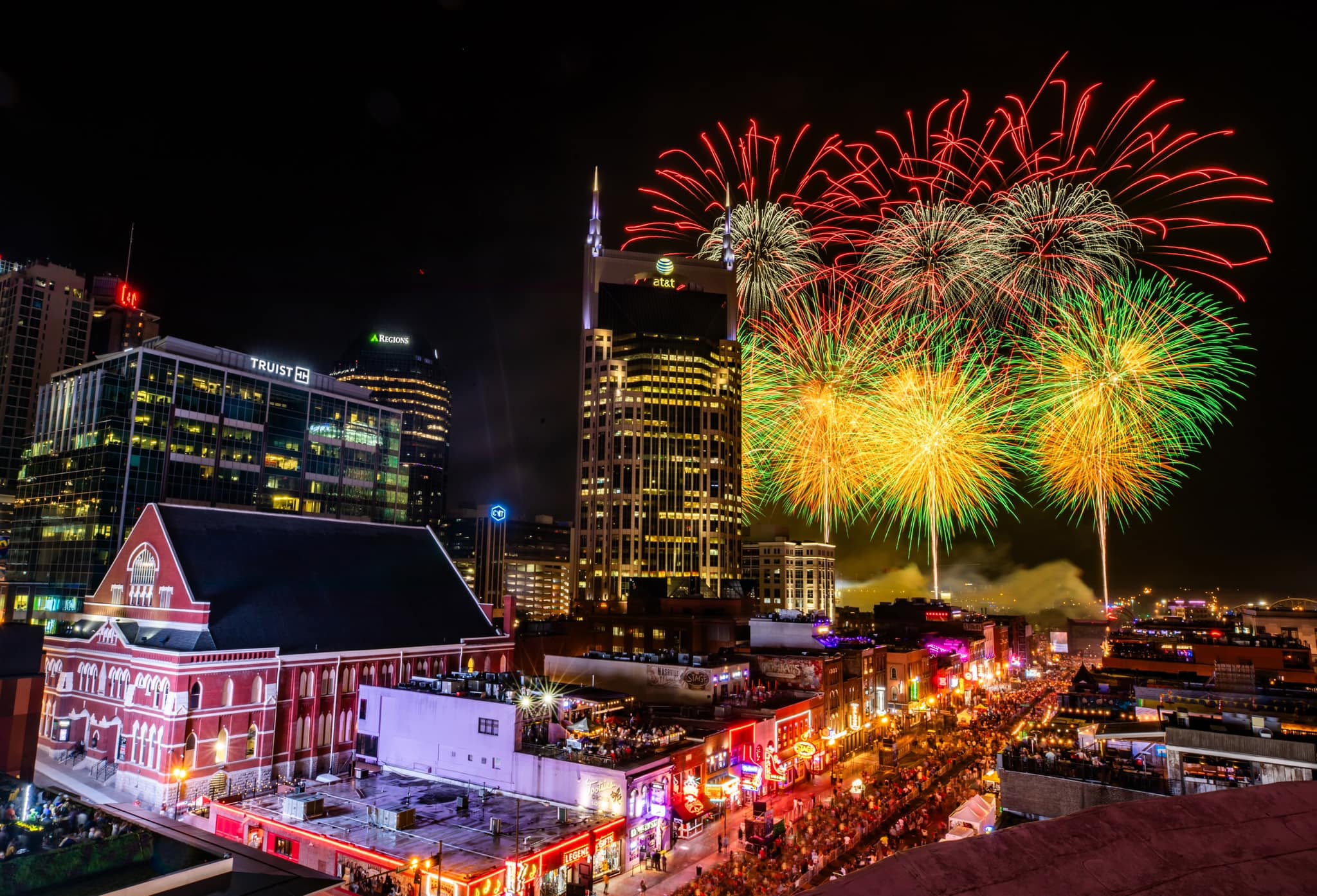 An estimated 250,000 people turned up for Nashville's Let Freedom Sing! 4th of July Celebration. Bandit Lites worked with Chris Lisle of Chris Lisle Lighting Design to provide the lighting for both The Jack Daniel's Broadway Stage as well as the Ascend Amphitheatre.
This year's featured headliner was country music superstar Brad Paisley with additional live performances from The War And Treaty, singer-songwriter Langhorne Slim, rising country artist, Tiera Kennedy, Nashville pop singer-songwriter Ben Recto and more.
"More than ever, we want to deliver a world-class concert and fireworks show to commemorate July 4th and give back to our community," said Butch Spyridon, President and CEO, Nashville Convention & Visitors Corp. "As well, our visitors have always supported us through challenges, and this is the perfect way to welcome them back and welcome live music back to Music City."
With performances beginning during the day, Bandit provided fixtures that would translate seamlessly from day to night. The Jack Daniel's Broadway Stage (with a lighting design by Dean Spurlock) utilized nearly 160 fixtures including Elation Proteus Rayzor 760 IP 65, Elation Smarty Hybrids, MAC Viper AirFX Profile, MAC Viper Profiles, Showline Nitro 510C and ROBE BFML Wash Beams.
Paisley performed his hits and new song "So Many Summers" during his more than 90-minute set. He also invited special guests Dan Tyminski, Jerry Douglas, Kelleigh Bannen and Joe Bonamassa to perform with him.
The Ascend Amphitheatre was outfitted with Chauvet Maverick MK3 Spots, Chauvet Strike 4, Elation Proteus Rayzor 760 IP 65 and GLP JDC1 LED Strobes. Attendees there were treated to a performance of the Nashville Symphony and a massive fireworks display, touted as one of the largest fireworks show in the country, with over 40,000 pounds of explosives and 200 miles of wire.
Jack Daniel's Broadway Stage Crew
Bandit Project Manager: Don Lockridge.
Bandit Crew: Cody Cheatham, Kris Naylor, Jemma Detwiler and Steve Strickland.
Ascend Amphitheater Crew
Bandit Project Manager: Matt Dean.
Bandit Crew: John Lucksinger, Scot Sepe and Bailey Titte.
Share this story