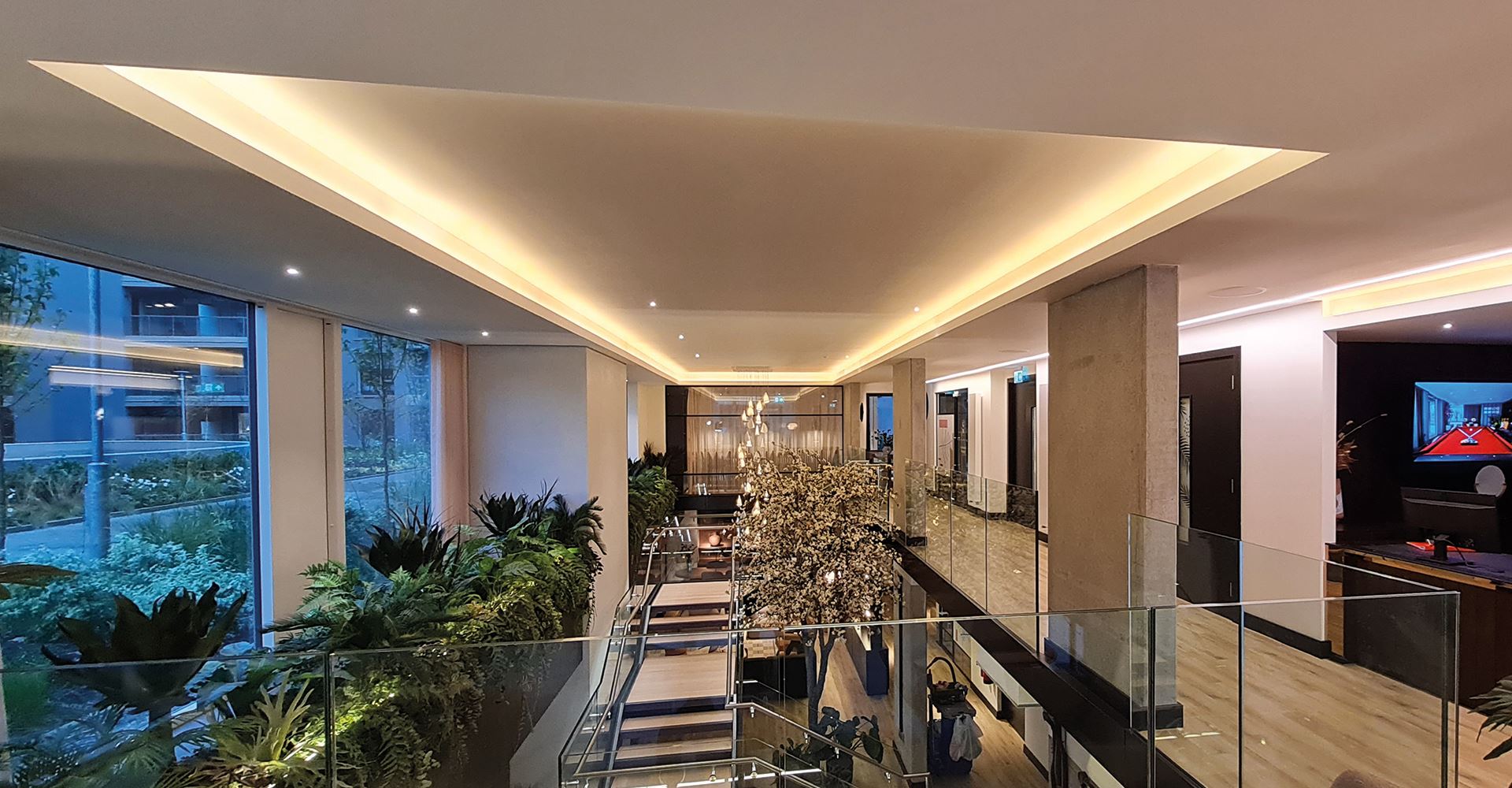 Located in the prestigious Griffith Avenue in Dublin, Griffith Wood is a luxury complex made up of modern apartments, meeting rooms, a gym, screening room, and other amenities for residents. The apartments are surrounded by greenery, where the vibrancy of city life meets the relaxed pace of the suburbs for the ultimate work-life balance.
Aurora Lighting's products were selected by Mac Electrical Armagh, to supply its vast range of super lighting products to create a modern yet luxurious environment for these elegant rental apartments.
The apartments are meticulously designed and furnished for modern living, with bright, high ceilings and large windows to allow natural light, and the lighting design needed to complement this and create light, open spaces with a warm ambience.
Aurora carried out a review of the project and provided samples for inspection and approval to ensure the best lighting solution was implemented to meet the client's brief.
A range of Aurora products were provided by wholesaler Electrical Equipment Belfast. These included the Linear Pac Non-corrosive in standard and emergency lighting, the Lumi-fit Commercial Downlights and emergency packs, and the Klay Up/Down External Wall Lights.
Aurora products were used throughout the apartments, stairwells, corridors, fire escapes, car parks, and in the two-storey basement spanning the length of the complex. Each balcony has its own Klay Up/Down lighting, and the brief requested the balcony lights to match the external cladding. Aurora provided a special RAL grey finish to the quantity required.
The fittings achieved the desired effect in each area of the complex, promoting luxury and comfort in the apartment buildings, a soft illumination on the balcony, and guiding residents through corridors and stairwells safely. The lighting reflects the aim of the complex, to promote a multi-functional yet luxury space.
"Aurora provided a wide range of quality products at a reasonable price that were suitable for each different area of the project, even going above and beyond to supply a custom colour finish for the balcony lighting to exceed the client's expectations. The end result is modern, luxurious, and matches the aesthetic that the client desired." Philip McBirney, Managing Director, Mac Electrical Armagh.
"We were thrilled to be part of this luxury development project, and we are delighted that the products selected are the perfect aesthetic for the space and have provided the client with the final result that they envisioned." Ed Denny, National Sales Manager, Aurora Lighting.
Share this story