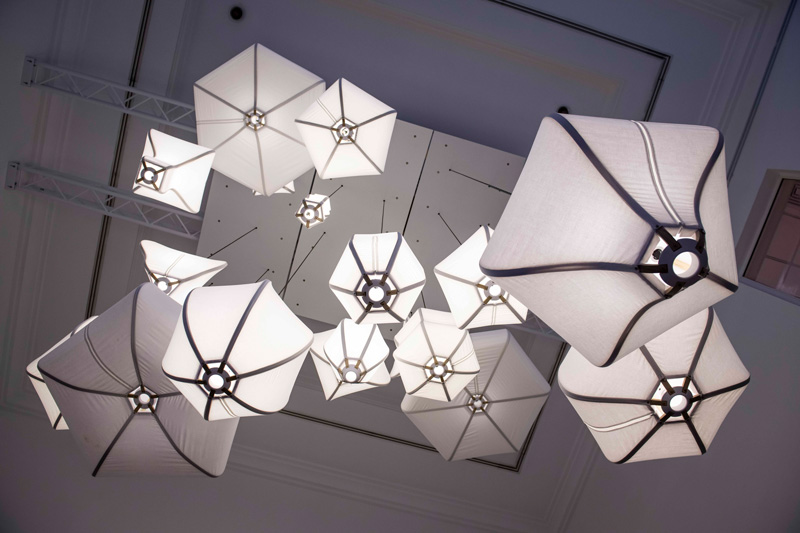 Students and faculty members from VCUarts Qatar MFA In Design Programme present Virga, a bespoke light installation built in collaboration with the teaching and fabrication facility Atelier La Juntana.
Inspired by virga cloud formations, each cloud form was designed by a separate participant in preparation for the wood bending workshop and making of the installation held at Atelier La Juntana. At the workshop, the participants explored the ancient process of steam bending, where wood was prepared and then heated in a steam chamber before shaping within digitally fabricated moulds to create the Virga frameworks. To complete the sculptures, techniques such as 3D printing, tailoring fabric to encase the frameworks and incorporating lighting solutions were also explored.
Supporting the project, Applelec Lighting worked closely with Atelier La Juntana and VCUarts Qatar to manufacture bespoke, architectural lighting solutions to bring illumination to the Virga installation. Created to precise requirements, the lighting solutions fitted neatly within the sculptural framework, where the bright illumination through the lamps' fabric diffuser obscures and scatters the light, resulting in the collection of softly glowing cloud forms.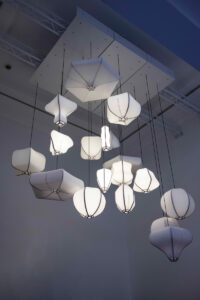 Armor Gutierrez Rivas founder of Atelier La Juntana said: "Applelec Lighting's innovation, craftsmanship, sustainability, and commitment to cutting-edge, versatile lighting serves as a constant source of inspiration for designers, encouraging us to explore new possibilities and elevating our designs. The use of their solutions, combined with crafted steam bent timbers resulted in a unique and inspiring installation."
Rab McClure, Director, MFA in Design, VCUarts Qatar said: "Achieving the right quality of light was key to the project's success and Applelec Lighting shared several lighting samples, allowing us to find the perfect solution. We later specified custom lamp lengths, which Applelec Lighting fabricated and delivered ahead of schedule. Producing atmospheric lighting, each lamp's power levels were controlled, gradually dimming and brightening across the installation, recalling the shifting light of a partly cloudy day."
Exhibited at the VCUart Qatar Gallery Doha, Virga is suspended from motorised pulleys and equipped with laser range finders, creating an interactive, kinetic installation that subtly rises and falls, dims and glows brighter in response to the passage of time and presence of gallery visitors.
Image credit: Raviv Cohen.
Share this story