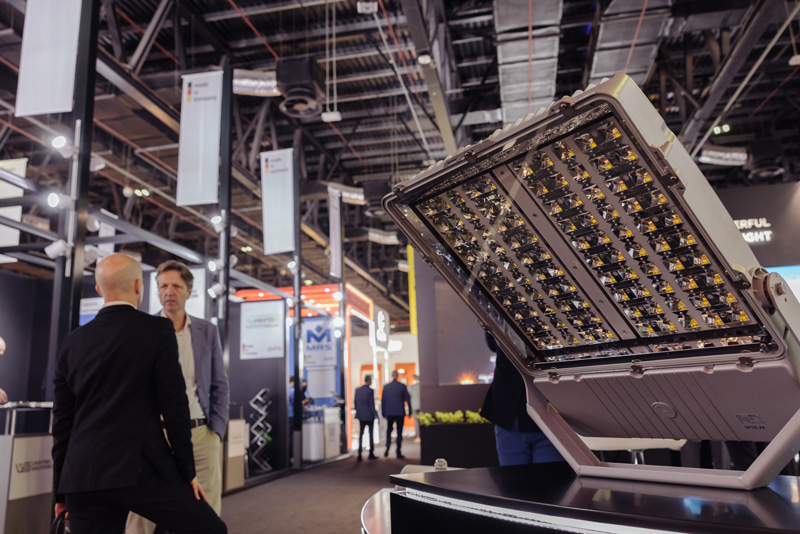 In the realm of innovation, where cutting-edge technologies and revolutionary solutions are paramount, few platforms shine as brightly as Light + Intelligent Building Middle East. The next edition of Light + Intelligent Building Middle East 2024, taking place from 16th – 18th January at Dubai World Trade Centre, will be an extraordinary showcase offering a panoramic view of the latest trends and breakthroughs in the industry, making it a must-attend for anyone looking to stay at the forefront of illumination and innovation.
Light + Intelligent Building Middle East 2024 is at the forefront of presenting the latest innovations in lighting, building automation, and intelligent systems. Held under the theme "Enlightened Futures: How Responsibility Will Guide the Future of Light and Buildings", it is more than just an exhibition; it is an immersive experience that brings visitors face to face with ground-breaking technologies and pioneering solutions that is set to reshape the industry and redefine the boundaries of possibilities. Walking through the showcases, attendees get the unique opportunity to experience the future, not just witness it.
Conference Streams: Illuminating Industry Insights
Light + Intelligent Building Middle East 2024 is not merely an exhibition but a comprehensive knowledge-sharing platform. The event offers a dynamic range of conference streams that bring together renowned experts, international thought leaders, and professionals from various sectors within the industry, creating unique platform for sharing insights and contributing to the collective knowledge of the industry.
A dedicated stream focusing on the future of lighting, THINKLIGHT explores innovative solutions and visionary ideas that are reshaping the lighting landscape. With a commitment to sustainable and energy-efficient practices, THINKLIGHT provides a forum for in-depth discussions and insights balancing between technical expertise and artistic vision that keep professionals at the cutting edge of the lighting industry. It's a platform for learning about the latest trends and innovations while delving into the possibilities of intelligent lighting systems.
The InSpotLight is a dynamic and cutting-edge open tech platform that takes centre stage within the exhibition facilitating the brightest minds and latest innovations in lighting, design, and technology. This is an exclusive space for experts to share their latest discoveries and big ideas striking a balance between tradition and innovation.
In an age where intelligent building systems are transforming the way we live and work, the Smart Building Summit is a pivotal forum for exploring the innovations that are empowering the buildings of the future. The summit focuses on how smart building technologies, data analytics, and intelligent systems are being deployed to optimize energy consumption, enhance occupant comfort, and promote sustainable practices.
These conference streams provide a wealth of knowledge and expertise, enabling attendees to gain valuable insights, learn about industry trends, and explore the future of lighting and intelligent building systems. The comprehensive range of topics covered in these streams reflects the dynamic nature of the industry and offers professionals a platform to expand their knowledge and network with like-minded individuals.
Networking That Fuels Growth: Building Connections
One of the core objectives of the exhibition is to facilitate valuable connections. Networking sessions are a central component of Light + Intelligent Building Middle East 2024, bringing together over 12,000 trade buyers and industry professionals to meet, network and engage with 350+ exhibitors. Whether you're in search of potential partners, clients, or collaborators, this is the platform to forge relationships that can drive your business to new heights.
Design Meets Technology: Inspiring Spaces
The aesthetics and practical application of intelligent lighting and building systems are seamlessly integrated at the exhibition. Architects, interior designers, and lighting specialists will be captivated by design installations that showcase the fusion of intelligent systems with modern architecture, enhancing the form and function of spaces. At the same time, industry giants and emerging innovators will present their latest creations, offering a first look at the technologies that will define the industry in the years to come. For those who want to stay ahead of industry trends, this is an unparalleled opportunity.
Global Reach: Connections Beyond Borders
This exhibition isn't confined to regional boundaries. It attracts professionals and businesses from around the world, creating a diverse and international environment. With visitors from over 95 countries attending the exhibition, this global reach opens doors to a world of opportunities, allowing attendees to explore new markets and forge connections on a global scale.
Recognizing Excellence: The Light Middle East Awards
Celebrating a decade of excellence in the lighting world, the Light Middle East Awards has achieved unparalleled popularity, commanding the attention of lighting professionals and enthusiasts worldwide.
Featuring a wide range of categories that includes product designs and innovation to outstanding projects the awards provide businesses and individuals with the recognition they deserve while setting new industry standards. This year being a milestone year, the Awards promises to be a spectacular event as the industry comes together to shine a spotlight on ground-breaking achievements and artistic brilliance that continue to shape the world of lighting not just within the region, but globally.
Tailored for Every Professional: Segment-specific Experiences
The exhibition is designed to cater to the unique needs of various industry segments. Whether you're involved in commercial real estate, hospitality, residential projects, or public infrastructure, you'll find tailored experiences that align with your specific objectives and challenges.
Light + Intelligent Building Middle East 2024 is poised to be an unforgettable journey into the future of lighting and intelligent building systems. The exhibition's array of features promises a transformative experience, igniting creativity, fostering collaboration, and driving the industry toward greater heights. As we prepare to immerse ourselves in this illuminating event, one thing is certain: the future of our industry is brighter than ever. Register here.
Image courtesy of Light + Intelligent Building Middle East.
Share this story