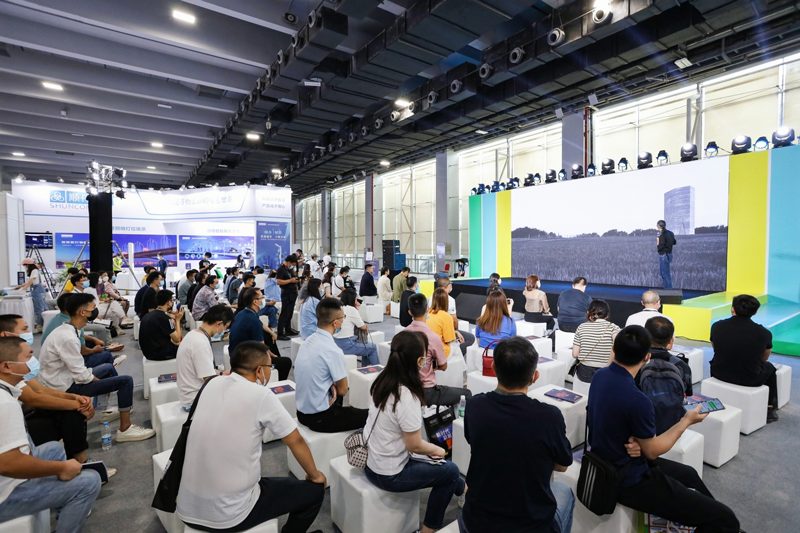 Under the theme "Light +", Guangzhou International Lighting Exhibition (GILE) will be held at the China Import and Export Fair Complex in halls A, B, and D from 9 to 12 June 2023 with over 2,600 exhibitors participating. The 28th edition will feature a variety of fringe events covering nine key areas of lighting, to encourage innovation and development, creating new opportunities for industry players.
The lighting industry in China continues to grow, while also shifting towards a higher quality of product. As customers increasingly show a preference towards personalised products, there is a growing need for customisability in the lighting sector.
GILE is committed to building a communication platform for the industry, promoting sales and business cooperation, as well as providing opportunities for cross-border exchanges and forward-thinking ideas. The aim is to encourage the industry to rethink how to encourage innovation, and further increase the quality of light.
Regarding the new developments in the industry, Ms Lucia Wong, General Manager of Messe Frankfurt (HK) Ltd said: "2023 is a new starting point for the lighting industry. New trends such as high-tech digital infrastructure, night economy, the in-house economy, carbon neutrality, and new energy will bring more opportunities. Industry players need to use new ways of thinking to design products, where lighting is no longer just about functional use, but acts as part of interconnected systems for different applications."
She continued: "Opportunities and challenges always coexist. Generation Z consumers are increasingly important and have quickly become a large portion of the lighting market. They pursue more immersive experiences, which brings new challenges to product design. The industry needs to have new designs for different applications, new technology such as Li-Fi, optical imaging, healthy lighting, interconnected solutions and more, as well as new marketing and sales channels to face new consumption patterns."
Establishing the "Light +" platform – fringe events covering nine major areas of the lighting industry
This year, GILE will be jointly providing the "Light +" platform with Guangzhou Alighting IoT & Technology Co Ltd, including fringe events aimed at promoting industry exchange and cooperation. The event will cover the following nine areas of the lighting industry:
Smart city: Smart street lighting and city construction
Topics of discussions will include municipal management, engineering design and construction, urban street lighting management, urban street lighting and landscape lighting solutions, the construction of city ecosystems, carbon pilot cities and urban digital transformation to create smart carbon neutral cities.
These topics will be explored through fringe events held in halls 10.2 and 19.1 such as "Multi-party dialogues of city construction ecosystem", "Light + Energy 'Carbon' Seeking the Future: Dual Carbon driving new energy lighting innovation conference", "New smart city lighting development forum under the 'Dual Carbon' strategy" as well as the "Smart city and street lighting industry innovation and development forum".
Architecture: Low carbon and healthy architecture lighting
Fields such as urban planning and management, architecture, civil engineering, lighting and interior design, and more will be covered. Discussions will focus on how digital and low carbon transformation will affect the construction industry.
Concurrent events to be held in hall 10.2 include "Light up the future, building, building healthy living spaces together".
Household and lifestyle lighting
This area covers home decoration, smart lighting, design, and more, with topics centring on smart home, the Metaverse and the move towards higher quality household lighting products.
Halls 9.2, 10.2 and 10.3 will host several events including the "Household design forum", "Mainless lighting innovation summit" and "Smart home sales and marketing discussion forum 2023", "Great house design – the prospect of new thinking, materials and technology", "Greater Bay Area habitat interior innovative technology forum 2023" and "Light + multi-variety household forum".
Elderly care lighting
This area targets elderly care institutions, medical service providers, lighting environment designers, architects and solution providers for the elderly, with fields of discussion such as how to design an elderly-friendly lighting environment.
The "Elderly care lighting environment summit 2023" and more concurrent events will be held in hall 9.2.
Lighting and interior design
Targeted towards property developers, hoteliers, retailers, caterers, architects, interior designers and lighting designers, this area will cover a variety of topics relating to lighting and hospitality. These include retail and catering, hotel and cultural tourism, shopping malls, urban renewal, transit-oriented development, the Metaverse of commercial spaces, new accommodation experiences, IP commercialisation as well as contextual commerce.
Concurrent events in halls 9.2 and 10.2 will include "Interior design and lighting art development forum 2023", "Smart lighting new application Forum, "Design Forum – Inspiration: is design an art or technique?"
Educational lighting
Covering various applications in the educational system, this area targets school owners and lighting solution providers, highlighting visual medicine, psychological medicine, spatial design, lighting design, digital education integration, smart campus integration and more. Talking points will include the integration of education, space and curriculum, open and multifunctional educational spaces, combining the lighting environment, multimedia and digital learning for smart education, the effects of the lighting environment on teenagers' eyesight and mental health, among other topics.
Concurrent events in hall 10.3 will include "Quality of light forum 2023"
Horticultural lighting
Tailored to academics and material solution providers, this area will explore horticultural applications, import and export within supply chains, and the lighting spectrum. Discussions will focus on photovoltaic agriculture and healthy lighting, how smart agriculture is changing the future of food, breeding lights and aquarium lighting, vegetable cultivation, medicinal drug cultivation, laboratory cultivation of rare species and more.
Concurrent events in hall 2.1 will include the "2023 international forum on bio-optics and smart agriculture industry" and more.
Cultural tourism lighting
Target audiences include urban tourism, culture and promotion related government authorities, tourism planning researchers, tour operators, scenic spot and commercial property owners, directors, artists, lighting designers, animation programmers, cultural IP, solution providers, engineering companies and construction contractors. The discourse will centre on digital cultural tourism projects including performances, cultural heritage tours, and immersive experiences, exploiting cultural IPs to become cultural tourism projects, Metaverse events such as AR light shows and more.
Concurrent events in hall 4.1 will include "New cultural tourism and night tourism high-quality innovation conference" among others.
Sports venue design and lighting
This area will target sports and culture-related government authorities, venue owners, sports-related properties, architectural firms, lighting designers, directors, solution providers and construction contractors. Topics will include building embedded sports venue facilities, smart stadiums, "Sports+" complexes, opening and closing performances for major events and venues that match with lighting from the landscape and landmarks.
Concurrent events in hall 4.1 will include "China smart stadium lighting summit 2023".
Other events include "Smart lighting ecosystem conference", "PLC smart lighting cross-industry forum", "Alighting award ceremony" and more.
Guangzhou International Lighting Exhibition and Guangzhou Electrical Building Technology will be held from 9 – 12 June 2023. Both shows are part of Messe Frankfurt's Light + Building Technology fairs headed by the biennial Light + Building event. The next edition will be held from 3 – 8 March 2024 in Frankfurt, Germany.
Messe Frankfurt organises several trade fairs for the light and building technology sectors in Asia, including Shanghai Intelligent Building Technology, Shanghai Smart Home Technology and Parking China. The company's lighting and building technology trade fairs also cover the markets in Argentina, India, Thailand and the UAE.
For more information on Light + Building shows worldwide, please visit http://www.brand.light-building.com.
Share this story