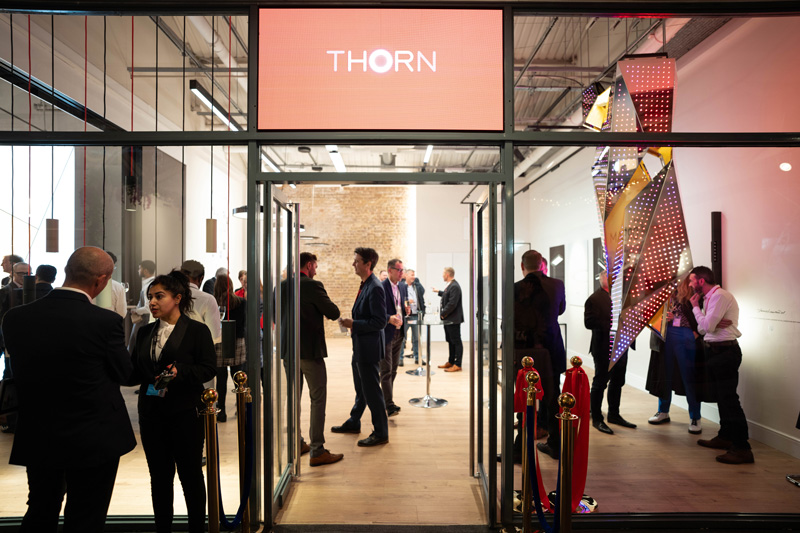 On Thursday 9th November 2023, Zumtobel Group inaugurated its new London Light Centre at the esteemed Business Design Centre. The exclusive private view event welcomed 50 VIP clients, marking a significant milestone for the company.
Tom Lobak, Regional Director for London Specification at Zumtobel Group, kicked off the evening with a warm welcome, setting the stage for an unforgettable experience. The highlight of the event was the ribbon-cutting ceremony by Karin Zumtobel-Chammah, Chairwoman of Zumtobel Group, Mr. Alfred Felder, CEO of Zumtobel Group, and Jack Pringle, Founder of Studio Pringle and Chairman of the RIBA Board of Trustees.
"We were honoured to host our distinguished guests at the first event in our London Light Centre," said Tom Lobak. "This marks the beginning of a new era for Zumtobel Group, and we are excited to showcase our commitment to sustainability and quality design through our Light Centre."
The event featured insightful and thought-provoking talks from Jack Pringle, Dr Shelley James, Light and Health Consultant and Founder of the Age of Light Innovations, Yorgo Lykouria, Founder and Creative Principal of Rainlight Studio and designer of the Group's elegant and innovative AMBITUS luminaire and Julia Loughnane, Director of Architecture and Design London at David Chipperfield Architects.
"We are thrilled to have had such distinguished speakers join us for this momentous occasion as we previewed our new London home," commented Paul Kilburn, Managing Director UK and Ireland at Zumtobel Group. "It was wonderful to hear our guests say how wowed they were with the Light Centre and by our speakers' insights, which added immense value to the evening."
Commenting on the evening, Karin Zumtobel-Chammah, expressed "I am delighted to be here tonight and really impressed by the new Light Centre. It is exactly what we needed to be able to demonstrate our innovations to the design community and to enter into dialogue, to create even better lighting solutions for our clients.
One of the guests remarked that the Business Design Centre is the 'Harley Street of Design,' emphasising the prominence and location of the new London Light Centre.
Looking ahead, Zumtobel Group is eager for the upcoming official opening on 21st November 2023, in collaboration with the LiGHT 23 Exhibition, where the Thorn and Zumtobel brands will be showcased. The company anticipates a series of exciting events in its new studio, reflecting the spirit of innovation and creativity that defines Zumtobel Group. Find out more about the new Light Centre here > https://z.lighting/en/group/news-insights/zumtobel-group-opening-new-london-light-centre/ or drop in to experience it for yourself, if you are attending LiGHT 23.
Share this story