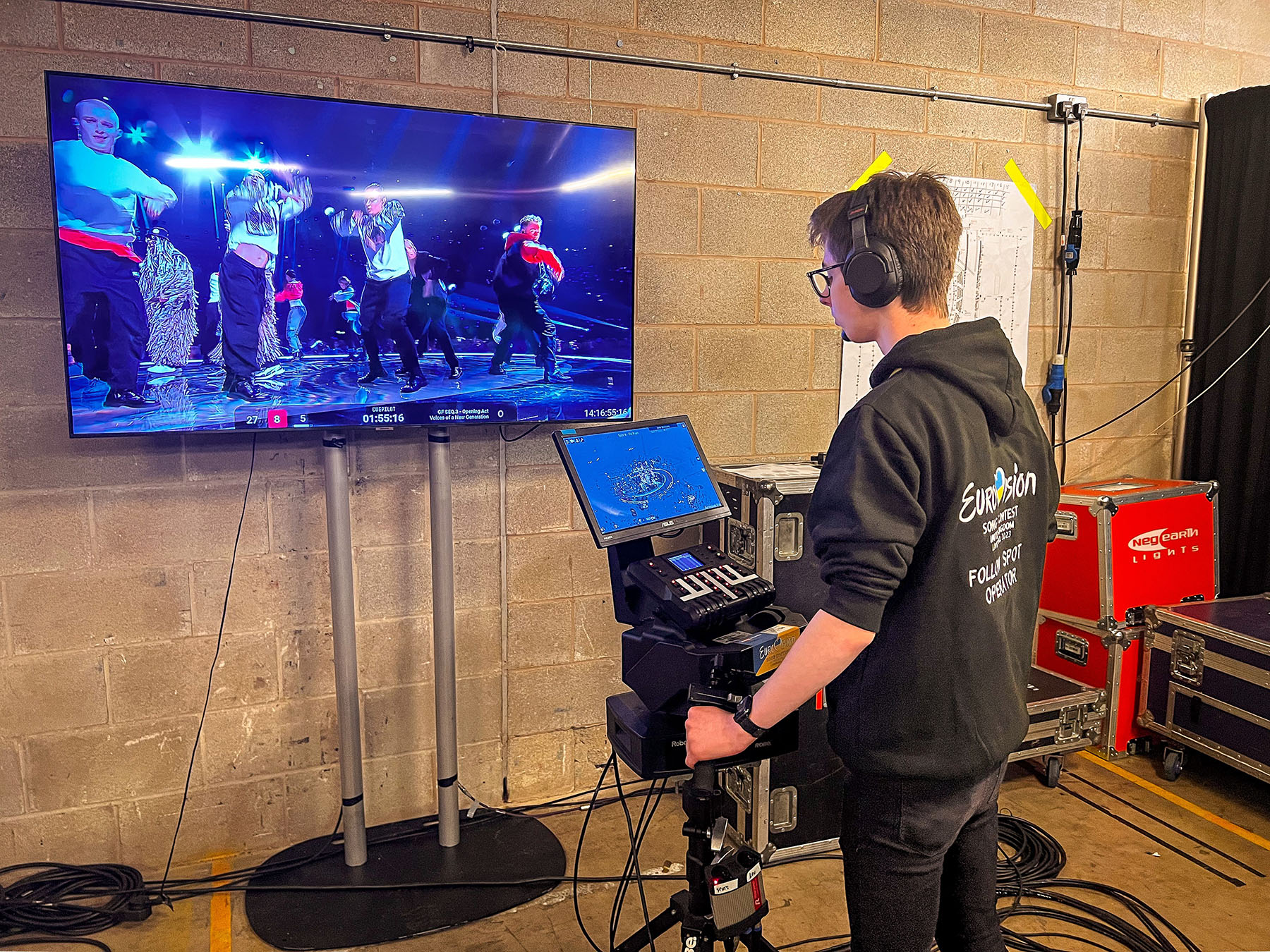 Five NRG members had the time of their life at this years' Eurovision as RoboSpot operators.
NRG Manager Jane Monk said: "Lighting designer Tim Routledge created this exclusive opportunity for local students to get involved. Working together, both LIPA and Cheshire colleges hosted NRG Introduction to RoboSpot training days – keeping the reason a secret!"
After weeks of rehearsals and meeting the King, each student took control of a RoboSpot and played an integral role in the team of 15 RoboSpot operators. A once-in-a-life-time opportunity that accumulated in a spectacular grand final featuring over 635 Robe lighting fixtures.
Lighting designer Tim Routledge said: "From my initial conversations with the BBC about taking this project on I wanted it to be as diverse a team as possible and to leave a legacy in Liverpool so that the money spent there gave local people opportunities for the future – this was the cornerstone of what we wanted to achieve. I reached out to Robe NRG who I have a close association with and they jumped on board to help us deliver those possibilities. I met some superb students at both colleges and to be honest I could have taken way more than the 7 students I had space for with the great choice available. The students that came to join us, grabbed this opportunity with both hands and gave it their all with enthusiasm, professionalism and a want to deliver a great project – they shone and were integral members of the team – this was no normal student placement. To see them all grown in confidence and be part of the team was one of the true highlights of the project and we will be seeing much more of this team in the future I am sure."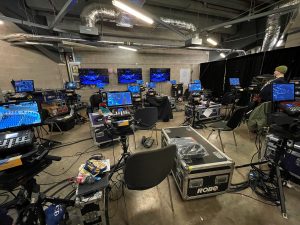 NRG students were LIPA's Adannae Okeke, Lilac Lovett and Peter Bird – and Cheshire's Megan Parry and Ben Ashfield.
Adannae Okeke: "This has been an amazing, once in a lifetime opportunity. Not only have I been able to work alongside one of the world's greatest lighting designers, but I also got the privilege to meet King Charles and Queen Camilla. It can only go up from this moment forward. Being surrounded by some of the best creatives, BAFTA, Emmy, and Grammy winners I've been able to immerse myself into this crazy world. So happy that I can say I was a part of this wonderful experience. Eurovision 2023 has been incredible."
Ben Ashfield: "My experience here has been amazing working with so many great people who have taught me so much getting chosen by Tim that day of training was truly life changing and given me so much inspiration and confidence for my future and I've had the best 3 weeks working on the biggest tv show in all of Europe!"
Peter Bird: "A big thank you to Tim Routledge, it's thanks to him that this opportunity has been made available. It's great to see lighting designers wanting to give knowledge and experience to the next generation of technicians and designers and amazing to see Robe NRG helping to facilitate this. Eurovision has some of the industry's most talented crew members, and I feel I have learnt so much through the chance to work alongside them."
Next Robe Generation (NRG) is a networking community for all lighting students pursuing a career in the entertainment lighting world. If you are over 18 years old, in full-time education and studying a relevant lighting course joining NRG is for you!
Photographs: Courtesy Robe UK and the students.
Share this story