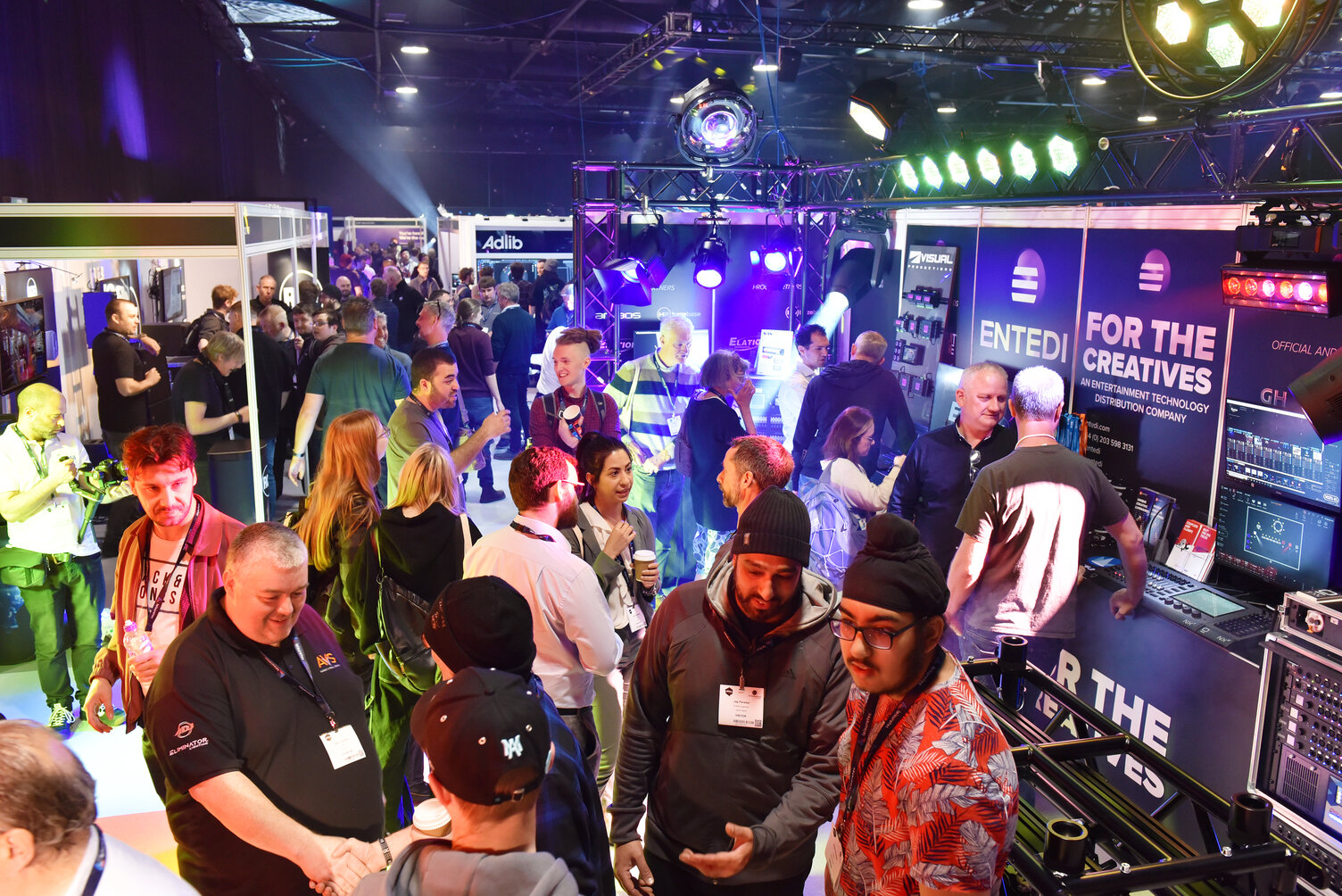 With record attendance, PLASA Focus Leeds 2023 proved itself yet again as the go-to trade event for the UK entertainment technology industry as it returned to Royal Armouries from 9th – 10th May.
This year's show saw a strong 20 percent increase in attendance from 2022 and a 5 percent increase from 2019, confirming the increasing importance of in-person connections. Furthermore, this year saw a 18 percent increase in students – a promising sign for the long-term prospects of the live sector.
Always popular for its inclusive layout and friendly atmosphere, PLASA Focus Leeds welcomed a diverse and powerful array of visitors: 1 in 5 were business directors or owners, and the following most common professions were engineers, technicians and programmers. Moreover, a third were final decision makers.
Tony Torlini, General Manager for Optikinetics Ltd, comments, "PLASA Focus Leeds was a great success…Attendees from diverse backgrounds and experience levels – including seasoned professionals and those contemplating a career in entertainment tech – contributed to the event's buzz. We are proud to have been a part of this vibrant and dynamic industry event."
Matt Wiseman, Sales and Brand Manager for MDG FOG UK, adds, "We've always found PLASA Focus Leeds to be very welcoming and productive. There's not a show gone by that has not yielded opportunity…PLASA Leeds show has played its part to our increasing success."
Big brands and new products
The two show halls were brimming with business, with many of the industry's biggest names side by side, including headline sponsor Ambersphere who debuted Ayrton's Zonda 3FX, Astera's RuntimeExtender, and Zacktrack's mini system.
Other new products included the Funktion one F1201.2, EM Acoustics R5, Martin Audio FlexPoint and TORUS, and NEXO ePS; Avolites T3 console and TLS Lighting PixNet Pixel controller; as well as a range of lighting fixtures from the likes of ETC, Highlite International, Prolight Concepts, Robe, and Tech LED.
Bernie Marsh, Business Development Manager for Prolight Concepts (UK) Ltd, comments, "It's always a pleasure to exhibit at PLASA Focus Leeds, and this year's show was a resounding success. The atmosphere is such a positive one, with current and new customers along with industry friends all coming together to network."
Immersive content
Alongside the show halls, visitors got stuck into lighting training, courtesy of ChamSys, who ran back-to-back sessions throughout the show. Elsewhere, audio enthusiasts soaked up the sounds of KV2 Audio and checked out the brand new ESR 106 and ESD 8.
Tyler Lloyd, UK Business Development Manager for ChamSys, adds, "PLASA Focus Leeds remains one of my favourite shows…Everyone I saw at the show had serious intent and came with a clear objective. The combination of our stand and training room made the perfect environment for all visitors!"
Programme of timely topics
Technical and creative thought-leaders from across the live sector hosted talks and panels at PLASA Focus Leeds. Popular sessions included Lasers as Light with Durham Marenghi, The Light Path Towards Sustainability with White Light, and Production Design for Sky Sports Boxing with programme sponsors Vectorworks.
Chartered Engineering Consultant James Eade also ran two popular sessions on BS7909 and PAT and ET testing. He comments, "I really enjoyed the opportunity to chat to people at the show and I was delighted that we had good audiences at both my seminars. It was fortunate that my equipment testing session was the last on Wednesday as the Q&A overran by half an hour!"
Connections and support for the industry
The courtyard between the two show halls was buzzing this year, courtesy of the all-new 'Bug Club' – an eco-friendly mobile DJ booth kitted out with Martin Audio – the show was also blessed with plenty of Spring sunshine (and the occasional shower on day two!)
James King from Martin Audio, comments, "We were delighted to return to PLASA Focus Leeds. The show itself was well attended with quality visitors and we were busy throughout…The addition of our eco-friendly Unplugged Bug was a great success, entertaining visitors in the courtyard, playing music solidly for over seven hours a day and all powered by renewables."
Not only that, there were plenty of social get-togethers, including the NRAG session for riggers and the official exhibitor afterparty in the vibrant city centre.
Sean Pagel, Director of Production Services Ireland and Chair of NRAG, adds, "It was great to be able to have a forum for delegates to raise questions in person and get the latest updates from members of the NRAG."
Furthermore, this year's show saw the introduction of the EventWell Hub which provided a quiet room and safe space for people who wanted time out from the action or needed support for something more serious.
Save the date for Leeds 2024
With the entertainment industry changing at warp speed, PLASA Focus Leeds has already made plans to return to Royal Armouries from 14-15 May 2024. The agenda will look closely at emerging trends and remaining challenges facing the live sector.
Aaron Whiley, New Business Team Manager for Current RMS, comments, "PLASA events are the first ones we put in our calendar every year. PLASA Focus Leeds is brilliantly organised and it's an amazing opportunity to meet new business prospects and catch up with existing customers."
Dave Humphrys, CEO of Interspace Industries, adds, "PLASA Focus Leeds for me is all about meeting people – old friends and colleagues and making a lot of new ones – I think this was the best year yet."
Sophie Atkinson, Head of Events for PLASA, concludes, "Not only was the turnout for PLASA Focus Leeds fantastic, the atmosphere and friendliness was above and beyond. Everyone was unified over the big issues facing the industry, with a sense of confidence for the future. The PLASA team and I look forward to seeing you all again next year!"
PLASA Focus Leeds returns to the Royal Armouries from 14-15 May 2024. You can sign up for email alerts via the website: www.plasaleeds.com
Share this story