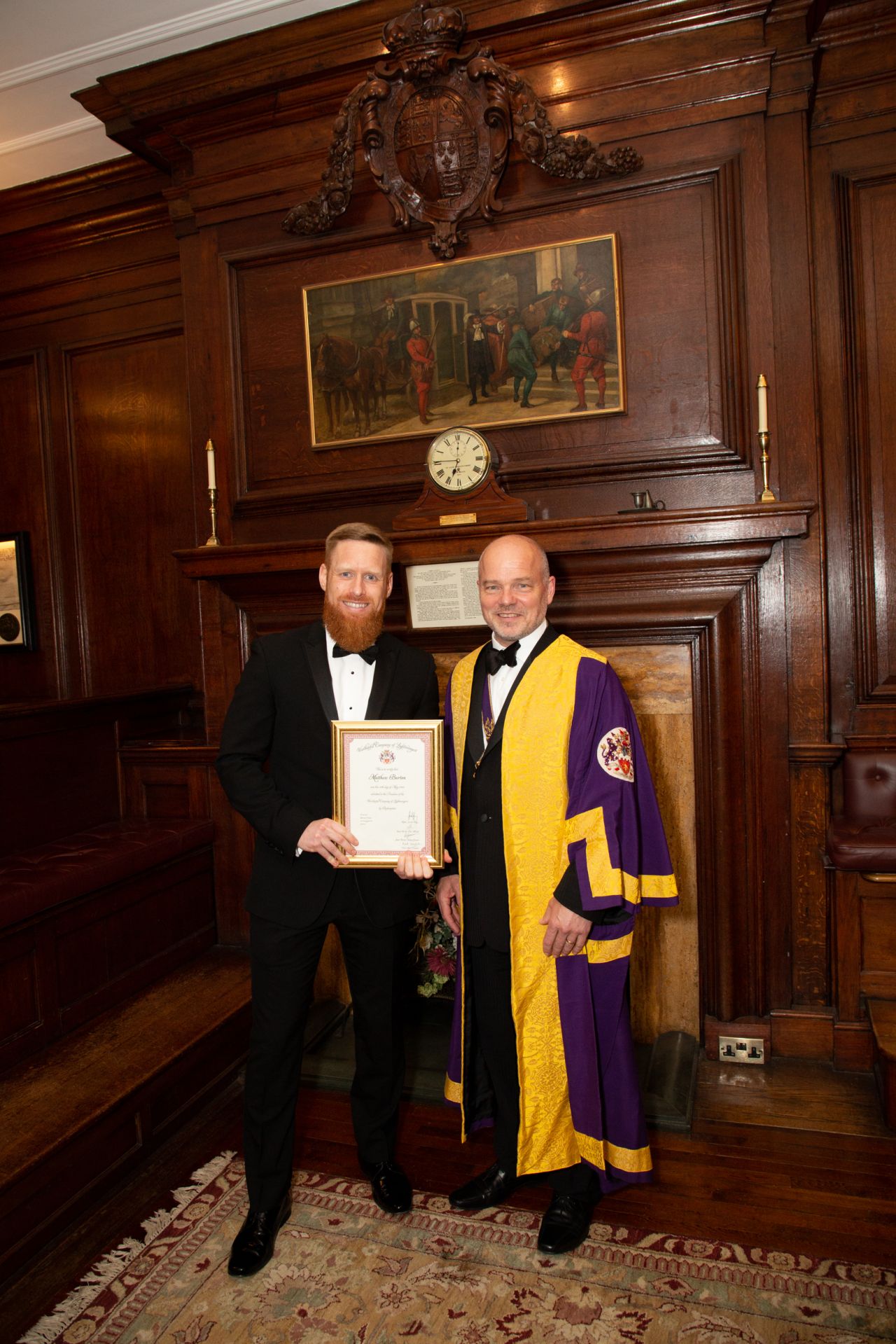 Aurora Lighting's Commercial Director, Matt Burton, has added a new credential to his lighting industry CV, having become a Freeman in The Worshipful Company of Lightmongers.
The Worshipful Company of Lightmongers is a modern Livery company, representing all disciplines of the lighting and electrical industry. Members span sectors including manufacturing, electrical contracts, lighting designers and architects.
To become a Lightmonger, individuals must be invited and sponsored by existing members. This can only take place at a time when there are spaces within the company's capacity, which is currently 240 members.
Having worked in the lighting and electrical industry since leaving school, Matt was an ideal representative to be nominated to join the Lightmongers. With a career that began as a warehouse operator, before moving on to sales, marketing and commercial leadership roles, Matt brings a wide range of industry experience and expertise.
Matt's invitation was also based on his demonstrable care for lighting and the industry, as well as his desire to get more involved in driving the sector forward.
After an initial group meeting, prospective members are interviewed by three council members. This explores the individual's industry experience, and motivations for joining.
For Matt, his main motivation was hearing about the array of opportunities to support the Lightmongers' charity initiatives. This includes their significant level of assistance to the Mary Hare School and New College Worcester, which are educational establishments for deaf and blind pupils, respectively.
The Lightmongers are also large contributors to the work of naval and cadet groups, which Matt is keen to play a part in.
Once the interview has been successfully completed, new members are fully inducted with a ceremony and the taking of an oath.
Speaking of his membership, Matt said: "The lighting industry has always been close to my heart, and I thoroughly enjoy working in this sector. Good lighting, in particular environmentally conscious lighting, is really important to me."
"By joining the Lightmongers, I'm looking forward to connecting with other members of the lighting sector, contributing with fresh ideas and joining forces to support some important and life changing causes. This compliments the charity work Aurora Lighting is already involved in, which we are building on further."
Matt is also keen to broaden his knowledge base, gaining insights and new ideas that he can take back into his role at Aurora Lighting. He can also explore new partnerships for Aurora; looking for ways to get involved in different initiatives with an overarching aim of improving the quality of lighting and people's lives.
This will have a particular focus on sustainability and environmental issues, which is a key goal for Aurora Lighting.
Matt added: "Now is a pivotal time for the lighting industry, as we grapple with the cost-of-living crisis and the growing demand for energy efficiency. It's crucial that all of the lighting community work together in partnership for a common goal; to provide the best quality of light in all sectors of the industry, while ensuring our standards are maintained."
Share this story