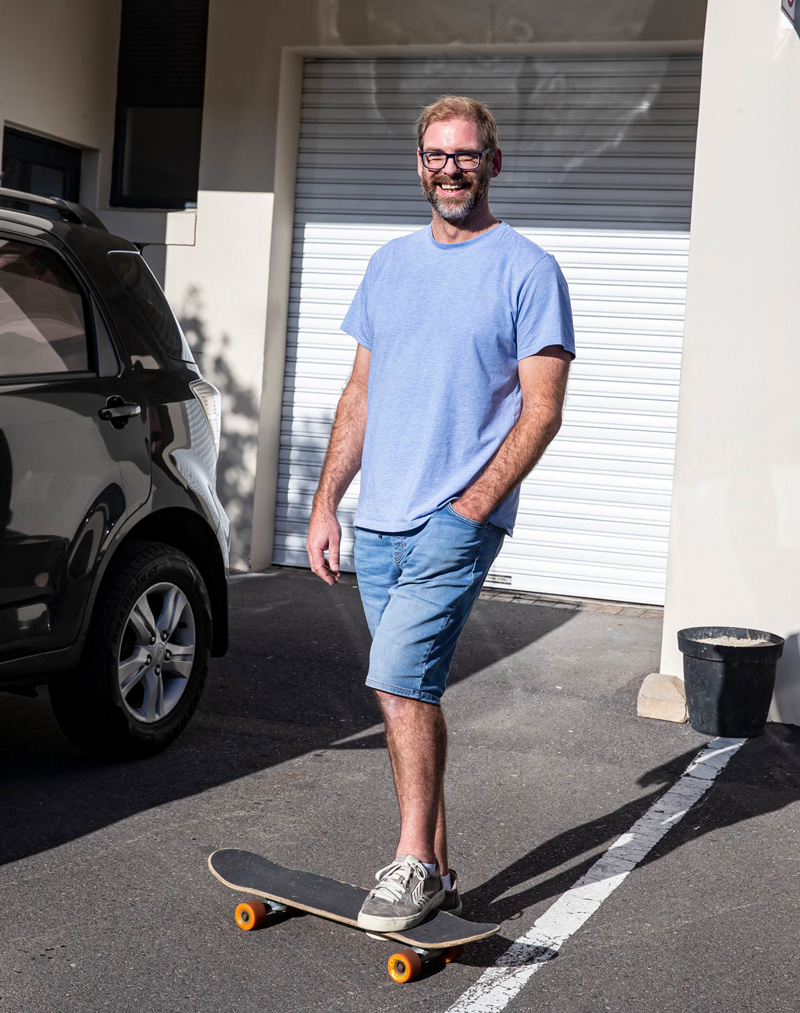 Peter Lambert owns and runs a busy independent medium-sized camera and lighting system rental company based in Cape Town, South Africa whose clients work across a broad spectrum of broadcast and film/recording sectors including music videos, commercials, and streaming events. They also have a healthy cross rental business.
Three years ago, Peter started investing in Astera with the purchase of Titan Tubes, and since then demand continues to outstrip supply resulting in further purchases of Titans and Helios Tubes which have kept flowing steadily and now also include several sets of NYX Bulbs and Hydra Panels.
"I absolutely can't get enough of the Astera kit," declared Peter, who started the company in 2016.
The first Astera's joined in 2020, supplied by South African distributor DWR, and Peter now has 10 sets of the 4ft Titan Tubes and two of the 2ft Helios Tubes – all powered by Astera's award-winning Titan LED engine.
That first purchase was fuelled by gaffers, DoPs and directors constantly asking for them, elucidated Peter. "We soon realised we were on to something amazing," after which they scaled up the stock as quickly as was possible, and the demand continues!
Some of the Titans have been on long term rental, including one that stretched to a year explained Peter citing the "fantastic" return on investment together with the "outstanding support"" from DWR as two major reasons why they are delighted with their choice.
Talking about the fixtures themselves, Peter notes that they are "extremely well thought-out as a rental product," with all the accessories like clamps, feet, and hanging loops that are invaluable on any set.
He likes the "rental friendly" case along with the quality of the light output, noting the robust build and rain resistance which are vital for survival in the harsh world of rentals and especially in South Africa!
He thinks the Astera brand is generally "highly innovative" in its approach to product development, commenting that while others have tried to emulate with ersatz imitations, none has come close to the real thing!
He thinks the inbuilt Bluetooth with the latest fixtures is invaluable, making control from a cell phone super-easy. "Apart from building superlative products, they have made these fixtures affordable and accessible," commented Peter.
The expedient 2ft length of the Helios Tubes means they can be concealed in all sorts of places like shelves and desks, car interiors, etc, and programmable run time is an essential feature enabling the intensity to be optimised and maintained over a specified period or the duration of the shoot.
He recalls seeing many excellent examples of his Astera Tubes in action including illumination of the whole of Cape Town's famous Foreshore Freeway Bridge for a major car shoot. This famous incomplete section of highway dates to the 1970s and was once intended to be the Eastern Boulevard in the city bowl. Construction halted in 1977, and since then the landmark has stood unfinished and become a tourist attraction and a popular location for movies and fashion shoots!
Peter is one of Astera's most enthusiastic advocates in South Africa and according to DWR's very recent sales figures – their biggest Astera customer!
He started the company during the quality DSLR revolution, soon followed by a similar trend for smaller mirrorless and wireless units as the independent and creative DIY movie / recording scene exploded.
Finding a niche as production costs plummeted and camera systems became ever more flexible and accessible, his business has flourished ever since as a go-to specialist for medium-sized cameras, lensing, wireless video … anything that section of the film industry needs.
People working with this camera kit then started requesting lighting. He recalls initially hearing gaffers talking about Astera being 'The Next Big Thing,' took this onboard and started looking into the brand, and around that time, DWR took on the distribution.
Being a small set up, agile and owner-managed and with a good ear-to-the-ground allows Peter and his team to respond quickly to trends, a strategy that has opened doors and enabled them to make inroads, and his business is thriving.
"The demand for these fixtures just never abates," he concludes, adding that out of all the lighting products they deal with, Asteras also have the bonus of looking great when in shot, either foreground or background!
Photo of Peter Lambert taken by Louise Stickland.
Share this story