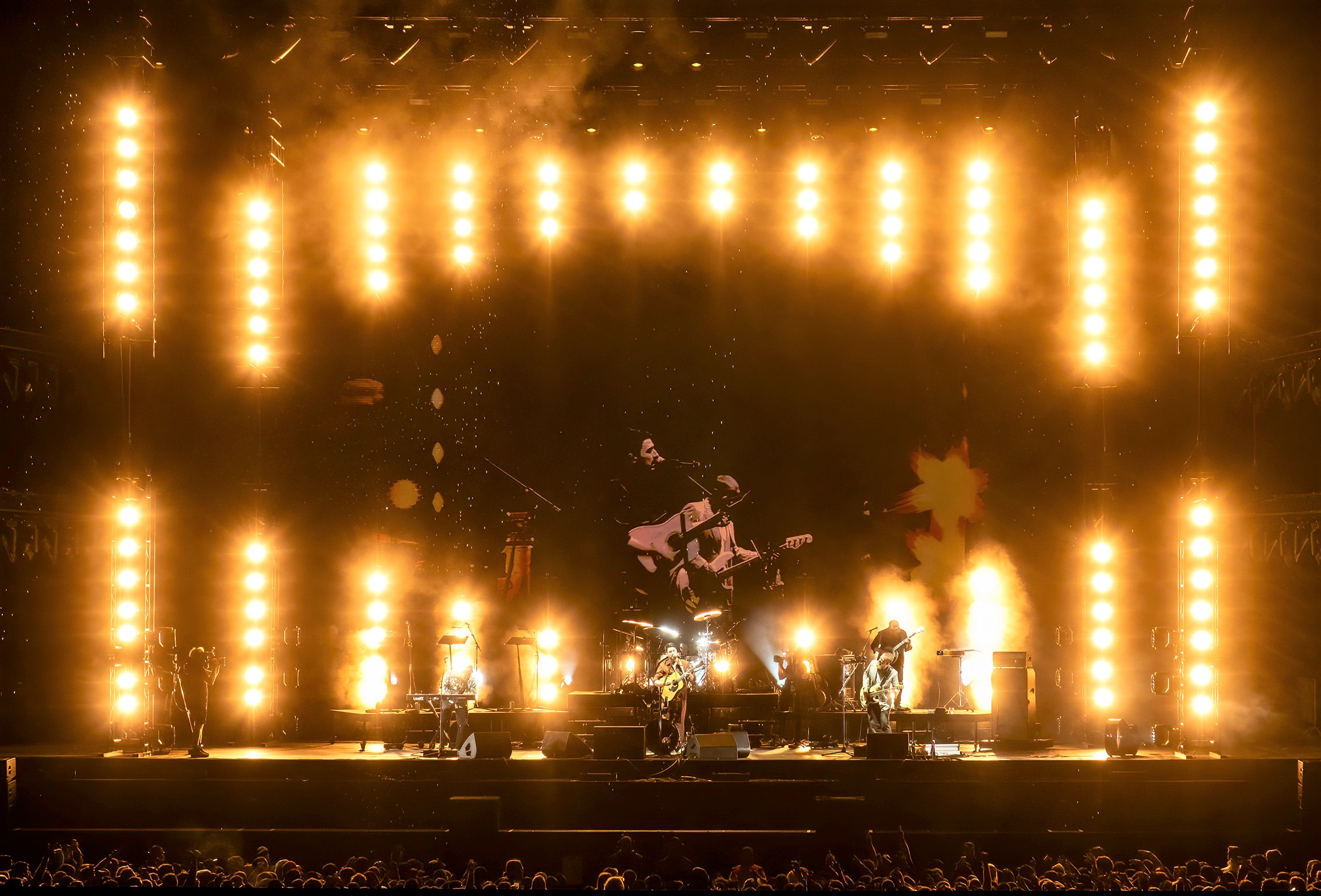 "The most exciting attractions are between two opposites that never meet," wrote Andy Warhol. Had he been around today, the groundbreaking pop artist would likely have appreciated the genius of Mumford & Sons.
After 14 million albums sold, including two No. 1 hits, and a fistful of awards from Grammys to Brits, the band that got their start at Bosun's Locker in London, continues to surprise fans by pulling out widely varied (some might say opposite) musical influences, from ancient folk to highly polished modern rock.
On the band's current global festival tour, designer Ed Warren reflects this expansive sense of discovery with a background that uses a combination of video tiles and lighting, along with fireworks from Strictly FX,  to convey dramatically different impression throughout the band's 90-minute-plus shows.
At times, Warren creates a bright, seemingly solid wall of light behind the group, using the majority of the 108 CHAUVET Professional STRIKE 1 fixtures in his kit, which is being supplied by Neg Earth in the UK and Europe, and Upstaging in the ,USA/Canada. During other segments of the show, the designer will have video images shine through the diamond-shaped space that separates this upstage collection of lights. Varying his looks even further, he will turn the upstage lights on and off to create a variety of patterns.
"I decided to have opening in the upstage lighting wall to use for video," said Warren. "I can create a lovely frame for the upstage video using the inner most lamps. Also, I don't need to use all lamps, all of the time for the show to look good "
To complement the overall effect of his design, Warren brings extra depth to it by using mid-stage and downstage uplights, including his remaining STRIKE 1 units, to the complement the shape of his upstage lighting/video configuration. The net result is a look, that besides offering surprises, is also elegant and refined, while still being simple.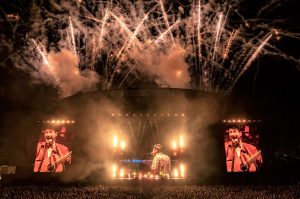 Accentuating this impression is a subtle color scheme. "This is  a very tungsten dominant show, as is always the case with this client," said Warren. "However, there are also brief moments of red, plus quite a bit of blue. Most of the video is in black or white too. It's nice for me to sit back and let the video do the work for some moments. There's also a couple of songs with zero video."
Working with production manager Paddy Hocken, and Jack Banks on video, as well as lighting crew chiefs Tom Bailey and Rob Gawler, Warren is serving up delightfully surprising looks every show. Running his show on a ChamSys MagicQ MQ500M, he has every song on cue stacks with bumps. "This band isn't the timecode type so everything is run manually," said Warren. "It really helped having the timeline with audio feature of my ChamSys when programming."
On the subject of working with Mumford & Sons, Warren said, "It's always fun with these guys and they trust me with whatever I do. It is the first time we've properly toured with an upstage video wall and we've done some interesting stuff."
Anyone familiar with this iconoclastic, genre-defying band and its free-thinking lighting designer would expect nothing less.
Photo credit: Picturesk.
Share this story