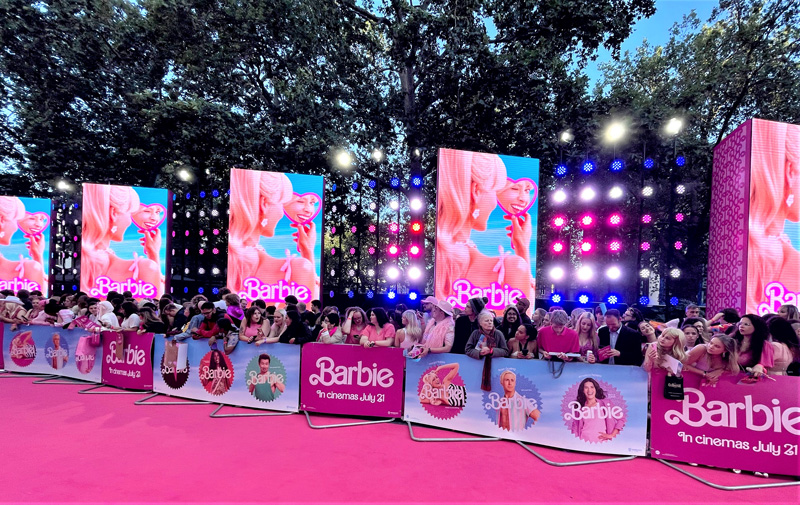 "A dazzling achievement, both technically and in tone… with impeccable attention to detail." That's what the highly regarded RogerEbert.com film reviews had to say about this summer's runaway box office hit "Barbie." The words also work well to describe the UK premier of the universally acclaimed movie that took place July 12th at Cineworld Leicester Square.
Like the film itself,  this star-studded event was beautiful and engaging, with plenty of pink to please eyes and uplift spirts, thanks to the work of Limited Edition Event Design with support from Impact Production Services (IPS).
Helping to create this colourful scene was a collection of 272 IP65 rated CHAUVET Professional video tiles and lighting fixtures from IPS' own extensive inventory.
"As most of the action at a premiere event takes place outside, IP rated equipment is the most suitable, since it allows everything to keep operating whatever happens with the weather," Tom Warden of IPS said of the event's kit. "There is only one chance to get things right on these shows, and Limited Edition Event Design does an excellent job as the Technical Production Designer. Film premieres are a tough gig in the best of times, especially when they take place in very busy central London locations. This is partly why the team at IPS and Limited Edition Event Design always have an eye on the latest products being released."
To help ensure that this event would have a distinctive footprint, IPS supplied a 34m long scaffolding structure to support six angled LED Screens made with F4IP LED panels (each 2.5m wide by 4m high) to spell out "Barbie" and showcase images associated with the film. The design team added scaff tubes between the screens, each fitted with six COLORdash H12XIP fixtures in rows. These RGBWAUV LED pars were used to endow the premiere space with the all-important pink color tones. "Our pink wall of light was essential as a backdrop between the LED Screens," noted Warden.
Limited Edition Event Design's Richard Godin, who served as the premiere's lighting designer, described how the COLORdash fixtures helped him create varied looks. "The large face of the H12XIP's allowed us to make a 600mm grid of 30 units between each screen. By using colour effects and a pixel map on our Chamsys MQ250 console, we were able to create some smooth colour ripples of key branding colours and then change to big flashing lighting effects when the host's announced 'it's party time' from the stage. The end result really got a wow from the crowd."
Godin also had high praise for the IPS production team. "As always James Mason, the IPS owner and key account director, worked tirelessly, along with his warehouse team to prepare and deliver ready to go equipment. Due to the time scales involved there was no production pre prep,  so we relied on the IPS team to send the kit out in top condition to enable us to deliver this size of build under time pressure. Having Dan Ainsley (IPS technical coordinator) on site is such a support for me and the management team. Dan leads on the structure and screen builds, managing the IPS rigging and screen team to deliver our designs in millimetre precision. However, as much as we plan, it's also about thinking on your feet, trees grow land heights change, clients needs develop. Dan really understands the time pressures and the level of detail we need to work to"
Adding extra excitement to the proceeding at Leicester Square were two Maverick Storm 4 Profile fixtures, positioned on vertical truss structures at either end of the video wall. Other CHAUVET Professional fixtures used by Limited Edition Event Design and IPS during the premiere activities included the Rogue Outcast Beam 1L and onAir IP Panel in Trafalgar Square, and the onAir IP Panels, used in a London Eye photo shoot.
Putting the very successful Barbie event in perspective, Warden said it was consistent with the many other premieres IPS has worked on. meaning that it was completely unique! "As a company, we never allow ourselves to get too comfortable with premiers," he said. "Each and every one of them has a distinct personality. Our challenge to make sure that this is reflected in the best way."
In the case of the Barbie premier, IPS and Limited Edition Event Design, helped this personality shine through in beautiful (and pink!) fashion.
Share this story