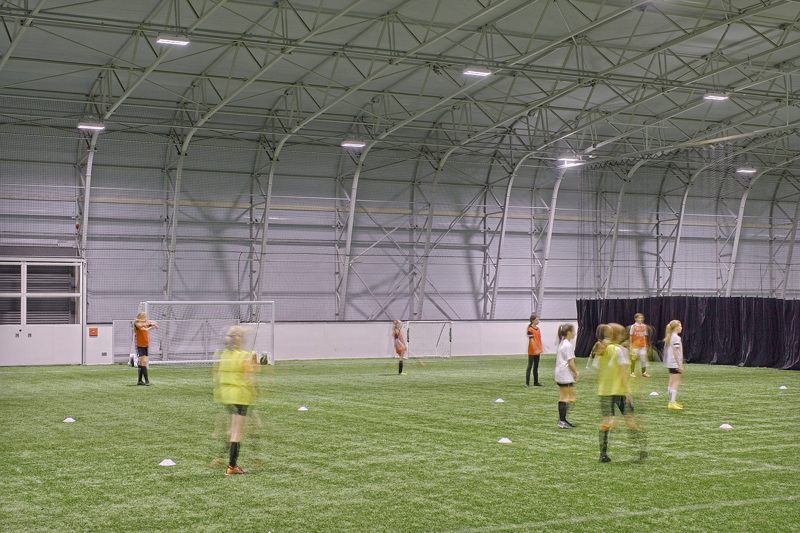 Zumtobel and its sister brand Thorn, both lighting brands of the Zumtobel Group, worked with Collinson Construction to achieve Competition Regional/Club level artificial lighting standards for a prestigious new West London multi-sports facility.
Trailfinders Sports Club is one of West London's premier function venues, boasting outstanding hospitality and sporting facilities at competitive rates.
The new multi-million-pound training facility is second to none, constructed by Tensile stretch fabric buildings specialist Collinson Construction. The new 3,184-square metre training centre features a full-size junior rugby and football pitch, allowing players to continue training safely in adverse weather conditions.
Officially opened by Sir Andrew Strauss in 2021, The Mike Gooley Trailfinders Charity privately funded the new facility. It is also used by Ealing Trailfinders Cricket Club. It features three indoor cricket lanes with a viewing balcony, allowing the club and community to train all year round.
Eric McCormick, Mechanical & Electrical Manager, Collinson Construction, describes, "We were selected to construct a brand-new multi-sports facility at the prestigious rugby club at Ealing Trailfinders, London. With such a complex build, we aimed to produce an indoor sports pitch, indoor cricket hall and accommodation utilising all 3 of Collinson's construction methods of Modular, traditional and tensile buildings."
For the lighting, Collinson Construction worked with the lighting partner Zumtobel to meet all the indoor sports facility's requirements.
When designing multi-sports venues, the lighting must meet the needs of all sports. Care must be taken to ensure a uniform light distribution, that the facility is adequately lit, and glare is minimised. The lighting should be positioned to support the players' and officials' vision.
Eric continues, "The Zumtobel CRAFT high bay luminaire was selected to showcase each sports area to its full potential, with the Collinson design team working closely with Zumtobel and the England & Wales Cricket Board (ECB) to produce lighting schemes that would achieve Competition Regional/Club level artificial lighting to each of the sports areas resulting in some outstanding visuals both internally and externally."
The Cricket Hall scheme had to meet ECB requirements, and controlling the glare was a priority. Paul King, Key Account Manager Zumtobel, says "We needed to provide 1000 lux with a UGR<19. We delivered what was required using our CRAFT high bay luminaire with a narrow beam optic."
Similarly, for the Rugby Hall, Zumtobel's CRAFT and RESCLITE PRO emergency luminaires were selected as they are certified for Sports Hall applications and perform well with lux levels (500 lux), glare (UGR<19) and efficacy (146lm/W).
Equipped with the latest LED technology, the Zumtobel CROSSIGN provides highly efficient emergency signage (100 lm/W) to the sports halls.
Zumtobel's lighting management system, LITECOM, provides Trailfinders with an excellent solution for controlling their new lighting while enabling them to improve their energy efficiency and cost saving.
Furthermore, to also ensure a safe and well-lit environment externally, Zumtobel's sister brand Thorn Lighting's Piazza IP65 wall luminaires are installed on the building surround, and Mica Slim recessed architectural floodlights provide accent lighting to the façade.
Reuben Hill, Acting General Manager of Trailfinders Sports Club said: "We are delighted with this new wonderful facility, and our domestic clubs and local community schools, clubs and societies are loving using it. Feedback from existing and new users is incredibly positive, proving to be as good as we hoped and more."
"Not only does it strengthen Ealing Trailfinders as a club and support their aspirations to progress, but it also provides an excellent opportunity for people locally, especially youngsters, to experience top-quality sports facilities. The lighting complements the build with a robust, safe and energy-efficient solution."
Photograph accreditation: Redshift Photography.
Share this story