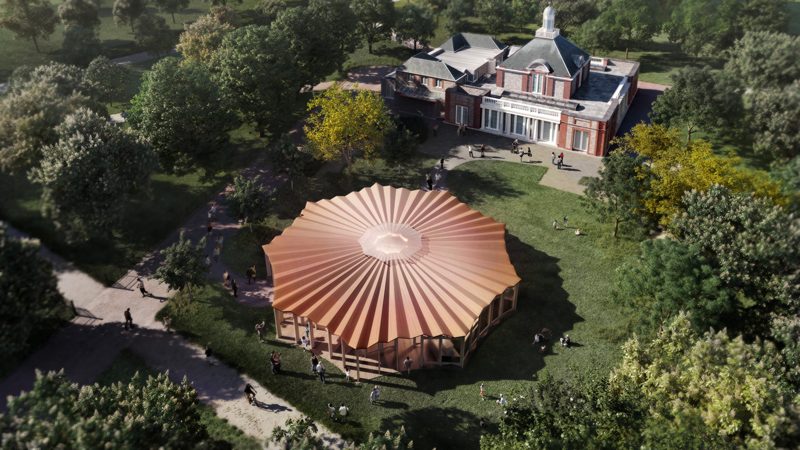 Zumtobel is proud to announce that it will sponsor the Serpentine Pavilion for the fourth time.
This year, Zumtobel and its sister brand Thorn, both lighting brands of the Zumtobel Group, will provide all of the lighting on a complimentary basis, for À table – the 2023 Serpentine Pavilion designed by Lina Ghotmeh — Architecture.
Inspired by the architect's Mediterranean heritage and fervent discussions around the table over current affairs, politics, personal lives, and dreams, the Pavilion is titled À table – a French call to sit down together at a table to enter into dialogue and to share a meal. As such, the interior of the Pavilion features a circular table along the perimeter, inviting us to convene, sit down, think, share and celebrate exchanges that enable new relationships to form.
Zumtobel's SUPERSYSTEM Bollards installed around the exterior, will greet visitors as they approach the Pavilion's exterior, while 70 Thorn Contrast 3 architectural floodlights will illuminate the grooves of the interior ceiling structure and the area above the bar.
Paul Kilburn, Managing Director UK & Ireland at Zumtobel Group, said: "We are thrilled to be partnering with the Serpentine Pavilion again this year. Our continued support for this amazing event is a testament to Zumtobel's commitment to pushing the boundaries of innovation and sustainable design. We are excited to work with Lina Ghotmeh and the Serpentine team to create an unforgettable experience for visitors."
The Serpentine Pavilion is an annual architectural commission presenting new and innovative designs by international architects. Built predominantly from bio-sourced and low-carbon materials, the Serpentine Pavilion 2023 continues Ghotmeh's focus on sustainability and designing spaces conceived in dialogue with the natural environment surrounding them. Zumtobel and Thorn's lighting products are a perfect fit for the Pavilion's eco-friendly design.
The Serpentine Pavilion 2023 will open in June and be on view through October in Kensington Gardens. Zumtobel is excited to participate in this unique event and looks forward to the opening of the Pavilion.
For more information about the design of this year's Pavilion, please visit the Serpentine Galleries website: www.serpentinegalleries.org/whats-on/serpentine-pavilion-2023-by-lina-ghotmeh/
Photo © Lina Ghotmeh — Architecture Courtesy: Serpentine.
Share this story