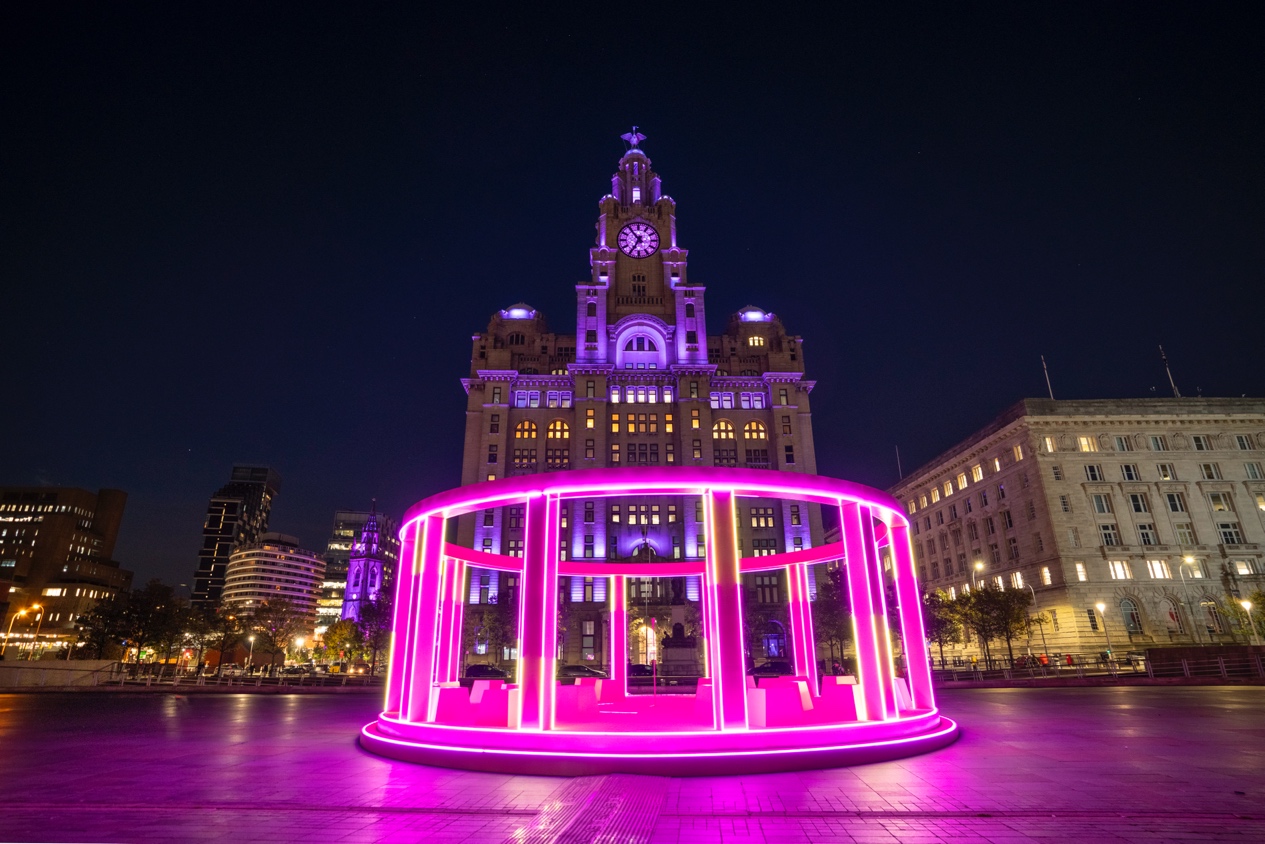 New York design firm Yellow Studio, has unveiled their new installation, 'United by Music' at River of Light – Liverpool's outdoor illuminated gallery. The installation pays tribute to the 2023 Eurovision Song Contest, which was held in Liverpool earlier this year and designed by Yellow Studio. River of Light is set to illuminate Liverpool's waterfront across 12 nights from 27th October to 5th November and will showcase ten artworks from a host of local, national, and international artists along a 2km route.
United By Music is a 10-meter round installation connected by 12 columns, each with vertical lighting integration in every corner. An upper ring connects the columns and includes additional integrated lighting. At night, the lights are programmed to change colours in response to the music of the 2023 Eurovision Song Contest. The structure is adorned in a vibrant pink hue, and at its centre is a circular performance area surrounded by seating. Its radiant pink exterior captures the eye by day and transforms into a captivating light-up art installation at night.
The installation also functions as a multi-purpose interactive performance space. The unique structure fosters community – inviting visitors to gather, dance, sing, and nurture in the spirit of togetherness and celebration. Its debut at River of Light promises an artistic first appearance, offering a one-of-a-kind experience for all who attend.
The soundscape of the installation includes six songs from the 2023 Eurovision Song Contest, including Mae Muller (UK) 'I Wrote a Song', Tvorchi (Ukraine), 'Heart of Steel', Gustaf (Belgium), 'Because of You', Käärijä (Finland), 'Cha Cha Cha', Noa Kirel (Israel), 'Unicorn', and the winning song 'Tattoo' from Sweden's Loreen.
Yellow Studio has provided students at the Liverpool Institute of Performing Arts (LIPA) the opportunity to play a vital role in delivering 'United by Music' for Liverpool's River of Lightprogramme. Students from the world-renowned performing arts institution founded by Paul McCartney, worked with Yellow Studio on light programming and audio mixing to create the installation.
"Our monument honours the cultural phenomenon of Eurovision.  The global message of unity, expression and diversity are celebrated through bold monochromatic tones and the playful animation of light" says Julio Himede, Founder of Yellow Studio
"Eurovision was a milestone moment in the cultural history of Liverpool and I am so pleased that some of that magic will be sprinkled across this year's River of Light trail. Yellow Studio's United By Music installation will undoubtedly be a huge hit with the hundreds of thousands of visitors we are expecting to welcome to the city during the festival, as together we relive those surreal and brilliant two weeks in May" says Liverpool City Council's Cabinet Member for Culture, Health and Wellbeing, Councillor Harry Doyle
For the 2023 Eurovision Song Contest, Yellow Studio served as the stage designer, which the UK hosted on behalf of 2022 winners Ukraine. The architecture took inspiration from a wide hug that enfolded the Liverpool Arena – from above and below – opening its arms to Ukraine, and the show's performers and guests worldwide.
Founded by Julio Himede, Yellow Studio is the world's leading design studio specialising in production design, creative direction and art direction for television and live events. Over the past two decades, Yellow Studio and its team of creatives have worked on some of the biggest televised events that have left a lasting impression on millions of audiences across the globe. Yellow Studio has been responsible for creating some of the biggest moments in live entertainment this year alone, serving as the stage designer for The 64th Annual Grammy Awards and Disney's hybrid live aminated special – 'Beauty and The Beast: A 30th Celebration.
River of Light opens to the public free of charge on 27th October 2023.
Share this story