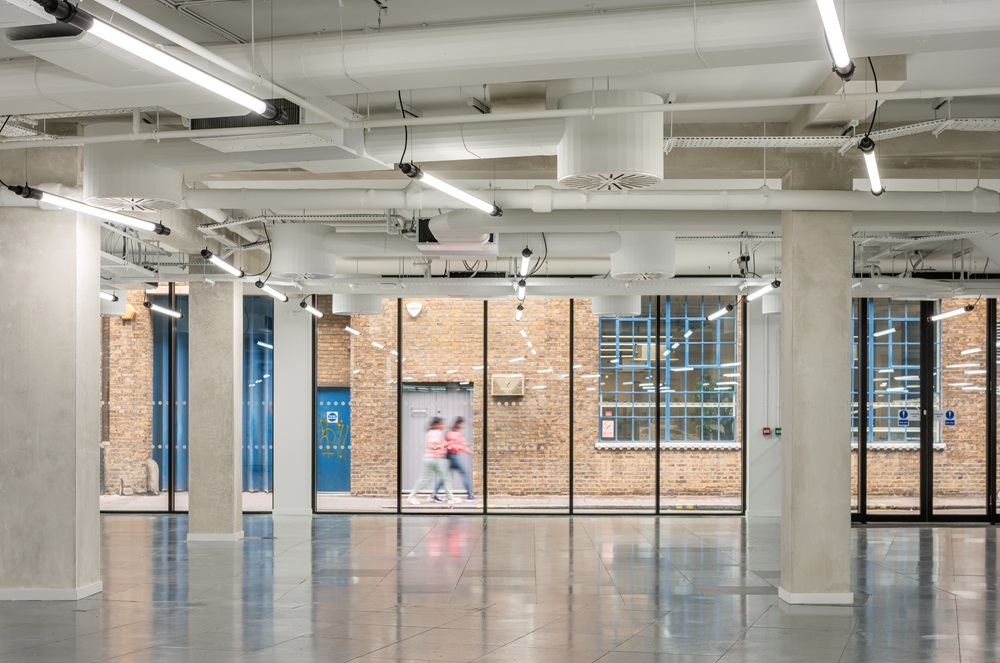 Saffron House, a prime office space in Farringdon, London, recently underwent a renovation to provide a modern, adaptable, and health-focused workplace. The Anslow Partnership, a leading building services consultancy, sought to create a lighting design that prioritises employee satisfaction and wellbeing while meeting the sustainability goals of a BREEAM 'Excellent' certification.
Following COVID, employees' satisfaction and health are prioritised when designing new office spaces. Light greatly impacts employees' sense of well-being and ability to concentrate, and more and more companies are beginning to recognise this.
TRILUX, a renowned lighting solutions provider, was selected as the trusted partner for the project. Given the basement location and lack of natural daylight, TRILUX recommended Human Centric Lighting (HCL) fittings to enhance the well-being and productivity of occupants.
HCL fittings mimic the natural rhythm of sunlight, changing their luminous intensity and light colour from cool white in the morning to warm white in the evening. This helps to strengthen the human biorhythm and improve overall well-being.
Stephen Hewett, Principal Electrical Engineer The Anslow Partnership, commented, "Here, we wanted to explore holistic office lighting concepts and offer customised light that can be flexibly regulated and optimal working conditions, including lighting that maintains and improves the workforce's health."
The project called for easy adaptability as the office is yet to be rented. The ideal solution was suspended lighting fittings that could be easily repositioned once the space is occupied.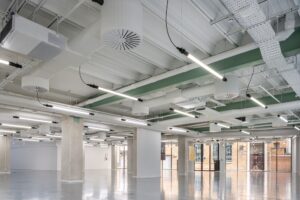 Innovative lighting control
TRILUX delivered on the project's lighting needs with the highly efficient So-Tube ACT (HCL) LED luminaires using DALI DT8 control system. These suspended, stylish luminaires offered tunable white light with adjustable colour temperature and intensity, allowing precise control throughout the day. The system was divided into eight zones with presence detection to ensure optimal illumination and energy efficiency.
Enhancing wellbeing with tunable lighting
Saffron House's lighting design embraces Human Centric Lighting principles, recognising the important role light plays in influencing circadian rhythms, productivity, and overall wellbeing.
When tenants move in, sensors will detect motion in any of the zones and switch on the lighting to the correct colour temperature for the time of day and season. For example, in the early morning, the light output would be around 3000K, similar to the warm glow of sunrise. At 2pm, the light output might be 5500K, mimicking the cool, bright light of midday. And at 8pm, the output might be 2700K, promoting relaxation and winding down for the evening.
The lighting will then automatically adapt and change throughout the day, mimicking the natural colour and intensity of sunlight.
Scene plate controls allow for the overall control of the office space, as well as individual control over groups of lights that utilise track lighting.
Additionally, emergency lighting, general purpose lighting, and exit signage are all connected to the DALI control system with scheduled function and duration tests programmed for ease of maintenance. All test reports are stored on the controller, ensuring easy maintenance and safety compliance.
Stephen Hewett comments: "Working with TRILUX has been a positive experience. Their dedication to creating lighting solutions that prioritise the well-being of occupants and their deep understanding of how lighting impacts productivity and satisfaction made them the ideal partner for this project."
With its adaptable and health-focused lighting design, Saffron House serves as a beacon of productivity and well-being in the heart of London's business district.
TRILUX's commitment to delivering human-centric lighting solutions continues to shape the future of office spaces, prioritising the comfort and efficiency of its occupants.
Share this story