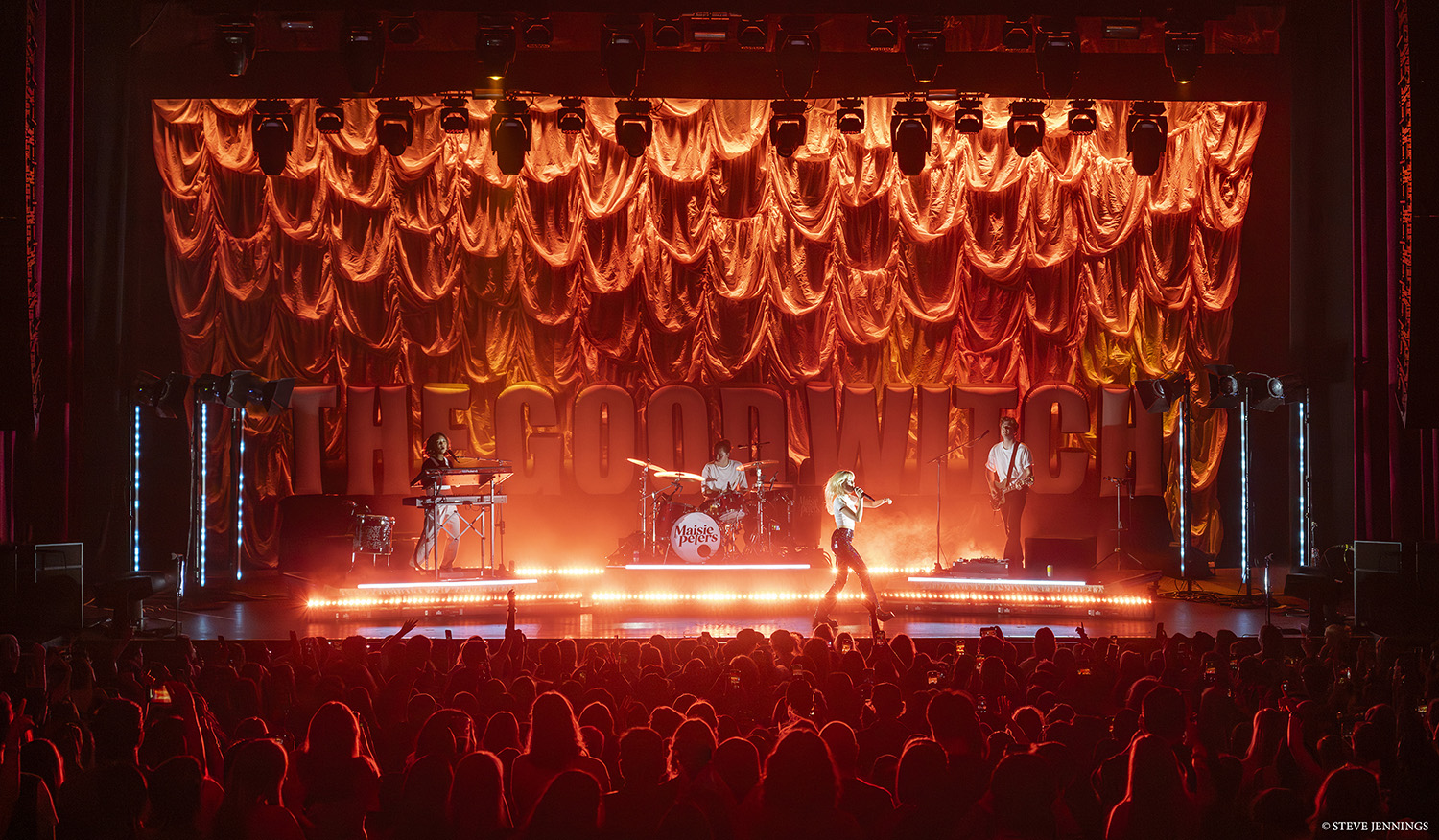 Maisie Peters' music has been called many things. Words like "beautifully melodic," "dreamily evocative," "passionate," and "flowing" have often been used… but the 23-year-old singer's expansive sound goes way beyond these appellations to embrace elements of rock, all conveyed with a compelling dramatic flair.
At least that's the view of Tom Campbell. The Bristol-based designer is in an excellent position to know, having collaborated closely with the young star almost from the beginning of her skyrocketing career. (She's the youngest female singer to reach the top of the UK charts in a decade.)
"Maisie's music and stage presence is very multi-dimensional," said Campbell who began his career lighting theatre. "She is a free spirited creative, who pulls many different influences into her distinctive style."
Working with tour manager Harry Bullas, tour LD Chloe Boucher, and musical director Joel Peat, Campbell highlighted the many facets of Maisie Peters' stage persona and music on the singer's just-concluded 29-city North American tour.
Serving as the tour's production and lighting designer, he accomplished this with help from a 4Wall Entertainment supplied rig that featured 36 COLORado PXL Bar 16 motorized battens from Chauvet Professional.
Campbell arranged the RGBW linear units in groups of nine along three risers. The remaining nine fixtures were used as backlight to illuminate a 9×12 meter inflatable branding backdrop for the singer's second album, "The Good Witch."
In addition to providing a linear geometric structure on stage, the COLORado PXL Bar 16 units on the risers were used to create a dynamic sense of movement, a critical part of Campbell's plan to reflect the freewheeling actions of his client on stage.
"Maisie has free reign for a lot of the show and moves around, often interacting with the audience," said Campbell. "She's gifted with a very natural sense of theatrics, which makes her very adept at utilizing the whole stage. However, she also has an uncanny ability to hit every spot-on stage that she's supposed to be at for certain songs. She's excellent at hitting her marks."
Running his PXL Bar 16s at 186 channel mode, Campbell used them to create a variety of powerful looks that enhanced the big theatrical impression on stage.  He relied on the fixture's 200° tilt and pixel mappable effects to convey a palpable sense of motion and enthusiasm that reflect the star's own energy.
"We liked to break the PXL Bars up and pixel to create looks," he said. "One of my favourite numbers in the show was 'Not Another Rock Star.' It's a bouncy track and we reflected it visually by tilting all the bars. At other points in the show, we created the 'music theatre' that Maisie wanted by covering the stage with intense white light. Then there were moments where we went with big rock silhouettes with nice blues and magentas."
So, just like his client, Campbell's incorporated a strong element of rock and theatre in his show and did so beautifully.
Photo credit: Steve Jennings.
Share this story