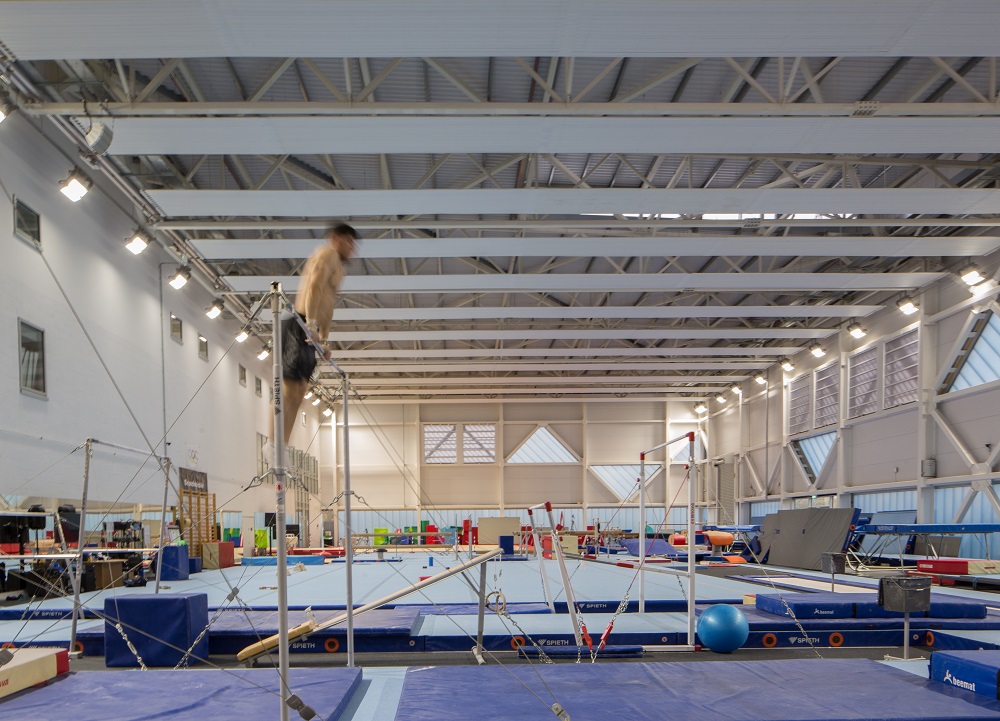 Sport Ireland National Indoor Arena upgrades to high-performance lighting kit from Thorn and their sister brand Zumtobel, both lighting brands of the Zumtobel Group, to provide its sporting bodies, aspiring and professional athletes with world-class sporting facilities. 
Sport Ireland is the authority tasked with the development of sport in Ireland. Its remit includes participation in all sports, anti-doping, coaching and the development of the Sport Ireland Campus. Sport Ireland Facilities DAC are the designated company tasked with operating the Sport Ireland Campus & its facilities.
The Campus is the home of Irish sport for all and has facilities as diverse as the types of people who use them, from little ones learning to high-performance athletes. In 2017 they added a new flagship facility – the National Indoor Arena -a fully accessible, multi-sport and multi-purpose arena unlike anything seen in Europe before.
Built to the highest world-class standards and specifications, it ensures that Ireland has the best facility for indoor sports and events, which Irish sporting bodies and athletes can use.
The Phase 1 development of the National Indoor Arena includes:
National Indoor Training Centre (NITC) – Multi-use sports hall with bleacher seating for approx. 1500 spectators
National Indoor Athletics Training Centre (NIATC) – IAAF-compliant banked hydraulic track, six-lane 200m and 5-lane 110m sprint tracks
National Gymnastics Training Centre (NGTC) with fully equipped gymnastics recreation & high-performance areas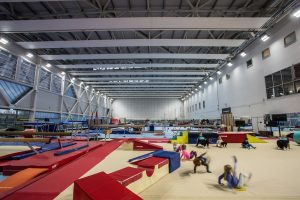 Upgrading to LED 
The original arena was lit using Thorn Lighting's 2kw metal halide Altis floodlights. Sport Ireland approached Thorn and their sister brand Zumtobel, both lighting brands of the Zumtobel Group, in search of an optimal 1-2-1 upgrade to LED and controls.
Ronan Meally Consulting Engineers and electrical contractor Tec Facilities Management worked with the Zumtobel Group to overcome the challenges of a tight turnaround and the constraints a live building presents to install Thorn's Altis LED floodlights, Zumtobel's CRAFT II Plus luminaires and LITECOM controls.
Niall Sheridan, Director and Head of Sales Zumtobel Group Ireland, comments, "As this was a live building, we were under a strict project timeline. Also, the original system used KNX. We switched to DALI and utilised our Zumtobel LITECOM system, which has given the NIA a fully controlled system that allows them to switch and adjust the lighting instantly."
Old vs New
The Altis LED and the CRAFT II Plus achieved 38 percent energy cost savings compared to the original scheme. With the addition of the LITECOM lighting control system, further savings are available to Sports Ireland Facilities.
These high-performance floodlights are suitable for the higher ambient temperature of indoor applications and offer benefits such as CO2 reductions, longer life and reduced maintenance costs.
In fact, the carbon saving associated with the lighting change is 130,464 kg CO2 per annum.
Unlike the previous HID system, Altis provides flicker-free operation, a considerable benefit to a National Sports Facility when it comes to filming in HDTV.
The flexible Altis solution centres around an LED brick concept. Two or three LED bricks can be tilted independently, and lighting designers can mix the optics – tilt and beam, in one floodlight. For the National Indoor Arena, a mixture of medium and wide beam optics and different tilt angles are utilised for better uniformity and reducing glare, ensuring Sport Ireland optimal lighting across all sporting activities.
The installation process is made quicker and more efficient by its quick fix connection box and the easy plug-in connectors for the luminaire and the gearbox.
Leo Fennin, Director at Tec Facilities Management comments, "Tec Facilities Management were delighted to have teamed up with Zumtobel Group for the National Indoor Arena to install LED lighting. Tec Facilities Management found that the ZG team provided detailed drawings and documentation, making the installation a smooth success, along with the support team providing excellent backup for the project. Tec Facilities Management would rate the ZG products as superior quality and would have no hesitation in working with them in the future."
Stephen Bennett, Operations Manager at National Indoor Arena, Sport Ireland Facilities DAC, adds, "The installation of the new LED lighting across the National Indoor Arena Phase 1 facilities has been an excellent addition to functionality and sustainability. We are very happy with the quality of the product and the project outcome overall. This upgrade will ensure the best quality service across our facilities into the future for all stakeholders." 
Photograph accreditation: Neil Warner.
Share this story