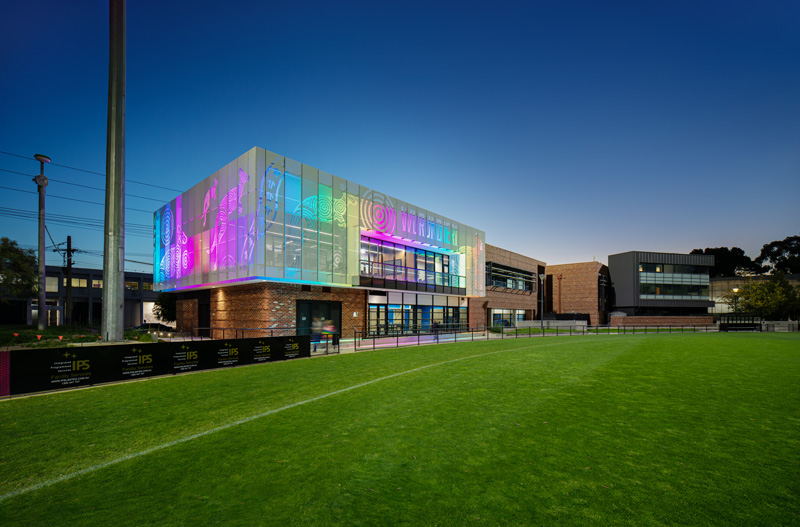 North Melbourne Football Club (NMFC) in Victoria, Australia, is a professional Australian rules football club also known as the Kangaroos. The club's headquarters recently underwent a significant upgrade to create new community facilities and Away Team changing rooms for the Australian and Victorian women's football leagues (AFLW and VFLW). The improvement works also saw the addition of a two-storey extension, known as the East End, and accompanying façade to the existing facilities.
The East End was seen as an opportunity to support key functional and operational requirements, while also adding a dynamic and highly expressive lighting element to the façade. The Colour Change façade lighting was identified as an opportunity to reinforce the club's connection and heritage with local and broader First Nations communities, the PRIDE rainbow, and NMFC's traditional Royal Blue and White. To achieve this, a number of solutions from Pharos Architectural Controls were specified.
A Pharos Designer LPC 1 (Lighting Playback Controller 1), with a TPS (Touch Panel Station), andPoE Switch were selected to deliver the dynamic elements of the lighting concept, which was developed jointly by the project architects HB Arch, and electrical/lighting engineer, erbas™. The build was completed by Harris HMC.
The luminaires used to illuminate the façade are from Coloon LED Lighting, and were supplied by leading Australian lighting distributor Buckford Illumination Group. The perforated metal sheet façade can be backlit with a plethora of colour-scenes, transforming the structure from day to night with a dynamic array of colours and shadows.
The Pharos Designer TPS gives easy control of playback selection and lighting levels, allowing users to seamlessly transition between scenes, timelines, effects and pixel-mapped media. It works in harmony with the Pharos Designer LPC 1, which features 512 channels of DMX/eDMX. With a compact form and minimal power requirements, it gives complete flexibility to be installed anywhere.
Completing the system is the Pharos Designer PoE, an unmanaged switch with six 10/100Base-TX Ethernet ports with standard RJ45 sockets, perfect for connecting power and data between Designer Controllers and Designer Remote Devices, such as the TPS.
Tony Symms, Regional Sales Manager, Asia Pacific at Pharos Architectural Controls said: "NMFC is very much at the heart of the community, and as such, it is important for them to demonstrate that connection. Pharos was excited to be part of the project to make this possible, offering market-leading control solutions that work in harmony with the specified LED lighting from Coloon."
Gray Barton, Director, from HB Architects added: "The upgrade works at NMFC have provided the club with greater capacity and flexibility for training and match days. The new façade and the dynamic lighting successfully display the clubs progressive and contemporary role in the community. The control solutions from Pharos have delivered everything we need to bring the colour scenes to life and support the club's aim of celebrating different communities across the country."
In the evenings, the façade is generally adorned with the distinctive royal blue and white that are instantly recognisable as NMFC's club colours. A variety of alternative colour scenes can also be selected. These include yellow and red to celebrate the club and local community's ties with First Nations, and a rainbow colour scene in recognition and support of LGBTIA+ communities.
Project credits
Architect: HB Architects.
Consulting engineer: erbas™.
Builder: Harris HMC.
Supplier: Buckford illumination Group.
Lighting Manufacturer and DMX Control integrator: Coolon LED Lighting.
Images: courtesy of Pharos Architectural Controls.
Share this story