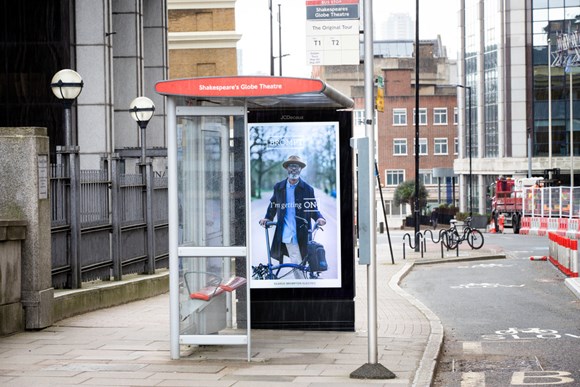 • More than 50 percent of TfL's bus shelters now converted to LED lighting reducing energy consumption by 57 percent 
• New lighting is brighter for customers and cheaper to run, which will lead to TfL saving at least £1.5m and reducing carbon by more than 1,000 tonnes of associated CO2 annually
• Lighting upgrades also taking place at Tube stations, depots and across the road network to support the Mayor's ambition of London being net zero carbon by 2030
Transport for London (TfL) has now converted more than 50 percent of lighting in bus shelters across London to Light Emitting Diode (LED) lighting to reduce waste, energy consumption and associated carbon emissions. This is just another step TfL is taking towards decarbonising its operations by 2030.
Across London, there are around 12,100 bus shelters that have long relied on traditional lighting to keep them illuminated. However, advancements in technology have meant that TfL has been able to roll out greener, more environmentally friendly LED lighting.
Before and after testing by TfL showed that the new lighting uses around 57 percent less energy, but provide 10 percent brighter lighting, making the shelters both more welcoming and improving safety for customers, especially at night.
TfL expects to have converted all lighting in bus shelters, including those used in advertising panels, to LED lighting by the end of March 2024. Once complete, this will mean that TfL will have reduced associated carbon emissions by more than 1,000 tonnes CO2e annually.
In addition to bus shelters, TfL is working across its entire network to upgrade lighting to LEDs to help further reduce costs while improving customer benefits and minimising its long-term impact on the environment. At least a quarter of all Tube stations across London have been converted to only use LED lighting, with more planned for conversion in the coming months and years. Customer lighting at tram stops served by London Trams have been converted to LED lighting, and work is also taking place to upgrade lighting at bus stations across London, as well as at a number of Tube depots, and the London Trams depot in Croydon. Around 50 per cent of all lamp columns on the TfL Road Network are also now LED lights, with work underway to convert more of these lamps as soon as possible.
Lilli Matson, Chief Safety, Health and Environment Officer at TfL, said: "Reducing carbon is a critical part of our work to reduce the impact of public transport on climate change. Not only does LED lighting provide a brighter, more welcoming environment at our bus stops and stations, it helps us reduce maintenance costs, and helps make London a greener and more sustainable city for us all.
The conversion to LEDs is one of many measures we're taking across our transport network and buildings to help further decarbonise public transport. London leads the way towards achieving net zero and we are committed to doing what we can to ensure our services are the most sustainable way to move around the city."
Deputy Mayor for Transport, Seb Dance, said: "The roll out of greener, more environmentally friendly LED lighting at bus shelters across London marks another important step forward as TfL continues to decarbonise its operations in the run up to 2030. The new lighting will be clearer for customers whilst using nearly 60 per cent less energy, reducing waste and carbon emissions– and contributing to a greener London for everyone."
TfL and the Mayor of London are determined to reduce these emissions by as much as possible and as soon as possible to help reduce the impact transport has on the environment and to help London reach Net Zero Carbon by 2030.
For more information about TfL's continuing work to be environmentally sustainable, go to: tfl.gov.uk/sustainability
Share this story