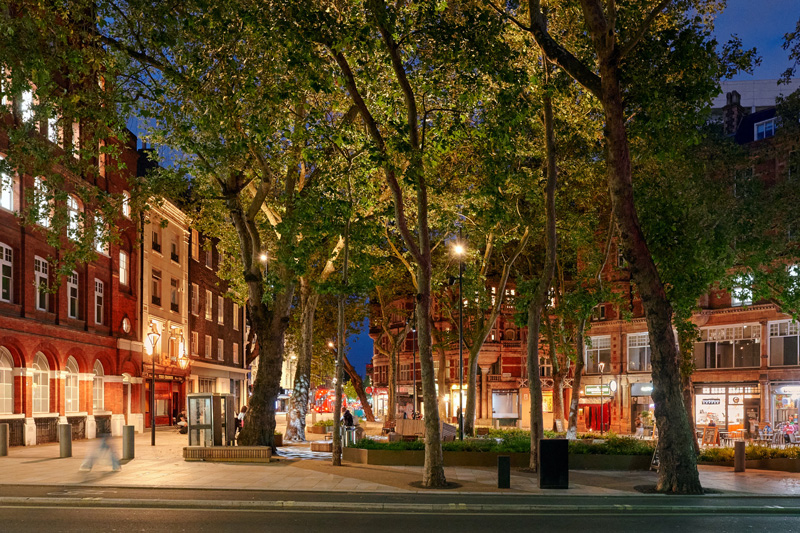 Princes Circus is the final public space to be delivered as part of an array of award-winning West End Projects. Commissioned by Camden Borough Council, the ambition was to transform key neglected areas blighted by pollution, heavy vehicular traffic and anti-social behaviour into green spaces that provide the opportunity for all to dwell, relax and enjoy the newly designed, welcoming, natural habitat.
LDA Design provided the transformative Landscape Design for the West End Projects and appointed Michael Grubb Studio to provide the Lighting Design for Princes Circus, Whitfield Gardens, Alfred Place and Huntley Street. The key focus across the different areas was to extend the enjoyment of the spaces after dark and create a welcoming ambience, enhancing a sense of safety and security.
Princes Circus is laid out in two triangles. The northern triangle is enjoyed by local workers and visitors frequenting the surrounding restaurants and bars adjacent to Shaftesbury Avenue, with outside seating spilling out for use during the summer months. A procession of columns with triangular luminaires creates a wrap of warm light around the perimeter, which invites pedestrians from New Oxford Street into the newly created Princes Circus.
The lighting design to the north was inspired by the series of mature, tall trees that create a focal point and woodland area, enhanced by the surrounding distinctive woodland planting and seated areas by LDA Design. Gobo projectors mounted at height, discretely hidden amongst the trees, project a dappled leaf effect in cool light, creating a moonlit forest floor at the base of the trees. In contrast, warm uplights carefully directed into the high tree canopies dramatically highlight their scale and form, for visitors to enjoy for a limited time during the evening.
The southern triangle presents a grand plaza, with Shaftesbury Theatre as its backdrop. Later this year, a drinking fountain monument, originally installed to celebrate Queen Victoria's Diamond Jubilee in 1897, will be reinstated following its restoration and uplit by night, creating the focal point. Spotlights provide the surrounding warm ambience for theatre visitors, passers-by and people resting on the seated areas.
Melissa Byers, Head of Michael Grubb Studio Bournemouth, said: "It is difficult to choose a favourite out of the West End Projects, they all presented inspired opportunities to bring benefit and enjoyment to many people's everyday lives in the centre of London. From a lighting perspective, Princes Circus provided a great natural backdrop to work with, alongside the surrounding, historic architecture. Camden Borough Council and LDA Design supported the delivery of a strong, lit vision and this is reflected by the success of them all. The lighting supports the vibrant, bustling night-time economy, alongside creating a woodland glade to reflect and relax in, which is a great achievement for a relatively small Central London location."
Tim South, Associate at LDA Design and project lead for Princes Circus, said: "Through our approach, we saw the lighting element as a critical component to achieving the overall look and feel of Princes Circus and the team at Michael Grubb Studio interpreted the brief with imagination and skill. I'm convinced the new landmark public space will feel safe, comfortable and animated at all times of day and night."
Project Credits
Landscape Design: LDA Design.
Lighting Designer: Michael Grubb Studio.
Client: London Borough of Camden.
Civil, M&E and Structural Engineer: Arcadis.
Cost Consultant: Norman Rourke Pryme.
Contractor: idverde.
Overarching West End Project Strategy: DSDHA.
Photographer: Mike Massaro.
Share this story