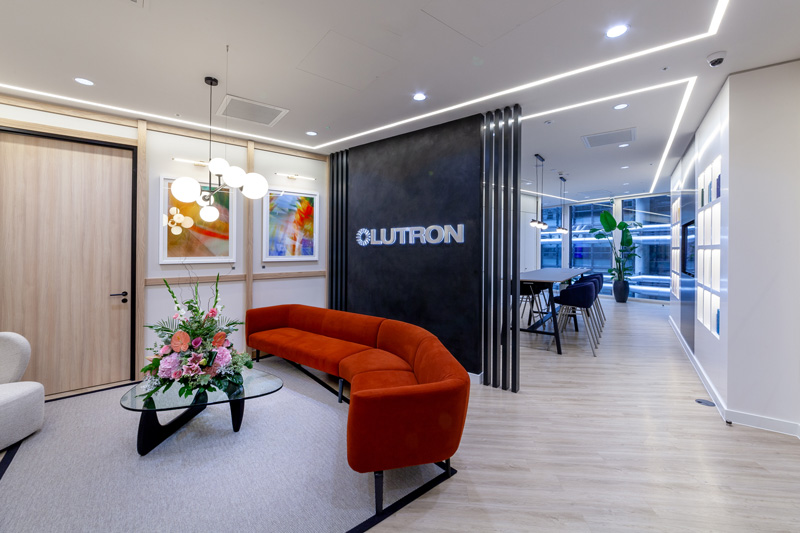 City of London office was designed to provide improved comfort for the growing team, including the use of Lutron lighting and shading controls
Lutron has opened a new office for its UK, Continental Europe and Africa headquarters. The company has chosen a 7,770 sqft premises at 51 Lime Street in the heart of the City of London.
The new office greatly expands the number of workspaces available to support the growing team in the UK. It features adaptable desks and diverse meeting spaces, designed to enable a more productive workplace.
The space had to match the company's technology by providing a comfortable and bright aesthetic. Lutron's new office includes enhanced amenities, including greenery and art installations, private phone booths, a relaxation area and the perfect lighting with Lutron's lighting control and blind automation solutions.
On the decision to move, Ed Blair, President, Lutron Electronics, said: "Lutron's new London office represents a significant investment in the region, and reflects the growing importance of the UK market for Lutron internationally. Following on from the UK, we're also investing in international expands with new facilities to be open before the end of this year in India and the Middle East.
Javier Segovia, Senior Sales Director, UK, Continental Europe and Africa at Lutron, commented: "This office represents the solutions and design we offer to our customers. It's a space with the perfect ambience for collaboration."
Miguel Aguado, Marketing and Technology Manager, UK, Continental Europe and Africa at Lutron added: "Supporting our international expansion, this new office gives us the perfect opportunity to install our latest lighting control platform. We are very proud of our products and we wanted our team to enjoy the benefits of our latest innovations the same way our customers do. There is dynamic lighting in the office to adjust colour intensity and temperature throughout the day. The lighting control works in combination with our automated blinds, to optimise energy savings while providing a comfortable and productive environment for everyone."
Share this story