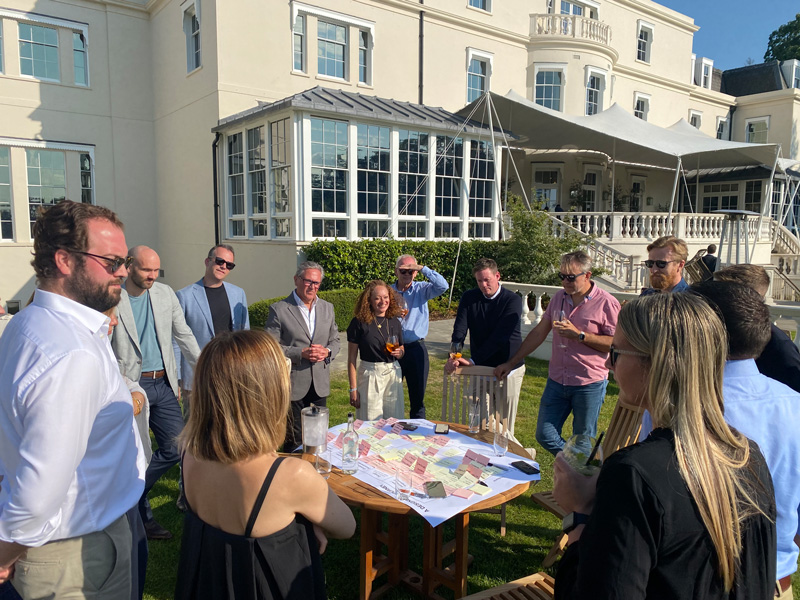 The first Lutron Design Council meeting was held this month at Ascot, UK
The council included a mix of experts from some of London's most prominent architecture, interior design, lighting design, contracting, and project management firms
Lutron will use the insights and feedback shared in these sessions to innovate and improve its products and services for the luxury residential sector
Lutron Electronics, an international leader in intelligent lighting control, hosted its first-ever Lutron Design Council on the 8th June, 2023. The event was held at Coworth Park, Ascot, UK and brought together experts in architecture, design, lighting design, construction, and project management with leaders from Lutron's global Luxury Residential business.
Over the course of the two-day event, the group discussed the meaning of luxury, how the market is evolving, and participated in a collaborative "Design Thinking" workshop. This was run by Clive Grinyer, Head of Service Design at the Royal College of Art, and focused on the needs of luxury clients and the process of designing luxury residential properties.
Additionally, the group identified key areas of opportunity that could benefit all involved in the design and construction of luxury residential properties. On the experience, Antonio Quesada, Managing Director, Morpheus & Co. said "The Lutron Design Council was an incredible platform for exchanging ideas, sharing experiences, and exploring the latest trends in our field. I found the discussions and presentations to be immensely insightful and inspiring. The opportunity to connect with like-minded individuals and learn from their expertise was invaluable."
What's next for the Lutron Design Council?
The Design Council was born out of Lutron's desire to create an open forum to directly discuss feedback and trends, to further improve industry-wide innovation and collaboration. To this end, the London-based group will meet again towards the end of 2023.
Attendees shared this vision, Morpheus & Co.'s Quesada adding "I believe that our collective expertise and collaboration will continue to foster innovation and elevate the design industry as a whole."
Ben Bard, VP of Luxury Lighting and Shading Solutions at Lutron, said: "At Lutron, human-centric design is at the core of what we do. The only way we can innovate and create to that end, is with input from the customers and partners we're designing for. The time and perspective that our Design Council members shared with us is invaluable. We are extremely grateful for it and are now eager to start putting that feedback into action."
Other attendees included, Tyche McCaig from Studio Indigo, Stuart McLauchlan from SHH Architects & Interior Design, Iain Johnson from Allect Design Group, Sam Cooke from KSR Architects & Interior Designers, Maria Mallalieu from 1508 London, Antonio Quesada from Morpheus & Co., Gemma Ryan from Martin Kemp Design Limited, Sally Storey, from Lighting Design International, Gary Campbell, from DPA Lighting Design, Chris Butler from Walter Lilly, Sean Cox from Size Group and Bernard van Jaarsveld from WebsterHart Llp
Share this story