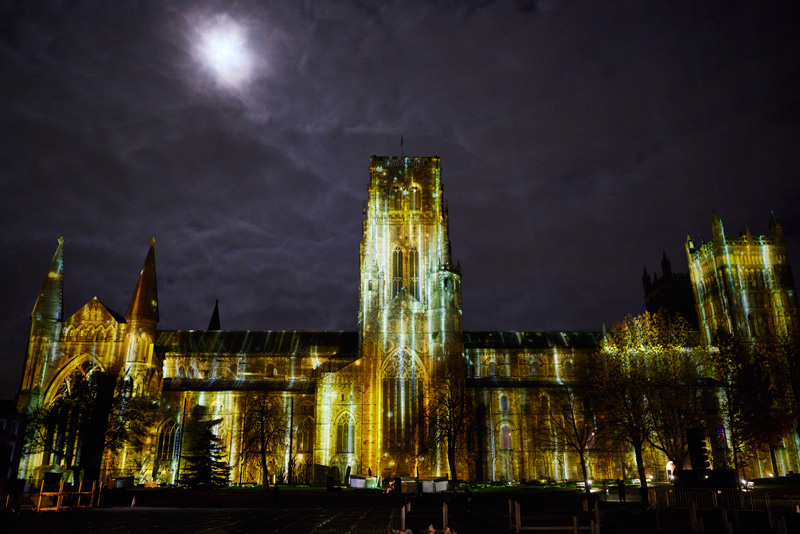 Lumiere 2023 will be the biggest programme yet in Durham
Including world-renowned artists Ai Weiwei and Rafael Lozano-Hemmer, the programme features over 40 installations that will illuminate Durham and Bishop Auckland
For the first time, the programme extends beyond the city to Bishop Auckland, as part of a regular biennial spotlight on the wider Durham County
It's time to plan your visit ahead of Lumiere lighting up your weekend in Durham from Thursday 16th – Sunday 19th November 2023. There are over 40 artworks to discover in Durham City and Bishop Auckland over four nights at this free-to-attend event. Here's everything you need to know about how to visit the UK's light art biennial.
Produced by leading arts producers Artichoke, and commissioned and funded by Durham County Council,Lumiere receives additional support from Arts Council England, Durham University, County Durham Community Foundation, and many other supporters. "Spotlight on Bishop Auckland" is produced in partnership with The Auckland Project and supported by Stronger Towns Fund.
Lumiere – peak-time hours and enjoying the event without a ticket
Lumiere is free to attend for everyone and free tickets are only required to enter Durham city centre during peak hours, 16:30-19:30 each night. Everyone can enjoy Lumiere across the city without a ticket after this time. Tickets are not required for Bishop Auckland at any time. There are still a limited number of peak-time tickets available, best availability is Friday 17th November, 16:30. Visit Lumiere-festival.com.
Remember there are 27 artworks to see outside the central ticketed zone in Durham, including Sacral (2021) by Edoardo Tresoldi at St Mary's College, Universal Loom (2023) by Daniel Canogar, at The Ogden Centre, Parallels (2023) by Architecture Social Club in Prince Bishops' loading bay and Constellations (2018) by Joanie Lemercier at Baths Bridge area. Plus, you can see all of the artworks without a ticket after 19:30-23:00 each night. 

Opening Hours
Lumiere in Durham City runs from 16:30-23:00 each night. Don't miss out on four exciting installations in the historic town of Bishop Auckland, open each night 17:00–22:00.
There are extended daytime opening hours for Illuminated Bottle Rack by Ai Weiwei in The Chapter House of Durham Cathedral 10:00–15:30. This highlight Lumiere installation is likely to be extremely popular and entry is not guaranteed. Remember that last admission to Durham Cathedral is 22:30.
Navigating Lumiere
The Lumiere print programme is available to purchase for £3. All money received goes straight back to the event. The programme is available to buy at the Lumiere Visitor Hub in Millennium Place and includes a fold-out map, artwork installations and plan-your-visit information.
The Lumiere Visitor Hub will be open from Saturday 11th November – Tuesday 14th November, 11:00-16:00and from Wednesday 15th to Sunday 19th November, 11:00-23:00.
Visitors can also download the new Lumiere Durham app with interactive maps and live updates. Available for free on Google Play or the App Store, visitors should download the app before the event and enable location and notifications, as prompted during initial start-up, for the best experience.
Keep up to date with the latest travel news and parking information by following @DurhamCouncil and searching #LumiereDurham on X (formerly Twitter) and join the Lumiere Facebook. Visit www.durham.gov.uk/lumiere
Photo: Matthew Andrews.
Share this story