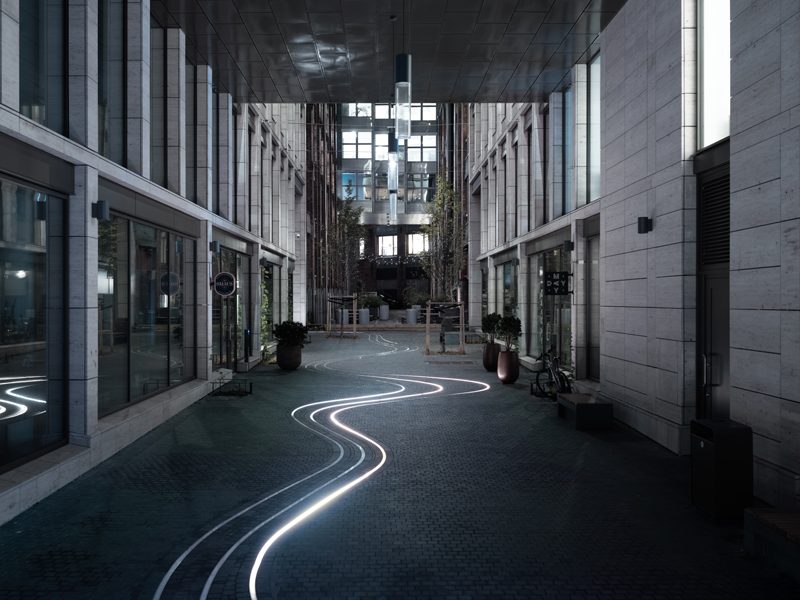 LEDFlex reveals the completion of an extraordinary public realm art work, Delta, which uses the innovative and flexible Ultimo Neon fitting, embedded into the hardscaping, in a newly reimagined area of the Norwegian capital of Oslo.
Entra ASA, one of the largest property owners and developers in Norway, had appointed designers Void, to restore and revitalise the heart of the city into a safe and inviting hub for the community and tourists.
Delta beautifully articulates the connectivity of the city. Much like a river flows, meanders and pulses, Delta moves and flows with the city's rhythm, through the streets and alleys of the Tullinløkka estate. This innovative solution was conceived, developed and delivered through the whole specification chain by the dynamic design and technical team at Void.
LEDFlex worked with Void to supply over 1 kilometre of high-quality innovative lighting for this inspiring project, using products from the extensive LEDFlex range including the 16mm wide Ultimo Neon Silicone Pixel Short Pitch RGBW in horizontal and vertical bend.
A white warm hue glows through the quarter most evenings, however, the lighting is dynamic and has the ability to change colour and pace for special events and occasions. This adaptability illuminates the brief to create connection with the community and invite people into the space to reflect. The technology and control system behind the lighting played the key role in the design. The installation is equipped with motion sensor technology to detect the movement of visitors throughout the environment. The light gently pulses when no one is walking through and then as foot traffic increases, Delta comes to life, tracking the journey of people and flowing with them, as they stroll through the streets.
Delta truly seeks to inspire, connect and reignite this old city quarter in Norway's largest, and capital city. With a dynamic lighting scheme and a plethora of solid lighting solutions, the old city quarter will be an attraction for the locals and visitors alike.
Photo: Einar Aslaksen.
Share this story