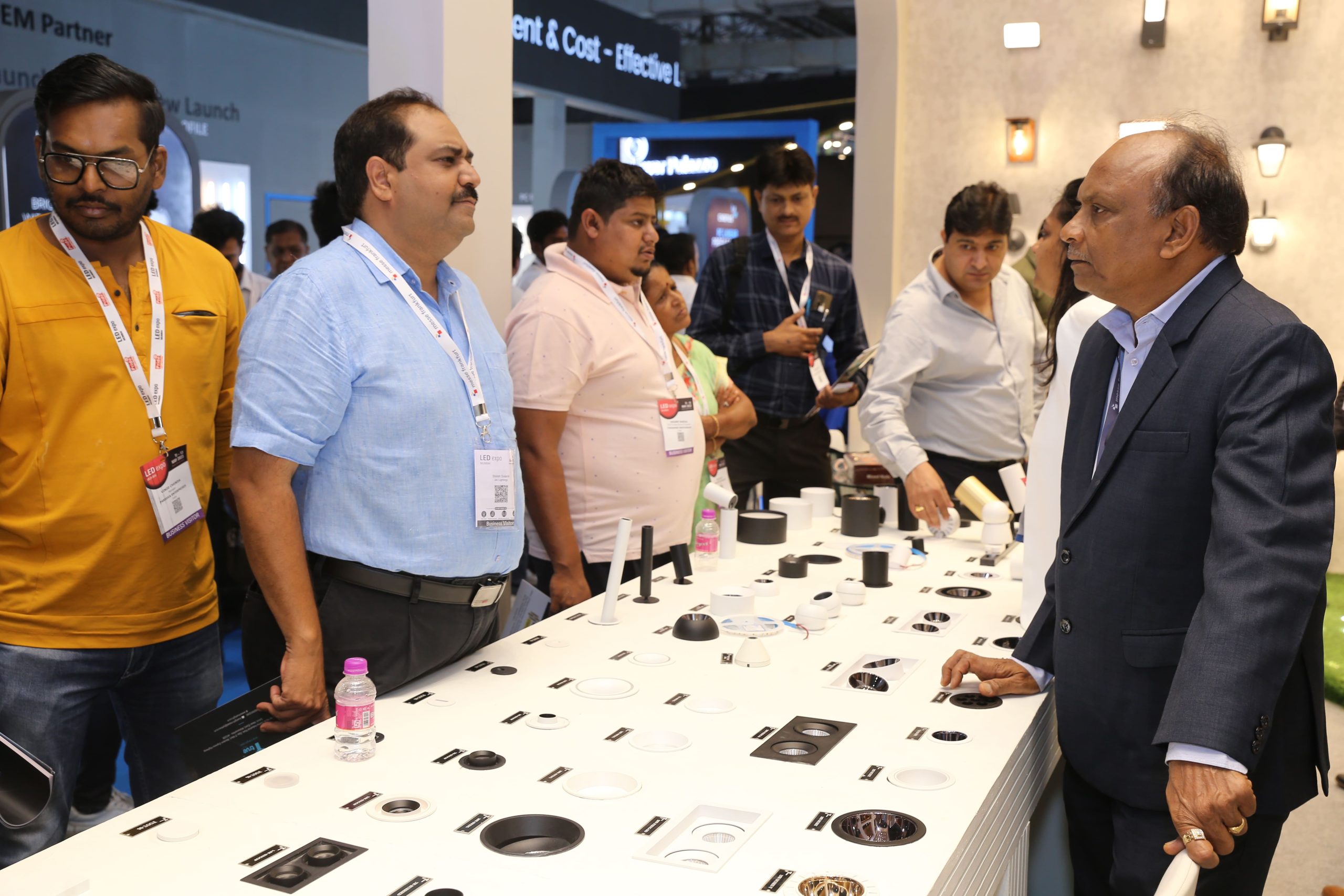 The 25th edition of the exhibition displayed products ranging from quintessential LED lights and components which are need-of-the-hour for lighting. Reflecting on the growth side, the Mumbai edition discussed crucial topics catering to the lighting industry.
LED Expo Mumbai 2023 highlighted the most demanding categories within the LED industry smart lights. The pioneering show displayed growth with 200+ exhibitors attracting 12,724 business visitors. Introducing features like how lights are controlled remotely or via voice where one will have complete control of the function and application of lights.
LED Expo showcases futuristic technologies in the lighting industry that make the lights an integral part of smart home cities. Displaying products that allow connectivity and digitalisation for new forms of work, leading to more personalised working hours, new flexible working methods with variable work locations. This transition brings new challenges in creating optimum conditions for users that increase well-being and inspire top performance.
Sharing his delight about the silver jubilee edition, Mr Raj Manek, Executive Director, Messe Frankfurt India Asia Holdings Pvt Ltd said: "Once again LED Expo has proved to be the most influential platform to source and showcase the best quality solutions for the lighting industry in the country. The unwavering trust and commitment of our exhibitors, visitors and the associations who have supported us through this epic journey has been the driving force behind the success of LED Expo over the last two decades. I take the opportunity to thank all our stakeholders and we aim to continue this legacy of creating a bigger and better platform for the lighting industry through LED Expo."
LED Expo hosted lighting designers converging at the trade fair for the launch of the coffee table book 'The Power of Stories' by Women in Lighting After exploring the show floor, Ms Surbhi Jindal, Founder & CEO, Da Light Hub and Ambassador, Women in Lighting India, stated: "The future of the LED industry is really promising, technological advancements in LED have helped lighting designers focus on the concepts like health & wellness, human-centric lighting, increased productivity in office environments and smart solutions offering to the clients. LED Expo is a great platform to witness core components, luminaires and other elements covering this growing industry. I congratulate Messe Frankfurt India for organising such a great exhibition."
Acknowledging the silver jubilee edition of LED Expo Mumbai edition, Ms Abha Shukla, Principal Secretary (Energy), Industries, Energy and labour Department, stated: "I take the opportunity to congratulate Messe Frankfurt India for creating this international level 'Silver Jubilee Mumbai Edition' of the LED Expo. India is home to some of the world's biggest manufacturers of lighting products both conventional and LED which is going to increase manifold under the mission "Make In India". This has attracted buyers and international brands from across the globe to source from India. Maharashtra Government has made it mandatory for government buildings to install all the new lights and replace all the old conventional inefficient lights with LEDs which is resulting in saving costs and power to divert it to other productive use at the same time it is helping in promoting a clean environment. Maharashtra Government started installing Solar based LED street lights which are a lot more efficient and brighter because they directly use the sun's energy. LEDs work on direct current and do not require a converter."
The 25th edition of LED Expo saw top brands such as Cygnus, Pride Light, Autonix, Tinge, Nirvana, Tektrocnics, ALT Lights, CNC Lighting, KGN Light, Lumenstech Neptune Light and more displaying unique inventions on the show floor."
Showcasing an exciting display of decorative lights, Mr Dinesh Choudhary, Managing Director, GEO Lighting, Mumbai, shared his review on the show by saying: "We have been participating in LED Expo for last few years and we have received tremendous support from the visitors in this edition. We are generating a good amount of business not only during the show but also post show. We are looking forward to the upcoming editions of LED Expo."
A regular participant at LED Expo Mumbai and Delhi editions for many years, Mr Sagar Patel, Partner, Cygnus Lighting LLP, Mumbai, said: "We launched several new products at LED Expo. I think this is the perfect platform to do so. At the show, we have tremendous footfalls in terms of customers and trade buyers. The visitors also included early adopters of the new technologies we are offering. We did a good business here and are closing many deals."
All three show days were packed with knowledge sessions in association with key members from the industry. Dr. Prakash Barjatia, GB Member & Director, Indian Society of Lighting Engineers (ISLE) who discussed and moderated the session on Emerging Market of Smart Lighting (LEDs) in India; Light + Building & Light Middle East focused on Make In India, Make For The World on the first day. The second day hosted an interactive seminar in association with KNX highlighting the 'Future of IoT & Smart Lighting Controls'. The 'Designer Connect Program' brought together design professionals from the lighting industry before the book launch event of 'The Power of Stories'. The last day hosted an informative and interactive session held by ISLE with a detailed presentation on 'Knowledge Requirement of Lighting Designer' and 'Understanding of LED Optics Technology'. These sessions added tremendous value to the show.
With industry knowledge sessions lined up during the show in association with Indian Society of Lighting Engineers, Dr. K Naveen, CEO, Proradiance, Green Building Solutions, said: "Seeing is believing. At LED Expo, I see that there are a lot of new technologies and products displayed which is of great help to all the visitors including architects, designers, dealers, and exhibitors. The industry is set to evolve in the future with technologies like smart lighting, human centric light and LiFi – a technological innovation which transmits data through LED or infrared light. These are becoming popular day by day."
LED Expo drew visitors from every Indian state, including premier business visitors from 18 different countries including India. Amazed by the range of products, technologies and solutions being exhibited, one of the visitors from Malaysia, Mr Chub Boon Tang, Regional Sales Manager (Asean/ANZ/India), Luminus, from Malaysia mentioned: "The exhibition is massive with a range of products, so if I am looking for anything right from the casing, drivers, to sensors and complete lighting solutions, I will be sure to find it here at LED Expo. I have spoken to many exhibitors and we are surely looking at getting a few of them on board with us as partners, clients and vendors. I will definitely go back to Malaysia and inform other members from the industry that LED Expo is a must-visit."
Mr Raghotham K S, Managing Director, Varidhi Electro Tech Pvt Ltd, Mysore, said: "We are in the similar industry. I came here to expand my business, gain knowledge on new technologies and products, meet key people, customers as well as suppliers and I am happy to have been able to do so at this show. I think LED Expo is an excellent platform for new entrants who can gain good insights from the show."
LED Expo Mumbai 2023 has garnered support from the Ministries, Government Departments and top industry associations like the Ministry of Electronics & Information Technology (MeitY), Department for Promotion of Industry and Internal Trade Ministry of Commerce & Industries (DPIIT), Maharashtra Energy Development Agency (MEDA), Energy Efficiency Services Ltd (EESL), Industry Energy and Labour Department – Government of Maharashtra; and leading industrial associations including Luminaires Accessories, Components, Manufacturers Association (LACMA), Indian Buildings Congress and The Energy and Resources Institute (TERI).
Having concluded with flying colours, the show was lauded for the variety displayed in lighting sector, planning and overall organisation. The next edition of the LED Expo will be on 2 ─ 4 Nov 2023 at IEML, Greater Noida.
LED Expo is part of Messe Frankfurt's Light + Building Technology fair portfolio headed by the biennial Light + Building event in Frankfurt, Germany. The next show will be held from 3rd – 8th March 2024.
Share this story