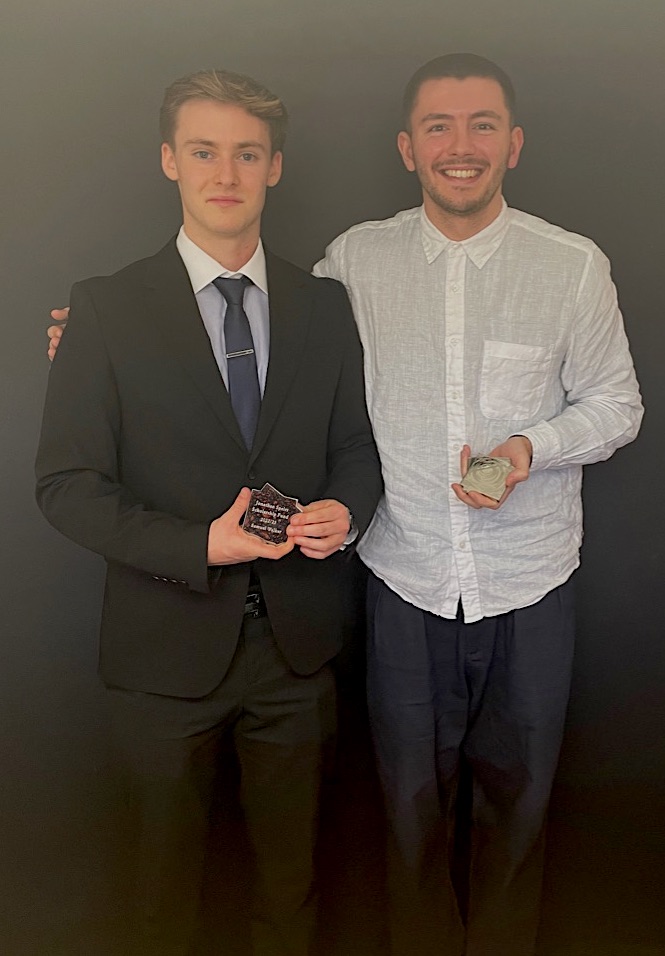 The Jonathan Speirs Scholarship Fund is a UK-registered charity that provides support to students of architecture who wish to enter the architectural lighting design profession.
In this, the final year of the award program, the Trustees of the Jonathan Speirs Scholarship Fund (JSSF) are delighted to announce that the joint winners of the 2022/2023 scholarship award are Edward Turner and Samuel Walker.
Edward is studying for an MA in Architecture at the Royal College of Art, London. Through his studies he has consistently engaged in the manipulation of natural light at both urban and interior scales, having had a longstanding fascination with the theatrical nature of architecture. More recently his attention turned to artificial light with his project "Batteries Not Included", a reimagination of the Blackpool Illuminations that takes an inventive and critical approach on the use of energy and lighting, generating, and storing the electricity through kinetic structures and kinetic architecture. The project underscores a serious and urgent concern for our fuel dependency and a need to fundamentally shift that relationship, with a poetic and joyous response to the cultural heritage of Blackpool through the use of light and colour. The scholarship will be used to support Edward in starting his own spatial design practice where he hopes to further explore design of a more provisional nature that encourages adaptation; and supports ways of behaving that are more in line with addressing the climatic situation we find ourselves in today.
Samuel is studying architecture at Coventry University and is currently an intern at dpa lighting in their Oxfordshire studio. Passionate about light since secondary school, and a self-confessed near obsessive regarding sustainability, Samuel has a particular interest in the topic of light pollution. His work explores how celebrating darkness is crucial to tackling this issue, both environmentally and economically, while designs that employ subtle lighting and use contrast to shape space and experience still enable us to deliver the positive emotional and social impact light can bring. The scholarship will be used to support Samuel in his ambition to work with professionals in the industry to set up a platform that aims to educate, inspire, and motivate students, designers, and anyone else that is interested in design, astronomy, and sustainability around the topic of lighting, and the benefits that designing well-lit spaces can have on our health and the planet.
The programme was delighted to also award three commendations, to Chen Weiting, Jade Atkins, and Jingwen Song.
Chen Weiting is studying for his Part 2 at the Bartlett School of Architecture, University College London. Chen has been intrigued by architectural lighting since his undergraduate studies, using light in his projects as a medium to describe and express spaces that are invisible to the human eye, and exploring how light is an essential element of our spatial experience. His final building proposal was designed to accommodate research on a future light source – biolight, produced by inserting bioluminescent genetic coding into non-toxic bacteria, a process requiring zero energy and producing zero waste. His final year technical investigations were also on lighting, testing different energy-efficient means of illumination, such as producing luminescent concrete with fibre optics and fluorescent pigments.
Jade Atkins is in her final year of her BA (Hons) Architecture degree at Northumbria University. Jade is fascinated by the way in which lighting influences our emotional and psychological responses to spaces. Her final year project is a pop-up pavilion based around the emotional response evoked by warm and diffused light through windows at nighttime. The pavilion was designed to offer the dispossessed and transient populations of Newcastle upon Tyne a sense of home and safety, as well as being a 'warm bank' and an opportunity for crucial social engagement.
Jingwen Song is studying for a MSc in Digital and Material Technologies at the University of Michigan. Jingwen is a spatial/architectural design researcher, with academic and professional accomplishments linked to inclusive design, computation, lighting, and fabrication. Part of her design research is linked to people living with disabilities, using lighting and sound, coding, scripting, and AI to structure lighting effects and create alternative spatial possibilities in particular environments with the aim of providing innovative and meaningful sensory experiences.
John Roake, Chairman of the JSSF commented: "I wish to extend my congratulations to Edward Turner and Samuel Walker who join a small but select group of scholars. Also to Chen Weiting, Jade Atkins and Jingwen Song on receiving commendations. We wish you all bright careers and trust you will always remember being touched by Jonathan's legacy.
When the Jonathan Speirs Scholarship Fund was launched in 2012, we pledged that we would award at least one scholarship to a student of architecture per year for 10 years. We find it hard to believe that we have now reached that point. Our mission to was to assist students in their studies and follow their passion for light, just as Jonathan did.
Over the past decade we are very proud to have awarded 16 full scholarships and helped an additional 5 students with commendation awards.
We would not have been able to do any of this without the outstanding support of many individuals and organisations who have been consistently generous with their donations over the years. It has been a testament to the respect that Jonathan had within the lighting community that we have been able to fund these scholarships. Our special thanks not only to our 'Benefactors': Designed Architectural Lighting, Hoare Lea, iGuzzini, Lightology, Lucifer Lighting, Mike Stoane Lighting, Philips Lighting and Sean O'Connor Lighting Inc. but also to everyone who provided financial support, both large and small.
A massive 'thank you' also needs to be extended to our Trustees – Mark Major, Paul Gregory and David Speirs, without whom the scholarship would never have happened. They have given generously of their time to help nurture and develop the JSSF over the last decade.
I also wish to extend special thanks to Karina Armburg Jennings for her organisational and administrative help which has been invaluable.
Finally, I would also like to extend our sincere gratitude to Alex Shall at Praxis for offering pro bono assistance with our accounts, Sarah Adams for all her help with press releases and communications, Simon Watson at SwearingDad Design for building and maintaining our website and Telli Nourkeyhani for designing our fabulous logo, which is still as fresh and relevant today as when first presented. Also, to Barny MacDonald for handling our finances and particularly to Keith Bradshaw and all at Speirs Major for their unswerving support and generosity over the years.
It has been an honour to have been chairman to a charity inspired by a great friend who is still much missed. Whilst Mark, Paul, David and I have had had a lot of fun and a few heated discussions along the way, we hope we have helped many students fulfil their dreams, which is what we set out to do."
Share this story