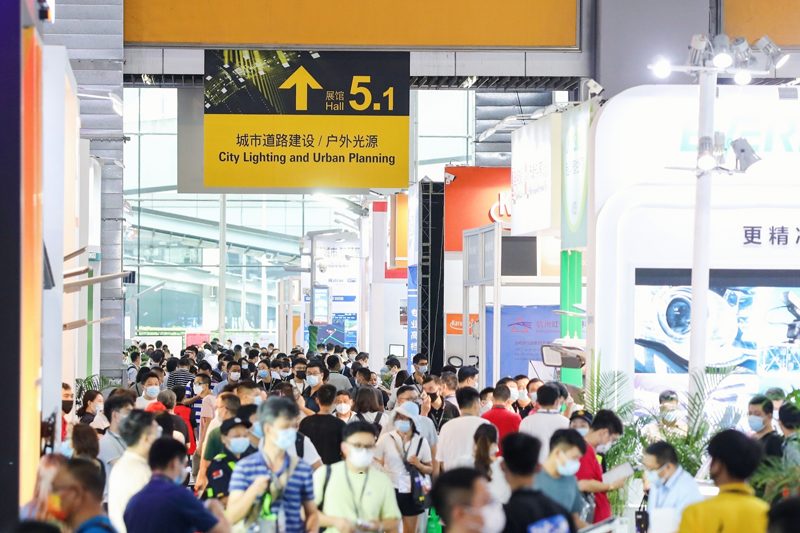 The 28th edition of Guangzhou International Lighting Exhibition (GILE) will take place under the theme of "Light +", from 9th – 12th June 2023 at the China Import and Export Fair Complex. Concurrently held with the Guangzhou Electrical Building Technology (GEBT), the two fairs will expand to occupy areas A, B, and the new area D, covering a total of 220,000sqm across 22 halls. The fair will explore exciting opportunities in the lighting industry, such as more human-centric interior design, advances in AIoT technology, and changes in consumer behaviour patterns.
The development of the "Light +" concept has brought about broader growth for the industry and ushered in an era of transformation among lighting firms. On the industry's future, Ms Lucia Wong, General Manager of Messe Frankfurt (HK) Ltd commented: "The adoption of lighting technology across different industries will act as a catalyst for new technological progress, also driving explosive growth in specialised application fields."
3,318 exhibitors gather at this year's fair
GILE not only brings together the entire lighting supply chain, but also features AIoT technology, new energy lighting, new media art and other related fields. In addition, GILE and the concurrent GEBT will explore the applications of lighting in smart buildings and home automation, giving audiences the chance to learn about the business opportunities available by integrating lighting technology in smart buildings and establishing strategic partnerships between industries.
On the fair's increase in scale, Ms Lucia Wong added: "This demonstrates the industry's support for the show and confidence in the future of the market. GILE will present the best of the lighting industry to fairgoers and ensure a well-organised layout and traffic flow. Every single one of the 22 halls is well worth a visit."
Areas A, B, and new area D highlights
Area A will showcase the entire lighting industry supply chain, covering the three lighting discussion groups of "Light + Healthy environment", "Light + Cultural tourism" and "Light + Sports".
"Light + Healthy environment": Photovoltaic technology and horticultural lighting (Hall 2.1)
Hall 2.1 will showcase photovoltaic technology and healthy living technologies, with a focus on creating a high-quality lighting environment. This includes the "Horticultural lighting demonstration zone", as well as the photobiology and smart agriculture international forum. Highlighted exhibitors include: Inventronics, Honglitronic, Ledestar, Sananbio, AIHUA, Xuyu, H-Great, Lightning, Silan Microelectronics, Pusisat, ShineOn, MTC, Sunpu, Dadao Semiconductor, Zonsme and Anderson.
"Light + Cultural tourism": Night tourism and smart green city (Halls 4.1 to 5.1)
The cultural tourism and light art pavilion (hall 4.1) will conduct an in-depth exploration of how lighting can contribute to the sustained growth of the cultural tourism and night-time economy. Furthermore, a number of urban authorities have recently proposed using innovative technologies to make cities greener, cleaner, more livable, and achieve sustainable development. Highlighted exhibitors include: MLS, Nexnovo, Hpwinner, Jinsheng, Relay, Genesis, Tiege and SH LED.

In addition, this hall will host the "Alighting new cultural tourism and night tourism high-quality innovation conference 2023", inviting representatives including owners, investors, content planners, solution designers, innovative product designers, engineering and construction professionals, and project operators. The 19th edition of the Asian lighting arts symposium will also take place at the conference room in area A.

Hall 5.1 will focus on smart city and street lighting. In the future, smart light poles will form part of huge networks in cities that will help advance intelligent transportation and reduce carbon emissions. Highlighted exhibitors include: FYT, SNC, WATRAN, BANQ, ZK-Link, Yunda and Wosen.
"Light + Sports" (Hall 4.1)
The Guangdong Provincial Government has issued the National Fitness Implementation Plan 2021 – 2025, detailing the upgrade of higher-level public sports facilities and services across the province. As sports in China enter a new stage of high-quality development, intelligent lighting control technology and high-quality sports lighting systems will continue to rise in demand.

Hall 4.1 will hold China's smart stadiums lighting summit 2023, to explore the future trends in sports lighting.
Entire lighting industry chain (Halls 1.1 to 3.1 and halls 1.2 to 5.2)
Halls 1.1 to 3.1 will highlight upstream industries such as drivers, power supply, chips, packaging, lighting accessories and testing technology; and halls 1.2 to 5.2 will showcase different indoor and outdoor lighting application solutions and products. Highlighted exhibitors include: BJB, ChuangHui, Everfine, Guibao, AISHI, Dupont, Sosen, MOSO, MEAN WELL, Cupower, EUCHIPS, Chuandlian, Vfcheng, CEPT, Billda, Eaglerise, DONE, WAGO, iLamp, Australis, Lianhao and Okeli.

At the same time, the "The 11th Alighting award ceremony" and the Brand Innovation conference 2023 will take place in hall 4.1, area A, to promote new technologies and creative designs.
Area B (Halls 9.2 to 13.2 and halls 9.3 to 11.3) will present high-tech applications
"Light + AIoT" (Halls 9.2 to 11.2)
Jointly organised by GILE and the Shanghai Pudong Intelligent Lighting Association, the "Smart-health crossover demonstration pavilion 3.0" will continue to focus on the different applications of smart lighting and AIoT technology.
Halls 9.3 to 11.3 and 12.2 to 13.2 will showcase the full range of lighting applications and connected technologies in future homes and commercial spaces.
Highlighted exhibitors include: PAK, OML, FSL, Alphaluce, Luminus, Luminus, CGD, Lifud, Mu Guang, Kinglight, KEBON, Blueview, Rishang, JOM Time, Ounen, Wisva, Shengchang, TUS, Cooper, LTECH, BOKE, BPS, AIDimming, Gallop, Sunricher, Kiwi,Long-Join,YuanSheng, Airtouch, Easydetek, MoreSense, InSona,CoolKit, Earda, MXCHIP, Qunhe, Shuncom AIOT, Leaguer, Espressif, Darkoo, Herculux, VFCheng, LEDIL, PLC, DALI, MATTER and KNX.
Furthermore, the halls in Area B will hold a series of forums which will delve into new technologies, channels and cross-industry cooperation. Events include: "Lighting design by art or science?", "DALI innovation development", "Matter development forum", "Design Inspiration – East Meet West" and "Housing Design Trends Forum".
Area D (Halls 17.1 to 20.1) to showcase the latest lighting trends 
"Light + Art" (Hall 18.1)
GILE is expanding to area D for the first time, inviting different designers to display lighting art in hall 18.1. The 3rd Light Art Exhibition with the theme of "Origin" divides the exhibition space into sections of metal, wood, water, fire and earth, showcasing the use of Wuxing philosophy in urban development.
"Light + Energy" (Hall 19.1) and "Light + Smart city" (Hall 20.1)
New energy is a big part of the new technological revolution and transformation of the lighting industry. Hall 19.1 will set up a "New energy lighting and energy storage zone" to integrate resources from the cross-border supply chain. Alongside the "Landscape and Smart street lighting zone" in hall 20, the two zones will explore how lighting will help promote green development.
Other events in hall 19.1 include "New energy lighting development conference", "Dual carbon and home energy storage technology development forum" and "Smart city and street lighting industry innovation development forum".
Highlighted exhibitors include: Strong Lumen, Growzing, Chenglian, Ruibond, Ant, Sokoyo, Freelux, Huati, Nationstar, Winzoom, Red100, Nightsun, Shangle, Kapego, Outlux, Aishi Electric, Yolo and Mingxing.  
Forum partners also include: China Construction Fourth Engineering Division Corp, LTD and 7Gwifi.
Ms Lucia Wong said: "Every exhibitor's hard work brings the concept of Light + into reality. GILE is sure to live up to expectations, seeking opportunities, exploring resources, and opening up a bright future for every industry player."
Guangzhou International Lighting Exhibition and Guangzhou Electrical Building Technology will be held from 9th – 12th June 2023. Both shows are part of Messe Frankfurt's Light + Building Technology fairs headed by the biennial Light + Building event. The next edition will be held from 3 – 8 March 2024 in Frankfurt, Germany.
For more information, please visit https://guangzhou-international-lighting-exhibition.hk.messefrankfurt.com/
Image courtesy of Guangzhou International Lighting Exhibition (GILE).
Share this story