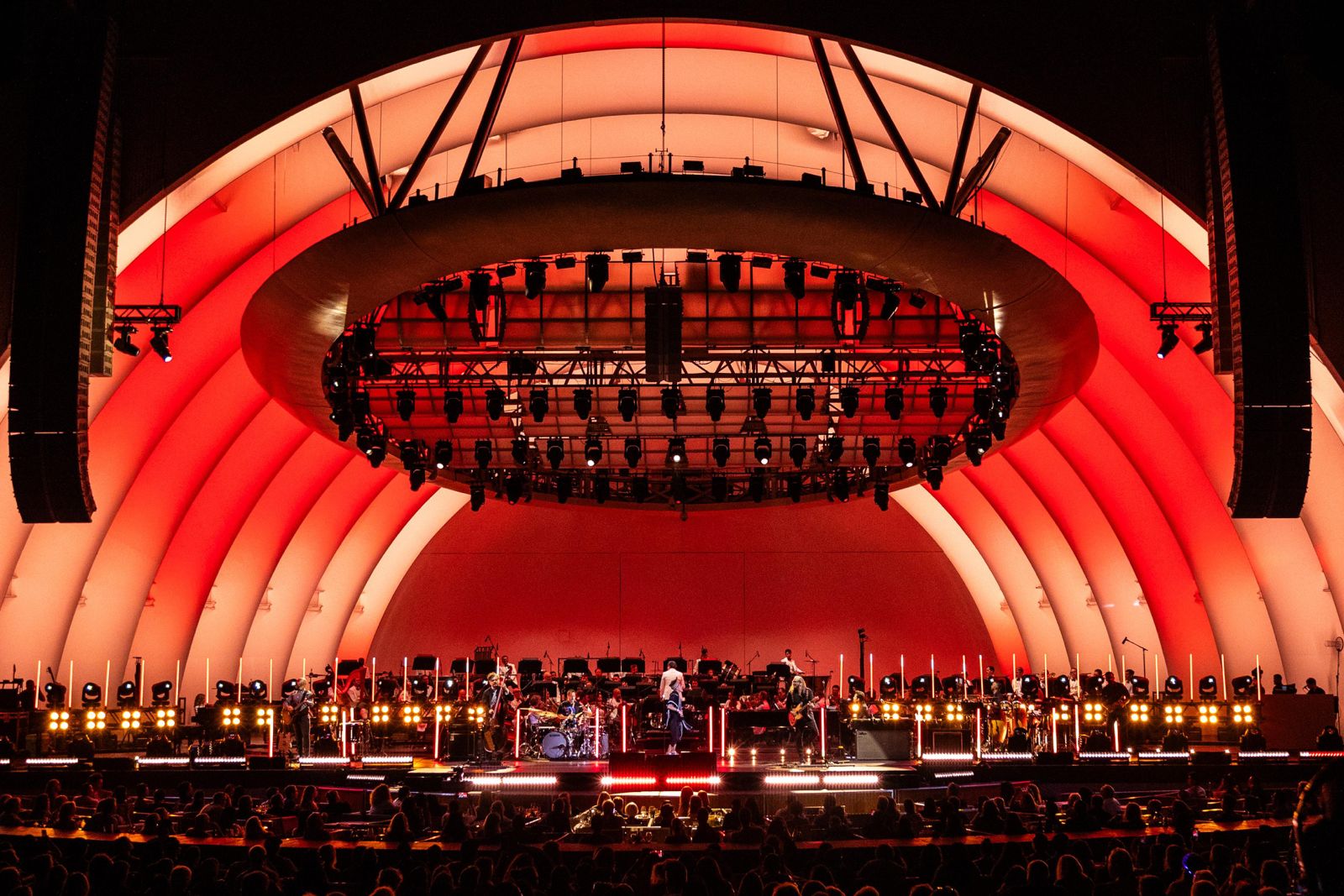 Nowadays, it seems like just about every show "has to be lit ready for broadcast, I-Mag and or social media at any time," says Felix Peralta. The noted designer and programmer knows whereof he speaks, having worked with many big stars with astronomical followings on Instagram, Facebook, and every other platform.
This summer Peralta had the opportunity to create an array of stunning video/photo-worthy visuals with his lighting, the kinds that look like the stuff of beautiful dreams and remain in memories forever, when he lit Café Tacvba with Gustavo Dudamel and the LA Philharmonic in concert at the Hollywood Bowl.
Peralta's inspired use of contrasting warm and cool colour tones played of beautifully against the famed bandshell's concentric arches, while the warm, radiant glow emanating from the shell-like stage accentuated the natural beauty of the venue's Hollywood Hills surroundings.
Helping him create these breath-taking looks was a 4Wall Entertainment supplied rig that included 24 STRIKE Array 4 multi-formatted units, 18 Color STRIKE M motorized strobes, and 20 COLORado PXL Bar 16 battens from CHAUVET Professional.
"We had been touring this show with an orchestra for a little over a year," said Peralta.  "When the opportunity came to do our show at the Bowl with Gustavo Dudamel and the LA Philharmonic, I had to reimagine the production to fit within the known variables presented at the Bowl under these conditions. I wanted to preserve as much of the iconic look of the bowl, while still having enough of the  'lighting tools and paint brushes' to recreate the look and feel of what we had been doing previously on this production."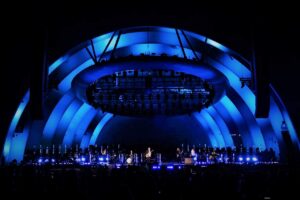 Peralta described the challenge of adapting his tour design for the multi-Latin Grammy winning band to the parameters of this show at the Hollywood Bowl. "I had to strike a balance so I could convey the desired emotion and energy while still interpreting the  'acoustic' nature of the music arrangements on this show," he said.  "Café Tacvba, with their 34-year history as a band, has some of the best fans in the world.  They want to sing and dance to the band's songs every night.  They have learned to expect a certain level of production and energy over the years.  With this show, I took the inspiration for our colour palette from our normal 'electric' touring show, and made it work in a different setting.  It always amazes me how the fans, as well as the band themselves, can get used to the colour and vibe of their songs.  It's like they become part of the song itself, at least in the live environment.
The STRIKE Array 4 and Color STRIKE M fixtures in Peralta's rig were key to helping him convey the warmth and colour of his iconic client's performance. He positioned these fixtures on six 10' trusses, an arrangement chosen because of the tight load-in schedule.
From this position, the fixtures created a sense of intimacy. "I leaned on the Strike Array 4s to push the emotion called for by the songs," said Peralta. "The Strike Ms are like a snap, crackle, and pop fixture for me.  I can use them to push colour. I can create delicate, nuanced effects with them. And I can be heavy handed and use them to push hard with strobing."
While STRIKE Array 4 and Color STRIKE M were being used to dial up emotional energy, the rig's COLORado PXL Bar 16 linear units added an elegant structural element to the design. Lining the stage apron, they helped Peralta define space, which enhanced the looks of the show for the live audience, as well as anyone who later watched a shared video on social media.
Although they created beautiful visual vistas, Peralta and his team, led by production manager Dante Gudino and lighting crew chief Andrew Gonzales, never took their eyes off of fundamentals like key lighting.  "We lit the orchestra with a high side treatment, and a steep fill wash," said Peralta. "This made it easier for the orchestra to read their music sheets without any distractions. Tacvba is more forgiving. They let me light them in multiple ways.  For this production, we used a combination of foot lights, side lights, high sides, steep fills and a more 'flattering' side front wash on occasion to 'lift' them up.
"You always need to make sure your clients are lit to stand out, regardless of who they are," continued Peralta.  "The last thing you want is to have them call you into the dressing room and point out a 'bad picture' of themselves that they found on Instagram!"
Share this story