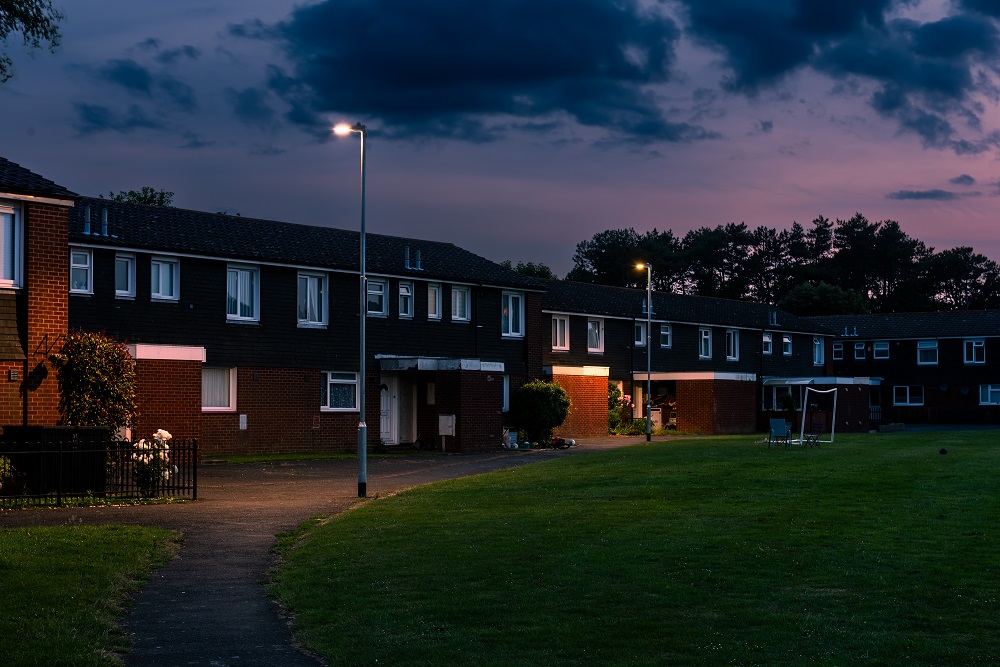 Dover District Council (DDC), one of Kent's largest street lighting districts, is taking bold strides towards a greener and more sustainable future. Committed to becoming a net-zero carbon emitter by 2030 and supporting the entire district in achieving carbon neutrality by 2050, DDC has been tirelessly working to reduce greenhouse gas emissions since 2008, achieving an impressive 57 percent reduction.
As part of its ongoing efforts to pave the way for a brighter, safer, and more environmentally friendly community for its residents, DDC recently invested nearly £1M, with support from SALIX, in upgrading its aging street lighting infrastructure.
VOLKER HIGHWAYS emerged as the successful bidder and in a strategic partnership, selected CU Phosco Lighting as the preferred supplier.
The approved solution, in response to the project's objectives and tender specification, was a combination of CU Phosco's P852 and P873 luminaires. The P852 24LED luminaire offered an energy-efficient (up to 139 Lumens/Watt), low-cost solution for Dover's residential roads with a Dark Sky Friendly design and coastal protection to withstand harsh salt air conditions.
The P873 post-top LED luminaire combined cutting-edge LED technology with an aesthetically pleasing design, harmonious with the local area, while maintaining low energy costs.
CU Phosco's range of road lighting LED luminaires strictly adheres to the ETL guidelines for White Light Emitting Diode Lighting Units and is eligible for the Enhanced Capital Allowance (ECA) scheme. In this project, the luminaires met the requirements for SALIX Finance, allowing Dover District Council to fund the project interest-free.
As the project progressed, additional works were included within the contract, with small additional funding from external sources. Notably, the Skate Park lighting at Deal was replaced using the CU Phosco FL810 robust floodlight, creating a safe and friendly environment with maximum optical control to avoid light intrusion. The lighting system is complemented by a state-of-the-art Lutron control system for maximum energy efficiency and security.
Furthermore, CU Phosco's Forest Columns, boasting longevity and meeting BS EN 40 standards, played a vital role in this project. Over 200 5-10m columns, manufactured at CU Phosco's Forest of Dean Factory in Coleford, were utilized to illuminate the streets of Dover.
The success of the main contract led to an expansion of the project to Burgoyne Heights, where an additional 64 columns were replaced using an ICP contractor to transfer the supplies. This endeavour, won by FM Conway through a small tender, was facilitated with CU Phosco P852 lanterns procured by DDC, ensuring swift completion in just over three days. This former military site, now a housing estate, now benefits from the same safe and reliable lighting as the rest of the DDC District.
The district-wide lighting upgrade has brought about significant benefits to the community. The improved lighting on Dover's streets, car parks, and footpaths has enhanced the sense of safety for residents during nighttime hours. The Council's energy consumption has been reduced by approximately 75 percent, effectively dimming the lights by 50 percent at midnight to further conserve energy and preserve the environment. Moreover, each lantern comes with a coastal specification and is backed by CU Phosco's 15-year warranty, ensuring long-lasting performance.
A spokesperson for the Council expressed their delight at the project's completion, stating, "We are delighted to see the completion of this important project. These brighter, more efficient LED streetlights will help people feel safe at night, as well as help to reduce light pollution, and will save energy, reducing our carbon footprint for the future."
Mike Mills IEng MILP, Director of LEDS LTD, shared his satisfaction with the project's outcome, remarking, "The residents, District and Parish Councils are really pleased with the outcome and improvement in lighting. It was a pleasure to work with the client at DDC, Volkers, and CU Phosco to bring this sustainable lowest cost of ownership solution to fruition on time and within budget. As we now complete five years in business with 250 designs and projects completed, this is undoubtedly our most significant project and success to date."
Share this story