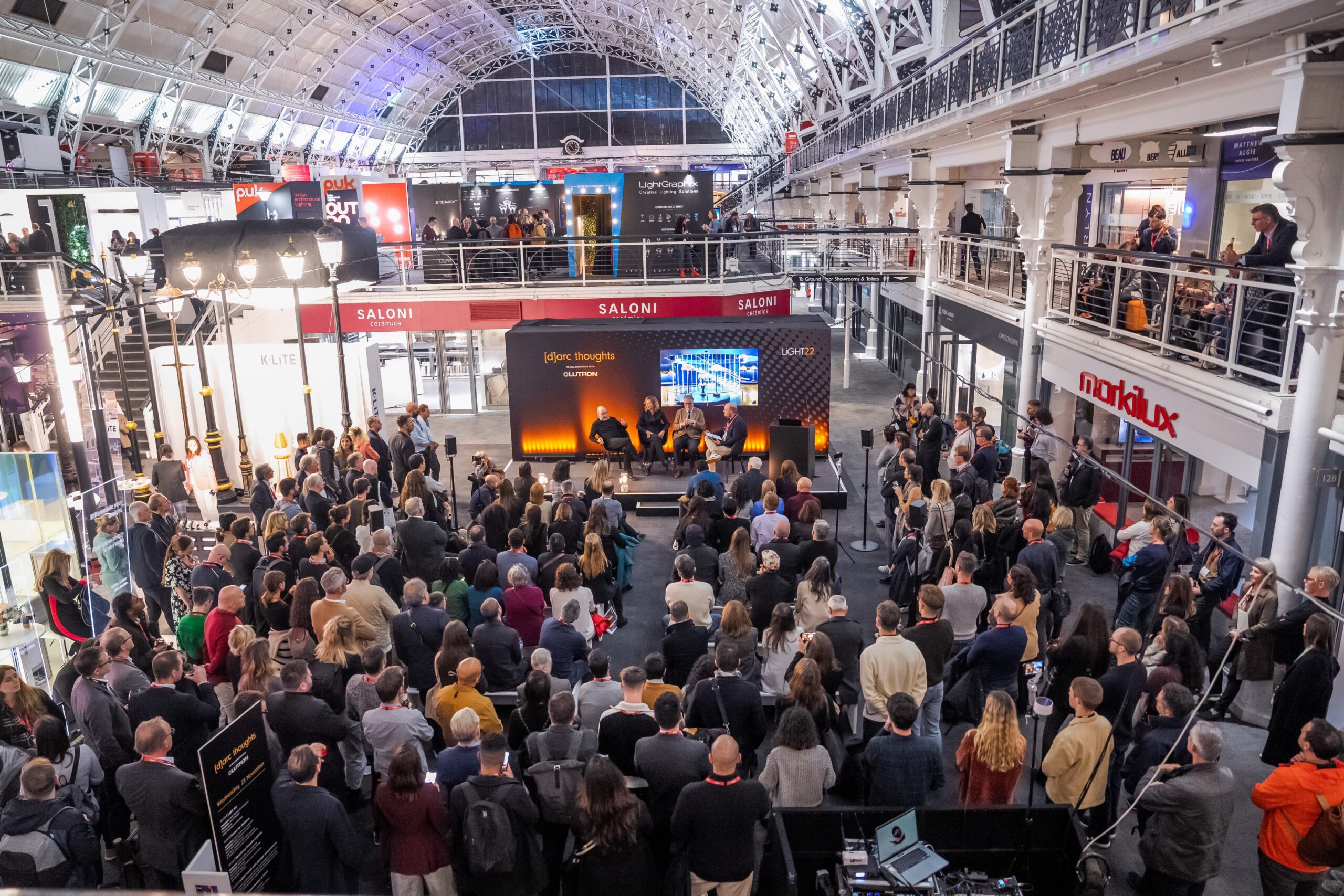 LiGHT – the only trade show in the UK dedicated to lighting specification – will once again address the key topics and trends in the industry through the [d]arc thoughts programme. 
Taking place in a dedicated conference space on the Gallery Level of the Business Design Centre, the programme is completely free to all LiGHT 23 visitors and will feature a mix of short, succinct presentations and panel discussions from leading industry professionals working with light.   
Curated by [d]arc media's Managing Editor Helen Ankers and the editors of arc and darc, [d]arc thoughts will bring visitors to LiGHT 23, two-days of insightful, passionate content covering the most important topics and trends currently circling the lighting and design sectors. 
Headlined by internationally renowned artist, Grimanesa Amorós, who will present ''Illuminating Boundaries: The Exploration and Creation of Art Through Light', followed by a Q&A session with arc magazine's editor, Matt Waring, [d]arc thoughts will also address lighting's role in, 'Designing for Healthy Office Spaces'; 'Designing for a Global Brand'; 'Restaurant and Bar Design'; and 'Sustainability and Circularity in Design'.  
There will also be a series of short presentations from lighting professionals, looking at 'The Animated Light'; 'Driving Human Behaviour with Light'; and 'Parents in Lighting', to name just a few.  
Industry associations will also take to the stage, with designers from the British Institute of Interior Design (BIID) taking a closer look at designing for 'Big and Small Spaces' and the role of lighting from an interior design perspective.   
The Institution of Lighting Professionals (ILP) will once again bring their 'How to be Brilliant' series to the [d]arc thoughts stage; while the Society of British and International Interior Designers (SBID) and New London Architecture (NLA) will both have representatives joining panel discussions around sustainability, office design, and restaurant and bar design.  
For the first time this year, education platform, The Lighting Police will organise a workshop, and the Society of Light and Lighting will present this year's 'Younger Lighter' finalists at LiGHT 23. 
With speakers being announced in the coming weeks, [d]arc media Managing Editor Helen Ankers, said: "We have been inundated with designers from all areas of the industry keen to be involved in this year's line-up and it's been quite the challenge to narrow down our final selection! After the success of [d]arc thoughts at LiGHT 22 last year, we have been keen to build on our offering – keeping both our content and speakers as fresh and varied as possible. While there are key topics that need to be addressed through our talks programme – such as sustainability, diversity and technology advancements – it is important to find new ways to address these existing topics. We are looking forward to announcing our final speaker selections and by working with various industry associations and media partners, we're confident there will be something for everyone at LiGHT 23." 
The full [d]arc thoughts programme and all speakers will be announced by mid-September. 
All talks are free to attend but there is limited seating which is allocated on a first-come, first-served basis. To access the talks visitors must be registered to attend LiGHT 23. 
 For the most up-to-date exhibitor list and all visitor information head to www.lightexpo.london 
Share this story