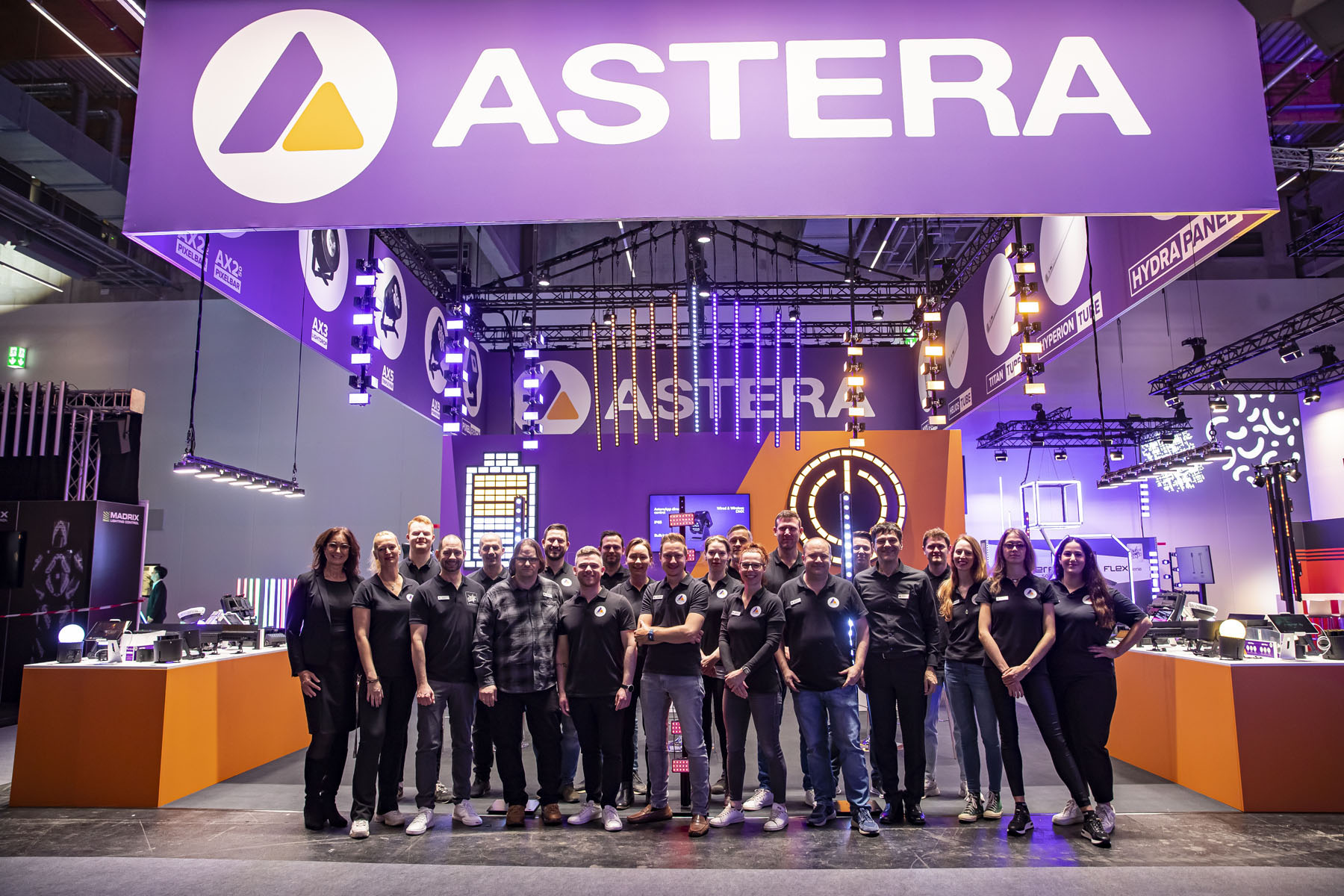 Wireless LED lighting specialist Astera enjoyed a busy and successful 2023 Prolight + Sound expo over four days at the Frankfurt Messe, complete with a brand-new booth design and lighting concept that highlighted their current range of handy and ingenious 'must-have' lighting solutions for live events and broadcast applications.
Astera's sales & marketing director Sebastian Bückle and the team were energized to be back at the show and prominent in Hall 12.1 at this major European entertainment industry hub … where they enjoyed the buzz of an international audience visiting from all over Europe and much further afield.
The large, airy, minimalist stand showcased Astera's full product ranges as well as various accessories, with a focus on the HydraPanel which was launched last year. This unique 'pixel panel' light source offers an extensive range of exclusive features not found elsewhere in a small, powerful package, complete with wireless and wired DMX options, multiple beam-shaping modifiers and all the bits needed to rig and mount it literally anywhere some high-quality light is needed onstage, on a set or any space or environment.
The additional space on the stand was soon filled across all four days with people. Sebastian commented, "Prolight+Sound is much more than a trade show for us. It is a vital meeting place and a lively forum for discussion and communication where we can build our existing friendships and make new ones as the industry connects! It is a great hub for generating business, networking and making new contacts."
As well as HydraPanel, other current Astera innovations prominent in the stand included the PixelBrick, the AX9 PowerPAR and AX2 PixelBar, the smart and neat NYX Bulb and, naturally, the flagship Titan Tube family – Titan, Helios, and Hyperion – which are popular and ubiquitous for show and event lighting.
One of Astera's many USPs is not just the technology integral to each product, but the way products are designed to coordinate and complement each other as well as other types of lighting, providing unmatched flexibility and creative potential for practitioners working in all professional lighting sectors.
Two adjacent stands on the Hall 12.1 show floor – both related to the sales division of German Astera distributor Kaiser Showtechnik GmbH – showed several Astera-orientated accessories, a testament to the popularity and ubiquitousness of the brand and its products.
The PG3 Neo is a stylish universal stand with a small footprint for mounting different products at different heights, utilised extensively with Astera's AX2 PixelBars. It is made of high-quality aluminium and is lightweight, durable and ideal for scenarios where there's no trussing available for rigging lighting fixtures. The elegant aesthetics ensure the infrastructure blends nicely into architectural environments.
Flex is a lightweight aluminium system created by Lautwerfer Solution in close conjunction with Kaiser Showteknik for housing the full family of Astera Tubes. It can make up any shape and is great for DJ booths and outlining stage sets. The tubes clip to the Flex frame via two neat discreet snap-clamps, and the system comes fully flightcased and ready for action.
Also on this booth were Flex Airline stands for both truss mounting or flying arrays of multiple Astera HydraPanels or PixelBricks, complete with adaptors for angling the fixtures.
In a secret demo room, Astera previewed its upcoming fresnel product that will be launched at the end of May which impressed all who were lucky enough to catch a glimpse!
Photo by Louise Stickland.
Share this story