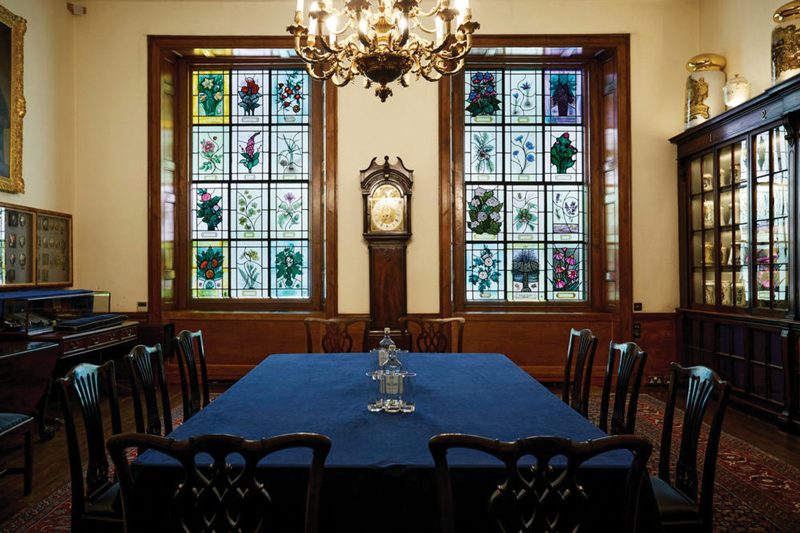 Applelec LED Light Sheet was selected to bring illumination to the Parlour of the historic Apothecaries Hall in the city of London.
The headquarters of the Worship Society of Apothecaries of London, the Hall is steeped in history and is the oldest extant live company Hall in the City of London. With many of the first-floor rooms of the Grade I listed Hall remaining as they were in 1672, Apothecaries Hall now offers bespoke event management, adorned with fascinating artefacts and atmospheric spaces, providing a portal into another time.
One of the event spaces within Apothecaries Hall is the Parlour, featuring large, wall-to-wall showcases in which many of the Society's apothecaries' medicinal jars and pill tiles are displayed. A prominent feature within the Parlour are the two faux stained glass windows. Featuring themes of medicinal plants, various artists were specially commissioned to create the intricate artworks, which were further enhanced with the inclusion of Applelec LED Light Sheet.
To bring light to the large windows, four Applelec LED Light Sheet panels were created at 1450mm x 1400mm and fitted within the bespoke framework, delivering evenly distributed backlighting across the entire area. Helping to enhance the colourful medicinal plants, Applelec LED Light Sheet was created with 90+ high CRI LEDs, ensuring the vibrancy of the stained-glass artworks were maintained. Further creating the illusion of functioning windows, Applelec LED Light Sheet was embedded with 4100K LED option to closely mimic natural light levels and create the illusion of daylight pouring through the stained-glass windows.
Emma Dawson-Tarr, principal member of Charter Lighting said: "The sash windows in the Parlour had long ceased to be 'working windows', and to restore some lighting functionality, fluorescent tubes were initially used. These were only partially successful due to intermittent failures and access to replace them was tricky. Over time the sash windows' appearance deteriorated, detracting from the gracious ambience of the room. Overcoming this, carefully tailored Applelec LED Light Sheet panels delivered completely smooth illumination, achieving the desired daylight effect and enhancing the colourful detail of the medicinal plants beautifully."
Share this story