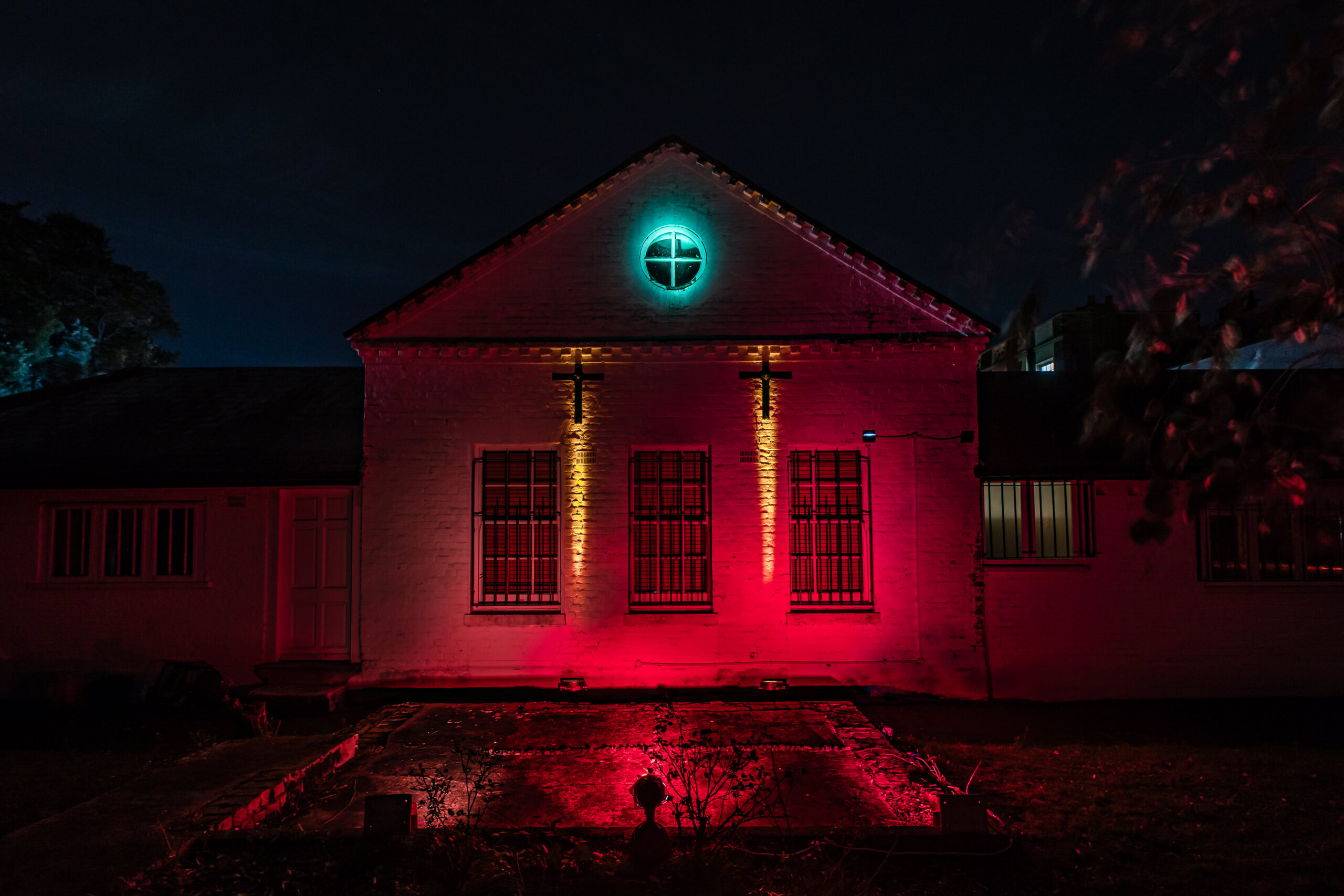 The Society of Light and Lighting (SLL) held its annual Ready Steady Light competition on 17th October 2023, in partnership with Rose Bruford College and the International Association of Lighting Designers (IALD), in the grounds of Rose Bruford College.
The competition attracted a wide range of lighting designers at various stages of their careers, from students to company directors. This year 15 teams competed against each other to design and set up temporary exterior installations with a limited range of equipment in only 180 minutes.
Returning to basic design and engineering, the teams were tasked with lighting their site in its natural state with the equipment provided. They each had to overcome challenges without a budget and within the time constraints.
Andrew Bissell from Ridge and Partners, SLL Immediate Past President, Kael Gillam and Juan Ferrari from Hoare Lea judged the Technical Award.
Emma Cogswell and Beatrice Bertolini from the IALD along with Sofia Alexiadou Programme Director BA Creative Lighting Control, Programme Director MA Light in Performance and freelance Lighting Designer judged the Artistic Award. The 2023 Peer Prize, a much-coveted award was judged by the contestants taking part.
Xavio Design was awarded both the Artistic Award and the coveted Peer Prize for its installation that took inspiration from the Mexican Día de los Muertos (Day of the Dead). The team lit the facade of one of the oldest college buildings, accentuating its cross-like anchor plates and window frames in the shape of a cross. They used playful colours to create a joyful message and to reflect the colourful Mexican celebration.
Alessandra Bertolini, Senior Lighting Designer at Xavio Design said: "We were thrilled to win. I was so proud of my colleagues and the way each individual contributed to the project. It was the most amazing piece of teamwork I've ever experienced.
"To win the Peer Prize was particularly rewarding as there were some great installations from the other teams so we really didn't expect to win."
The SLL Technical Award was presented to Arup for their installations representing the four seasons.
Coleman Deady Ridge, Graduate Lighting Designer at Arup explained: "Rather than creating one large lighting installation we decided to use our luminaires to form four small scale, theatrical installations based on the four seasons. We used different lighting techniques and colours to express the feelings and emotions of each scene."
"Our team was made up of early careers people from Arup, with four of the five team members having only joined the company in September so we were really proud to win the Technical Award. It was a really fun chance to explore how lighting can be used and a fantastic team building experience for us all."
The Ready Steady Light competition is one of the SLL's flagship events and is an ideal opportunity for design practices, manufacturers, students and lighting professionals to have fun and work together.
For further information on the competition visit https://www.cibse.org/get-involved/societies/society-of-light-and-lighting-sll/sll-events/sll-ready-steady-light
Share this story