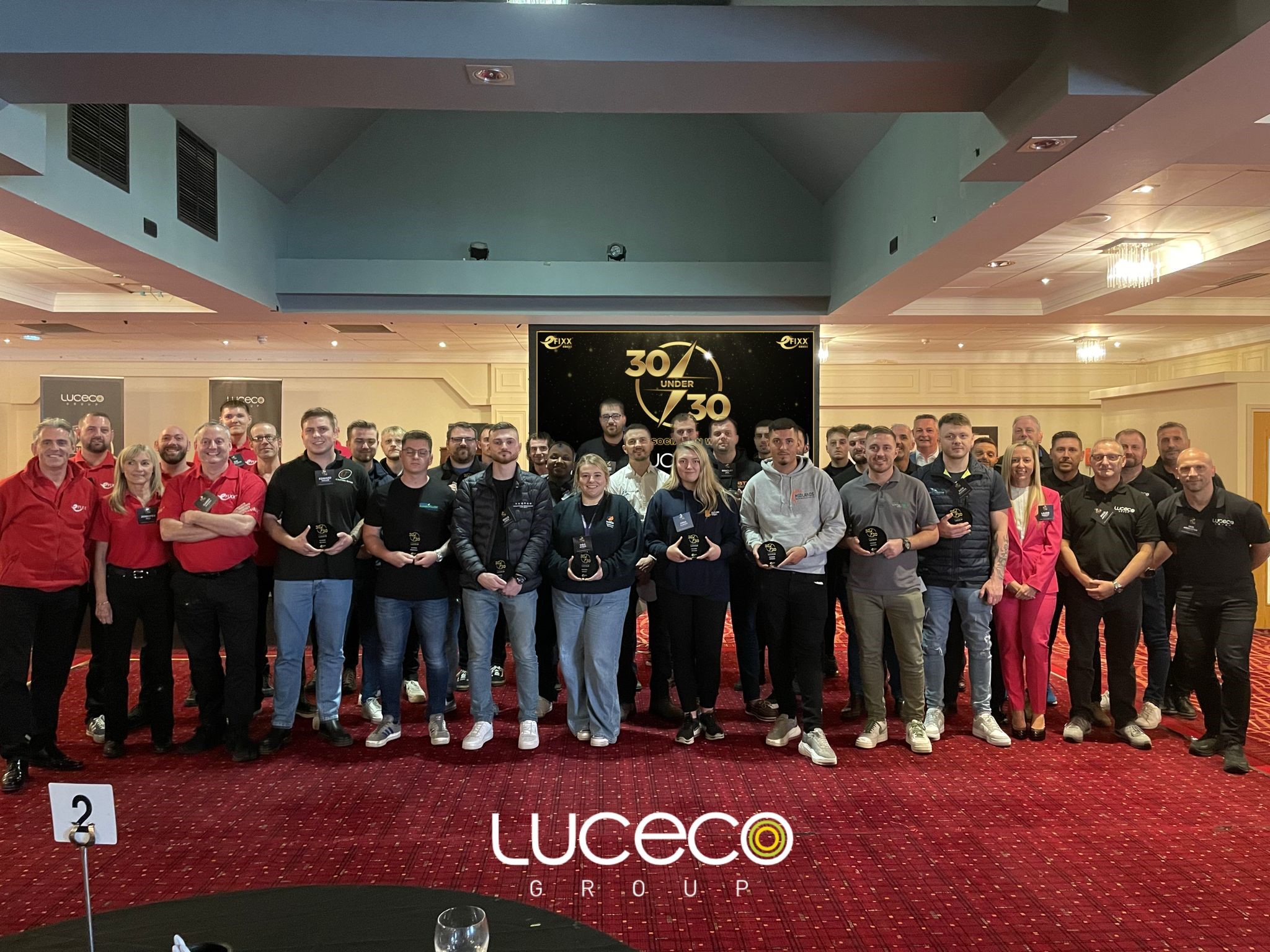 As a successful conclusion to the 2023 30 under 30 awards, brought to the industry by eFIXX and headline sponsor Luceco Group, the winners came together for a day of celebration, learning and networking. The awards, which began in 2022, have been created to recognise up-and-coming talent within the industry, while showcasing the next generation of electrical contractors.
Hosted by popular manufacturer Luceco Group at the lively Drayton Manor Park, the event gave the winners an opportunity to collectively share their successes and engage in some knowledge-sharing activities.
A number of winners from previous years also attended the day, showing their support for the next cohort of industry talent. Dale Hunter from A10 Electrical Solutions and a winner in 2022, joined two of his 2023 winners, who also work for A10 Electrical Solutions – Leonard Radley and Archie Murton. Sam Featherstone, another winner from 2022 returned to support the class of 2023 after being involved on the judging panel, and the process of deciding this year's winners.
The event was opened with an introductory talk by John Williams, Trade and Specification Director at Luceco Group, who welcomed all the winners.
Speaking of the event, John said: "The day was such a positive event and the atmosphere was fantastic. To see so many talented young individuals coming together to share their successes and have the chance to network with peers made Luceco Group incredibly proud to be part of this nurturing awards programme.
"The presentations on current trends across the electrical industry were also really well received, with everyone appreciative of the opportunity to learn and gain new knowledge."
One key area of discussion was around the current opportunities in the EV market and how the new Generation 2 EV chargers from BG SyncEV, and Monta back office can support this.
Another hot topic was the discussion around Luceco's lighting design service, which many of the attendees were not aware of. Luceco Group will respond to this by raising the profile of this offering.
Part of the discussion focused on the consistent drive for low-carbon products. While many felt the demand was at its peak and may plateau, the need will always remain.
The programme for the day also included an open forum discussion. The conversation will be used by Luceco Group to help shape future strategies and ensure they are giving the industry what they want and need.
The partnership between eFIXX and Luceco Group has played an integral role in the success of the awards. Their collaboration brought together the credibility of Luceco Group, who design and manufacture leading electrical and lighting solutions sold under a number of respected brands, including BG Electrical, Luceco Lighting and BG SyncEV, alongside the reach and content expertise of media outlet eFIXX.
To see this year's award winners, visit: www.luceco-academy.com/30-u-30
Share this story