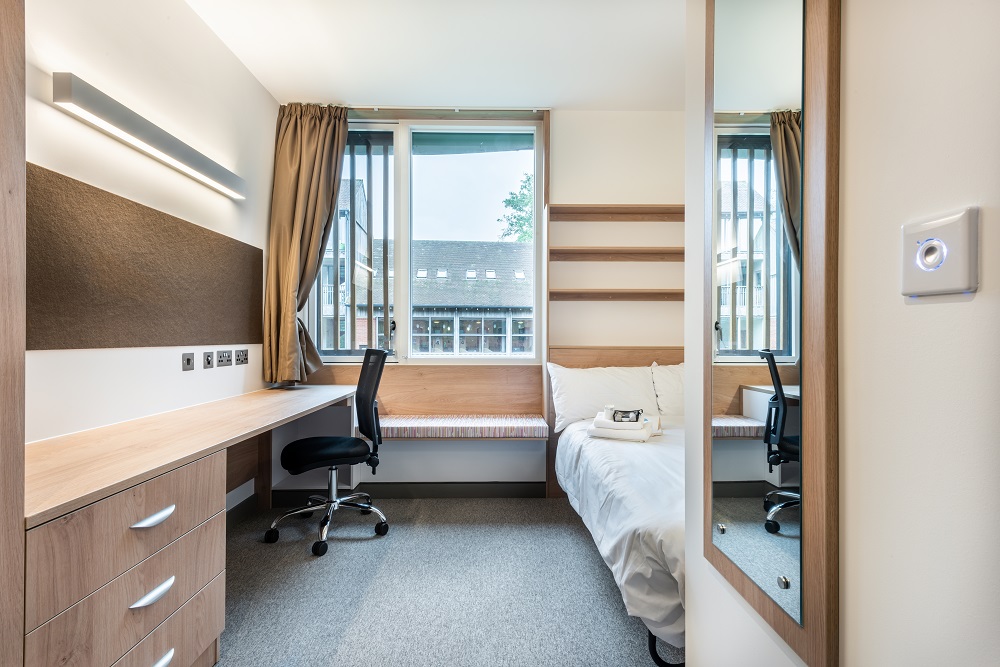 The Cambridge University Lucy Cavendish College's mission is to attract, support and unlock the potential of students from non-traditional and underrepresented backgrounds who are driven by a desire to make a difference. The University is also dedicated to building in a radical way to reduce its carbon emissions.
The new student accommodation near Lady Margaret Road reflects this. The latest eco-friendly and accessible facility comprises 72 student rooms and social spaces.
The scheme, designed by RH Partnership Architects, is developed to the Passivhaus standard to significantly reduce energy use, and ensure comfort for students and carers, using modern methods of construction and sustainable, robust materials to reduce embodied carbon.
The scheme is centred around large quantiles of natural daylight, so the role of artificial lighting is to supplement, and substitute come nightfall. To meet the Passivhaus requirements, LEDs' low energy and low heat qualities were a natural choice. For a high-quality LED solution, electrical contractors Munro Building Services turned to its trusted lighting partner, TRILUX.
Many of Lucy Cavendish College's undergraduates will be living away from home for the first time. So, the lighting for the new building also had to help create a welcoming, inclusive environment to offer a sense of community where students can achieve the best academic outcomes in their home away from home.
Bedroom Lighting
The bedrooms are designed to be comfortable, welcoming, and structured, enabling students to get to know each other in manageable groups. Here the wall mounted TRILUX LC60 aids the main aim. Its 3000K warm, welcoming light is easily dimmable and creates a cosy, inviting atmosphere for students to retire to after a long day.
Common meeting places 
A study café space on the ground floor includes a range of facilities, including study booths and intelligent screens, encouraging students to collaborate in the way that suits them best. TRILUX Limba pendants, in a gold and black finish, add striking appeal and help form the café setting. Its 3-D faceted reflector and opal acrylic ring offer exceptional glare control, ideal for hi-tech working aids.
From the corridors and stairwells to the plant rooms and external stores, the TRILUX range has been utilised to provide optimum efficiency. The lighting design comprises SNC Point, LC60, 74RS, Amatris, Limba (White + Special Finish), Osram LED Tape, Skeo Q B1, LTX Z, Skeo Curv and Skeo Q.
Grant Rigg, Electrical Project Manager, Munro comments, "Trilux have been incredibly proactive from the early design stage, liaising directly with the client's team through to project delivery. Working with them on the scheme has been a pleasure, and they are always happy to help/ find a solution."
Project team
End client: University of Cambridge – Lucy Cavendish College.
Architect: RH Partnership.
Main contractor: SDC Builders Ltd.
Electrical Contractor: Munro Building Services.
Lighting: TRILUX.
Share this story