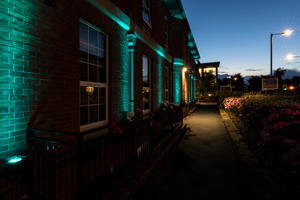 Bespoke architectural dynamic lighting solutions provider, Studiotech, has created a welcoming new lighting facade for NHS Tameside, Werneth House.
Werneth House accommodates post graduate medical education programmes, the knowledge and library services and IT training suites, forming part of the general hospital of Tameside.
As it stood, Werneth House had an institutionalised and unwelcoming exterior. As the NHS strives to positively enhance patients' experience from the point at which they approach the hospital site to the building entrance, it was decided that Werneth House was to be brought to life with light with the aim to make it look more inviting and more appealing to visitors.
The new facade was undertaken as part of a wider scheme to recognise that the NHS is being modernised, and to instil confidence and help with the general well-being of both patients and staff.
Utilising fixtures from Traxon Technologies and control systems from e:cue Lighting Control, Studiotech created vertical light lines to help deconstruct the building to make the form feel lighter and less monolithic.
NHS classic colour schemes are reflected throughout the display, with the added benefit of being able to change these scenes for special moments and events.
When lighting a facade, the light needs to feel like it sits within the architecture, and Studiotech have managed to create an effect that looks like the new light is integrated into the building. The building now appears softened, more inviting, and less harsh on the eyes, due to this new well-integrated lighting solution.
Studiotech has used the connection between light and communication to help patients feel more confident, and reassured that they will receive a consistent, high level of individual care whilst at Werneth House.
They recognise the importance of connecting and engaging with the community for special moments and events, hence why a bespoke dynamic lighting solution was specified.
Studiotech is a conscious business who understands the importance of listening in order to understand. Collaborating with clients as individuals to give clients the confidence to entrust them, to deliver a quality bespoke lighting solution and service.
Michelle Waddicor – Head of Estates says "As a Trust, we are thrilled with how Studiotech have managed to transform our Werneth Building with something as simple as lighting. Since its installation, we've received nothing by positive feedback about the difference it has made to our staff and visitors. From start to finish, Studiotech have been great to work with, but what we've enjoyed most is the seeing the passion that Ed and the team have for lighting to translate into something that our staff, patients and visitors can all enjoy."
Luminaires & control equipment: Traxon e:cue.
Share this story