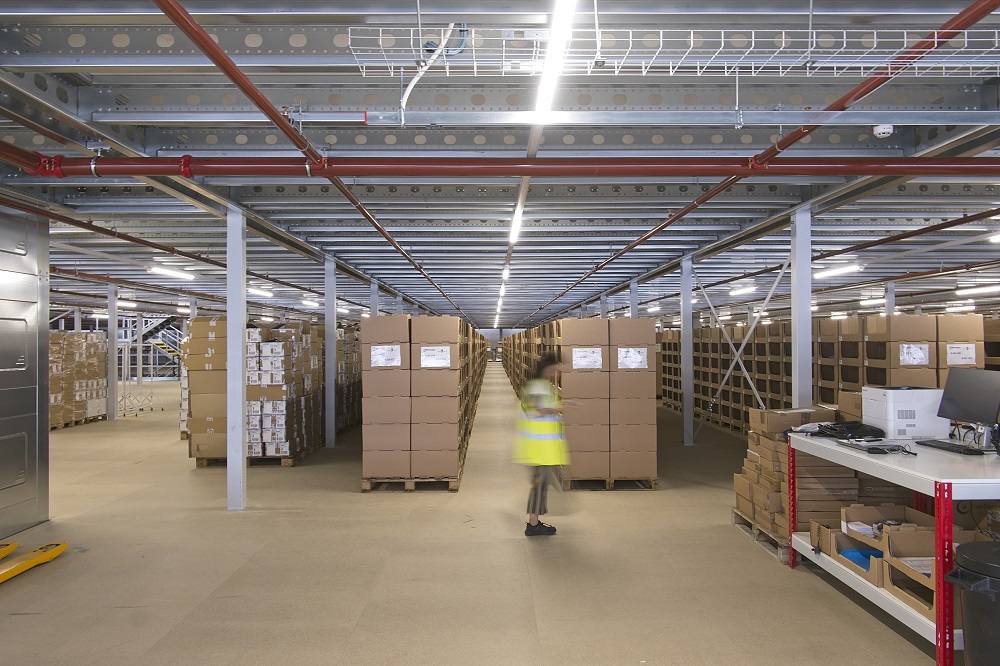 Having witnessed the benefits of the Zumtobel TECTON continuous row lighting system at its European sites, Bleckmann, an expert in supply chain management solutions for fashion & lifestyle brands, turned to the lighting brand for a turnkey lighting solution for its BREEAM rated UK-based operations.
Bleckmann is an expert in supply chain management solutions, supporting ecommerce activity for major fashion, lifestyle, and consumer electronics brands. In the last few years, it has dynamically expanded its UK-based operations, supporting the growth ambitions of its clients.
In line with these plans, it has recently invested in two new facilities in Suffolk and Lutterworth, UK.
Located within one hour of Felixstowe, the UK's largest container port, Suffolk Parks, was the logical step to allow Bleckmann to run end-to-end operations for new international clients within its B2B and B2C channels in the UK, continental Europe, and beyond. The building has 20 dock doors and is equipped with modern solutions.
The new fulfilment facility aligns with Bleckmann's commitment to running its business sustainably and responsibly. The roof's solar panels supply green electricity to the site, with free electric vehicle charging. Additionally, 400 trees and 650 shrubs have been planted around the area.
Furthermore, the new BREEAM Excellent Magna Park in Lutterworth – Bleckmann's fifth site in the UK, has a floor area of 205,000 square feet and a clear height of fifteen metres, resulting in a floor capacity of 550,000 square feet.
The opening of these new facilities will allow Bleckmann to create up to 500 jobs across both locations, which is expected to grow as the sites develop.
Over the last few months, Zumtobel Lighting has worked with Bleckmann on a quick turnaround lighting installation for both facilities.
Replication European success
Having worked with and installed Zumtobel's luminaires at several of its European sites and offices across the Netherlands and its Belgium based Head Office, the supply chain management solutions expert has witnessed the benefits of a good lighting system for over five years. Ten international sites have been installed with TECTON continuous row LED systems, PANOS infinity all complete with full LITECOM lighting controls and RESCLITE PRO emergency lighting, delivering the benefits of speed, flexibility, product, and lighting performance.
Due to experience, Bleckmann's approach to lighting controls was cautious. However, Zumtobel demonstrated the full benefits of its LITECOM system. Romanito Van Brabant, Area Sales Manager to Sales Director BNL – End-User at Zumtobel Group Benelux, comments, "They could see how easy and functional it is to operate and were happy to invest in us as a one-stop-shop and trusted supplier. We provided an energy efficient, sustainable solution which helped its subsidiaries qualify for the International Capital Allowance scheme, providing tax reductions, and enabling them to achieve a BREAMM excellent rating."
"Bleckmann is also looking at using digital services in one of their forthcoming sites, which will incorporate asset tracking and heatmapping services, to improve their energy efficiency even further. They are also looking at our exterior range for some of their sites."
As a result of these past successes, Bleckmann has great confidence in the Zumtobel brand and product range. Hence the lighting company is a preferred lighting partner. It turned to the brand to provide a complete turnkey solution for its two new UK sites.
Superior lighting under challenging conditions
Bleckmann's logistics services have attracted the attention of many well-known brands enabling it to sign up several international clients.
Jamie Yates, Key Account Manager – End-User at Zumtobel Group UK, explains, "The lighting had to be installed in a complex, operationally live environment, to meet the different moving-in dates at the multi-client facility.
Building and fit-out contractors work diligently installing the lights just a few metres away from the live operational activities. Hence the installation needed to be completed as quickly as possible with minimum disruption. Ideal for these projects, TECTON offers up to 40 % shorter installation times, typically requiring 25 % fewer individual luminaires, less individual packaging, and fewer parts at the installation site, all helping to speed up the process. Likewise, its lightweight construction means it is suitable to be mounted by one person."
A complete lighting logistics solution  
An award-winning, versatile, and efficient combination of TECTON C AND B provides three main types of warehouse lighting: open area, rack, and mezzanine.
Its Split-lens technology satisfies each lighting task in the layout with less glare and no adverse effects on the light distribution curve.
The position of the LED is visible, but in contrast to conventional lenses, the light-emitting panel is extended to the entire width, providing excellent uniformity.
The range has an 11-pole current conducting section built into the trunking, providing extreme flexibility to allow specific configurations to meet the needs of each lighting area.
Up to 16 000 lm and a colour rendering index of Ra 80 ensures high efficiency and excellent lighting performance, keeping energy bills low and delivering a safe, comfortable light for Bleckmann's employees to work under.
Zumtobel's RESCLITE PRO emergency system supports the main industrial area lighting. Its innovative lenses fulfil all the requirements of emergency escape lighting in a minimalist design with the highest technical standards.
Robert Jeffers, Contract Project Manager, Bleckmann says "Zumtobel did an outstanding job. In particular, dealing with two main issues we had on-site. Both were fixed collaboratively with creative solutions at no extra time, cost, or trouble. I would absolutely not hesitate to recommend Zumtobel for the next job."
Martin Feazey Project Manager Bleckmann adds, "It was a great experience working with Zumtobel. Their product is extremely flexible adapting to Bleckmann's client requirements. I would certainly look forward to working with Zumtobel in the future"
For more information on Zumtobel please visit the website www.z.lighting
Share this story