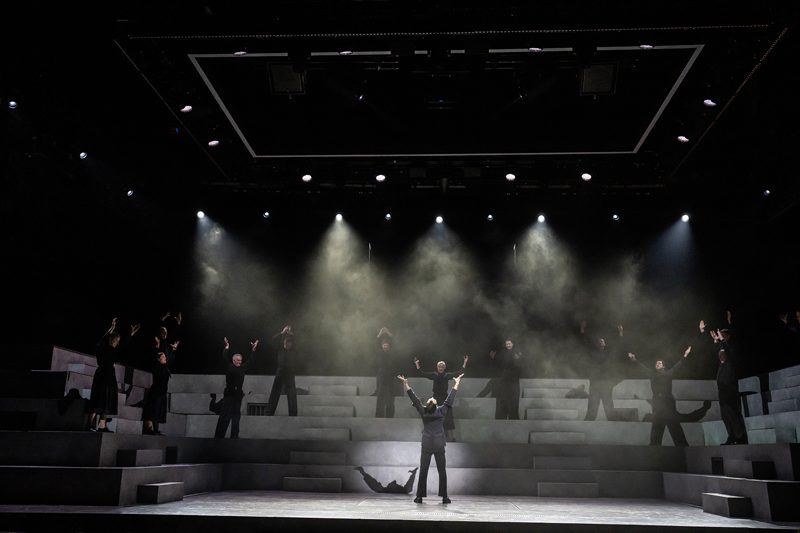 The Lyttelton Theatre – the middle-sized of the three venues that make up the National Theatre complex on London's South Bank – has recently undergone a complete lighting upgrade, replacing the last of its tungsten and discharge automated heads with an almost all-Martin LED rig.
This brings it into line with the other spaces, including their premier Olivier and Dorfman Theatres. Both have also systematically transferred exclusively to LED rigs, using Martin by HARMAN MAC Encore Performance wash lights (both CLD and WRM versions) and recently the new high-powered MAC Ultra Performance profile.
Laura Curd, lighting supervisor for the Lyttelton, confirms that in recent months the theatre has taken delivery of nearly 80 mission critical fixtures from the Martin portfolio, including a further 54 Encore Performance WRM and CLD 'top-ups' and seven MAC Aura PXL—but most significantly, 16 of the new MAC Ultra Performance. These were sourced from a variety of suppliers including Stage Electrics, White Light and Flashlight—all dealer partners of Sound Technology Ltd, Martin's UK  distributors.
"Our new rig is now in the final stages of development and is completely LED," she confirms. The Lyttelton was fortunate in being able to review the MAC Ultras when they were trialled originally in the National's largest 1150-cap Olivier Theatre. "The Olivier was the obvious first choice for the Ultras. The output is immeasurable compared with other units and they have proved to be brilliant. Therefore, they have been increasingly used in the Dorfman and Lyttelton for show specifics." They had also been keen to achieve a like-for-like match when replacing  MAC Vipers.
Aside from their phenomenal output (based on an 1150W, 6000 K proprietary LED light engine, offering 46,500 projection lumens) and a next generation framing system there are other key differentiators, such as the intensity across the 1:7 zoom range, the higher definition optics and near non-existent noise levels within a fully-featured chassis.
The National, and its incoming production designers, clearly think so too. The MAC Ultra Performance has already been used on three productions: by Lucy Carter in Much Ado About Nothing, Oli Fenwick in Blues for an Alabama Sky, and now the in-demand Jai Morjaria in the current production of Othello.
With 890 seats, it is the duty of Laura Curd and her team to support the designers that come into the space. "We help realise their show designs and a lot more besides," she says.
"Now we have swapped out the old fixtures for a majority Martin lighting a lot of the work is about experimenting as to how they work best in the space and collecting feedback from designers with regard to positioning. In particular we try to consult with our lighting programmers in rig updates, as they get a first-hand insight into the way designers use units in the space. We are collectively up for trying new things and they are an integral part of what we do."
They recognise the extra versatility they now have, with a proposed new truss and motor system to their overhead bars enabling further fixtures to be clamped to the bars as necessary … which will mean that weight is not an issue.
For Jai Morjaria's Othello set design they were swiftly able to derig the Ultras, relocating them to side trusses in order to create a horseshoe, for use as key backlights and surround the space with high brightness. "We didn't try to hide the lighting … it was very present on this show," said Jai. "The Encores did a lot of the shaping and the Ultras were the key and punched through."
In addition to reconfiguring the standard house rig they implemented their own rig on top. Thus four Ultras and three WRM Encores have been mounted on each side with a further five Ultras and four Encores upstage, with additional heads commissioned from the National's Resources inventory. "So there is a lot of brightness," exclaims Jai. "We have every position covered."
He auditioned successfully for Othello, after his previous Lyttelton show had been admired by director Clint Dyer. On surveying the space the production designer was delighted to discover that the space had converted to an all-LED rig. "It's a dream situation for a lighting designer to see your rig has been upgraded with a good level of stock, like the MAC Ultras and Encores,  and not just cheap alternatives.
"It was the first time I had used Ultra—I've never had a theatre to justify a unit of that size and scale previously, and it was absolutely the right fixture." However, such was its power, he said, he has never been able to run it above 30% "even with multiple gobos."
As for the Encores, he says, "My preference is always for cold white over warm Encores for this type of show because of its crispness and intense brightness.I find I can actually achieve a better warm with the cold version as you have more options with spectrum intensity."
Aside from the Ultras' ability to punch through the Encore washes, Laura Curd adds that the shuttering is also a key feature.
The framing option in the Encore Performances is proving a real boost, she says. "The colour mixing and optics are great, with the warm being the most common unit in our rig. We use the warms a lot as face lights in their native colour temperature." And when the Ultra scythes through it opens up a new dimension altogether, she says.
Jai Morjaria agrees. "The framing had everything expected, but more importantly, it did it well and the shutter didn't 'banana'. It was sharp and kept to its target."
Finally, when assigned to the Robert Juliat SpotMe performance tracking system which determines positional data, both the Encores and Ultras were again equal to the task. "They were extremely responsive and achieved what they needed to," notes Jai.
He is convinced that this is the future of lighting. "Because shows are getting brighter and want punchier lights the Ultras will become increasingly popular."
In conclusion Laura Curd senses the Lyttelton's upgrade will future proof it just as it has its sister theatres. "The advance in LED technology has been incredible, and the Ultras and Encores are at the top end as is the MAC Aura PXL, which is proving great as part of the basic rig. As for maintenance [on LED fixtures] there appears to be limited day to day service required.
"Hopefully we now have maximum flexibility and can offer a really high service to our designers," she concludes.
Martin Professional is exclusively distributed in the UK by Sound Technology Ltd. For more information please visit www.soundtech.co.uk/professional-lighting/martin/
Othello at the National Theatre. Photo credit: Johan Perrson. 
Share this story