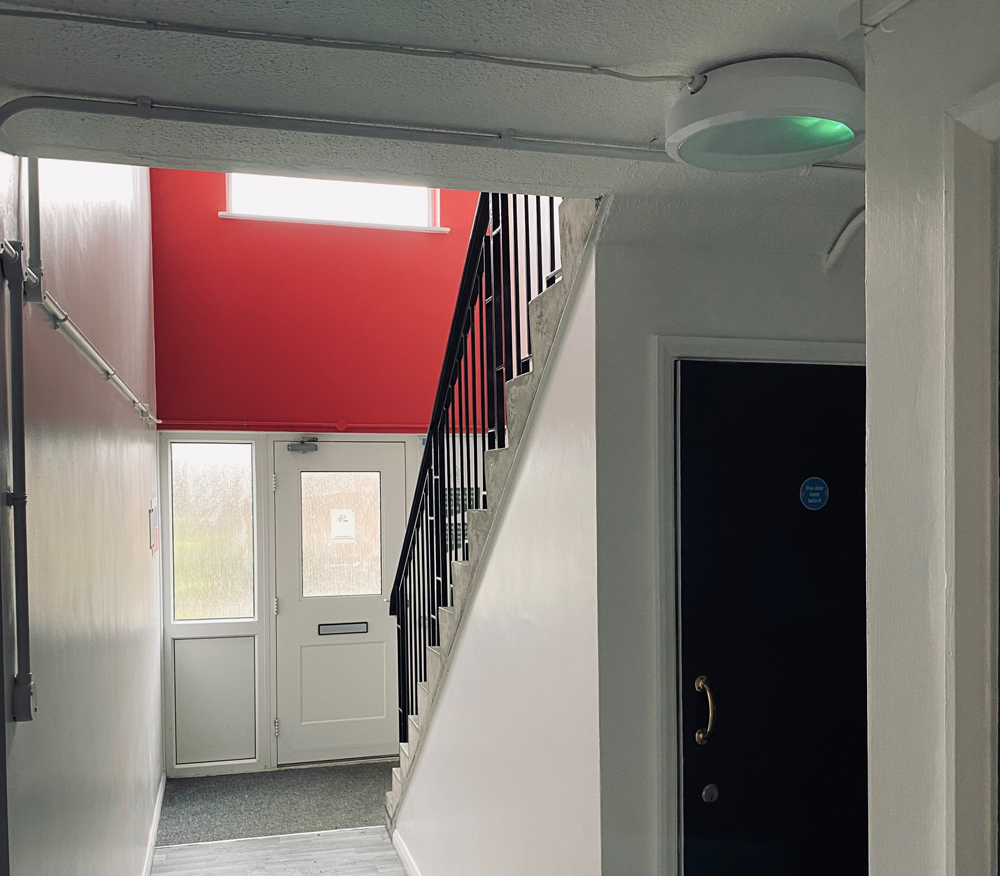 Wealden District Council is a local government district in East Sussex, England, responsible for 835km² of land in South East England, and home to over 160,000 residents. As part of the road to Net Zero, the council is committed to minimising its carbon emissions output at every opportunity. In order to achieve this, as well as create a more streamlined approach to managing council-owned properties throughout the region, Wealden District Council sought to deploy a cloud-based automatic test system for emergency lighting with 106 blocks of General Needs flats within the district.
In order to find the most reliable partner that would deliver the project, the council turned to Chris Batholomew Ltd, an electrical contractor. Having worked together on multiple occasions in the past, Wealden District Council needed a reliable source to help achieve its goal of creating more efficient, sustainable operations. Chris Batholomew Ltd introduced the council to its accredited partner, Energy Lighting and Compliance (EL&C), the UK commercial division of Mackwell Electronics.
Cloud-Based Automatic Testing
A UK-based, global manufacturer of emergency lighting technology and systems, Mackwell and EL&C are able to provide customers with a full emergency lighting solution – from system specification to commissioning. EL&C was contracted to deploy a cloud-based automatic test system for emergency lighting in communal areas across the 106 blocks.
Each building had previously relied on traditional emergency lighting, whereby Estate Wardens would have to physically visit each block and manually test that they were working correctly. The 106 blocks span across five postcode areas and Estate Wardens regularly had to cover a large geographical area when testing, driving between each site on a monthly basis. The goal of the project was to minimise the time spent on testing while keeping the emergency lighting compliant with regulation.
Across the 106 locations, there is a range of larger blocks, as well as multiple smaller blocks. Each block consists of 5-7 emergency lights, situated in corridors, stairwells, and front and rear exits. The entire project was split into two phases, with each phase lasting approximately four months.
Challenges
The project with Wealden Council was undertaken during the COVID-19 pandemic. As a result, there were a number of health and safety protocols that on-site engineers had to adhere to. This included:
Weekly lateral flow tests, submitted to the council. Engineers could not go on site without a negative test
No use of resident facilities or communal toilets and washing facilities. Engineers had to provide their own welfare
Masks and gloves had to be worn at all times on-site
As a result of COVID protocols, the project took approximately two months longer than initially anticipated.
Another issue that was prominent for many organisations during the pandemic was that supply chains ground to a halt. This significantly slowed down a number of projects around the world. However, for Mackwell and EL&C, this was not the case.
Whenever Mackwell takes on a new project, it works quickly to ensure all necessary products are available from the very beginning in order to keep the project as streamlined as possible.
Results
Across the 106 locations, there is a range of larger blocks, as well as multiple smaller blocks. For the larger blocks, Estate Wardens remain on location at all times, making it easier for tests to be carried out. However, for smaller blocks, in line with regulation, there are no communal fire alarms – meaning that no tests have to be completed.
With EL&C's new solution, the onsite testing and scope for human error have been completely removed. This has improved the council's compliance with the Regulatory Reform (Fire Safety) Order 2005 as well as allowing smarter use of the system to detect lighting faults and ensuring swift repair or replacement is undertaken to ensure compliance further.
Looking to the future
The first phase of the project took place towards the end of 2020, with the second phase finishing in Q4 2021. The entire deployment was delivered over a 12-month period
Following the resounding success of the project, a third phase was developed in April 2022 and is to be completed by mid-2023, incorporating 12 Retirement Living Courts into the project.
During the pandemic, care homes were put under the spotlight when it came to resident health and safety. With automated emergency lighting installed, should a similar situation arise, fire safety testing can continue without the need for anyone to visit the site, allowing residents to maintain social distancing without compromising their safety.
Share this story