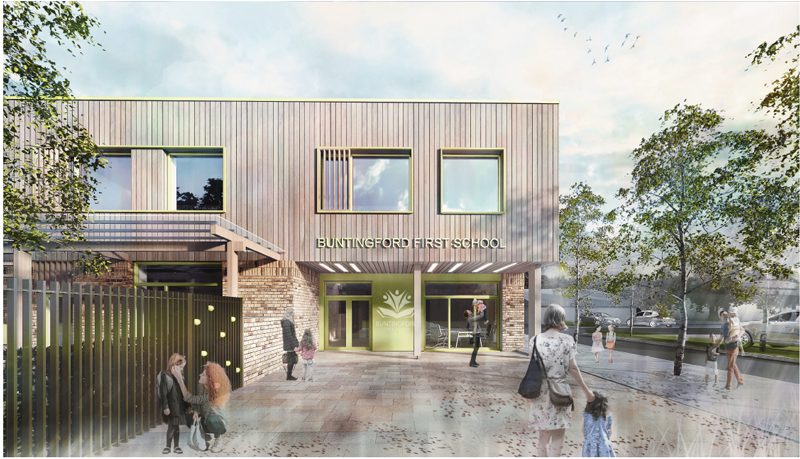 • School's smart LED lighting will reduce electricity consumption by 80-90% compared with conventional lighting
• New construction could be a blueprint for future carbon neutral schools helping the UK to achieve net zero by 2050
Glamox Luxonic, part of Glamox AS (GLX), a leading lighting company, will provide energy-efficient indoor and outdoor connected LED lighting for Buntingford First School, the first carbon neutral school in Hertfordshire, England. Glamox Luxonic was awarded the contract by Pentalec Limited, the Buildings Services Contractor, which will install the lighting in time for the opening of the new 330-pupil primary and nursery school in September 2023.
The new Hertfordshire Country Council school is being built by Morgan Sindall Construction. Raising the bar on school design, the building utilises the Passivhaus standard to ensure excellent air quality, reduced emissions, and low energy costs. The specially designed school will be equipped with a 175-panel 100kW solar power system, have six electric vehicle charging points, air-sourced heat pumps, triple glazing, a rooftop classroom, play areas and a "forest school."
Glamox is providing 430 LED indoor and outdoor luminaires. Indoor lights range from recessed ceiling panels, downlighters, decorative ceiling and wall-mounted luminaires, and emergency lighting. The lighting in the classrooms and halls is controlled by a wireless light management system. Sensors built into the luminaires detect the presence of people to activate the lighting and dim down and switch off when people are not present. Sensors also detect natural light levels, switching on the lighting only when needed – a feature called "daylight harvesting". Outside there will be pole-mounted, recessed, bollard, and wall-mounted luminaires.
"We wanted excellent light quality and low energy use, combined with good value for money. Glamox Luxonic partnered with us at every step. Its people input to the design and worked out the right light levels to meet the exacting criteria demanded," said Sam Stageman, Director, Pentalec."It's clear that we share the same approach to customer service and a passion for decarbonising buildings."
"Compared to a school that uses conventional lighting, we estimate the installation will use around 80-90 percent less electricity," said David Hunt, Managing Director of Glamox Luxonic. "It is to be hoped that Buntingford First School will become the blueprint for new build schools across the country, a step that could help the UK to achieve its aspirations to be net zero by 2050."
Share this story