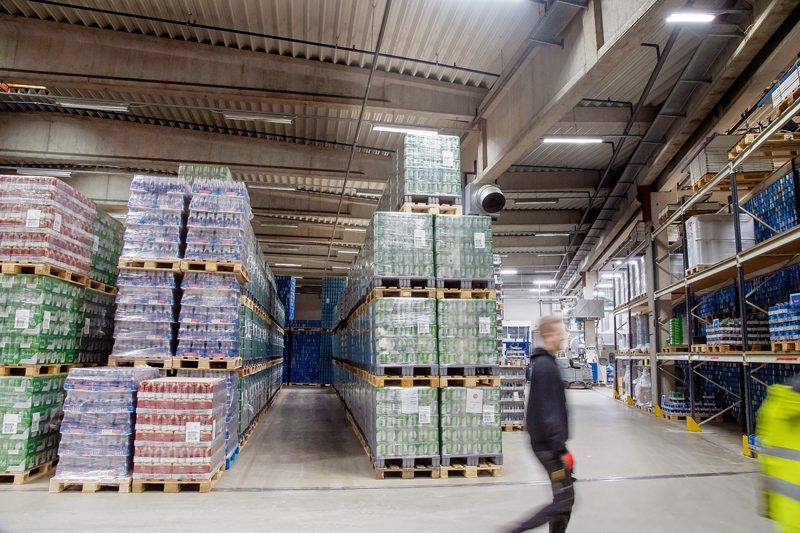 A LED lighting retrofit in a Norwegian brewery is saving more than 100 percent of the electricity the previous lighting installation consumed. This unusual first was made possible by Glamox AS, a leading lighting company. It equipped the storage area of the Aass Brewery, Norway's oldest brewery, with new connected ceiling luminaires which consume 82 percent less electricity than the fluorescent luminaires they replaced. Previously, the lights were on 24/7 and generated heat which is detrimental to storing beer. This meant more air conditioning. What pushed electricity savings over the 100 percent limit was a reduction in the amount of cooling needed.
The family-owned Aass Brewery in Drammen, Norway, was founded in 1834 and is home to some of the finest beers and mineral water in the country. Before the LED installation, the brewery's storage area contained 400 luminaires, each housing two 58-Watt T8 fluorescent tubes. These were switched on during production hours. This caused high electricity bills and unwanted heat that unless cooled risked prematurely aging the beer. Consequently, extensive air conditioning was required to maintain the optimal storage temperature of 4-18°C.
Glamox replaced the conventional lighting with 400 Glamox i10 energy-efficient LED luminaires, equipped with sensors and managed wirelessly by a light management system on a tablet.
The retrofit project was a 1:1 luminaire replacement that used the existing wiring and is fully dimmable and controllable remotely. Motion sensors also dim down the lights when people are not present.
"Energy-efficient LED lighting generates very little heat compared to fluorescent tubes. This is crucial for us as heat is the enemy of brewers when storing cans of beer. We saw instant electricity savings from our new lighting, on top of which we don't need to use our air conditioning as much. The end result is quality light with a higher light output, when and where we need it, and electricity savings in excess of 100 percent compared with our previous lighting," said Marius Ohrvik Olsen, electrician, Aass Brewery.
"Another big bonus is that the network of new luminaires will require far less maintenance," said Martin Rafdal, Glamox consultant and team leader on the project. "Our luminaires have long-lasting LEDs designed with an average life of 100,000 hours before they need to be replaced, compared to 12,000 hours for fluorescent tubes. A saving that lowers the brewery's costs even further."
Share this story