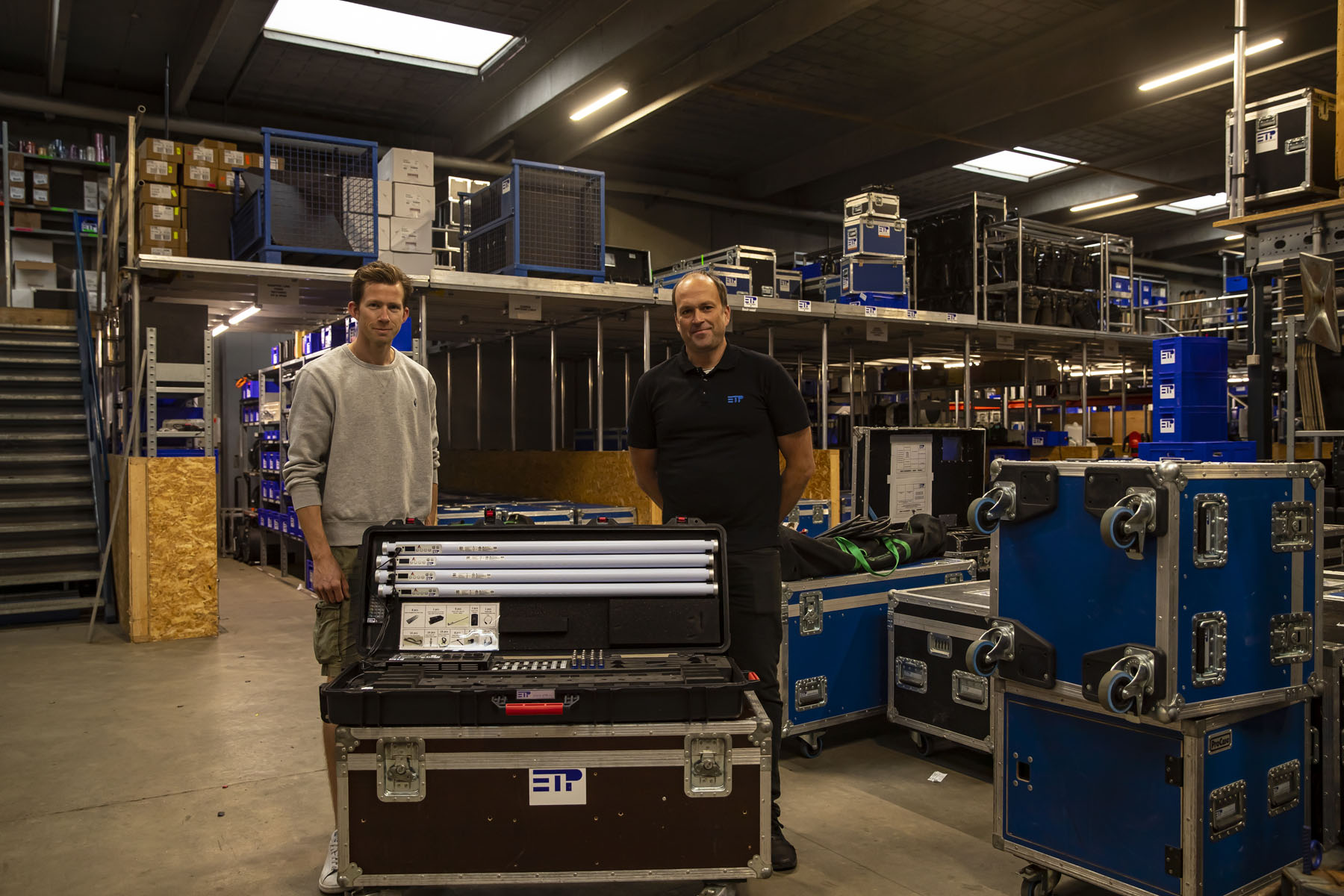 The lighting department of leading Danish rental and technical production specialist, European Touring Productions (ETP), based just outside Copenhagen, has enthusiastically started investing in Astera wireless LED lighting products.
The first purchase of 32 x Titan Tubes – four sets of 8 – was recommend by project manager John Askwith, who came on board last summer and swiftly made a list of 10 "must have" products to service ETP clients, shows and events, especially in the corporate and television sectors.
Needless to say – Titans were on it!
Before this, ETP had rented assorted Astera fixtures as and when needed. However the increasingly frequent requests together with John joining the company energised the decision to start amassing their own stock of Astera fixtures.
"It was the way to go" commented Emil Finsen who runs the lighting department with Sune Verdier. General manger Mikael Windfeldt also endorsed the purchase which was delivered by Astera's Danish distributor, Light Partner.
Emil joined ETP as a student in 2010, and Sune, also a well-known lighting designer in his own right, joined the lighting team full time in 2019, and both are big fans of the brand.
Sune designs most of ETP's in-house lighting projects plus his own independent design projects and will frequently specify Astera for this work. Recent projects include Astera Titan Tubes and AX3 LightDrops which he deployed as practical and imaginative tools as part of a striking lighting scheme for Danish musical, "Elsk Mig i Nat" (Love Me Tonight).
Emil and Sune like many of the Astera features. The sheer handiness of the products for a start and the fact that they come with everything you might conceivably need to use once on set or on site. "It's a great package and with everything already in the box, that makes a whole load of 'warehouse' decisions very easy" stated Emil.
On the creative side, Sune loves the quality of the light and the smooth and dynamic colour mixing, the range of hues and colours and all the effects that can be achieved. "The output is nice and bright, there are many cool functions that are great for background effects and more scenic lighting for music videos, live streams and other styles of presentation."
ETP's Titan Tubes are constantly out a numerous shows and events, including providing an ingenious solution for a fashion show runway staged in the Simian Gallery located underground by the Ørestadmetro station.
They both note that the light weight and easy handling Titan Tubes is another bonus, making them "ultimately deployable and highly convenient" together with the wireless operation. They are also perfect as nifty 'last minute' or 'get-out-of-gaol' cards … for those inevitable moments that pop up at virtually any event!
From a rental company angle, all Astera's products are also valuable and in demand for cross rentals, accelerating the speed and efficiency of ROI.
ETP supplies lighting audio, rigging, staging and roofing systems, seating and grandstands., etc. plus crew and to a lively and diverse range of entertainment sectors – from festivals to special events to corporates and conferences, and from concert tours to television productions to theatre shows.
Photo by Louise Stickland shows ETP's Emil Finsen on the left with Mikael Windfeldt.
Share this story