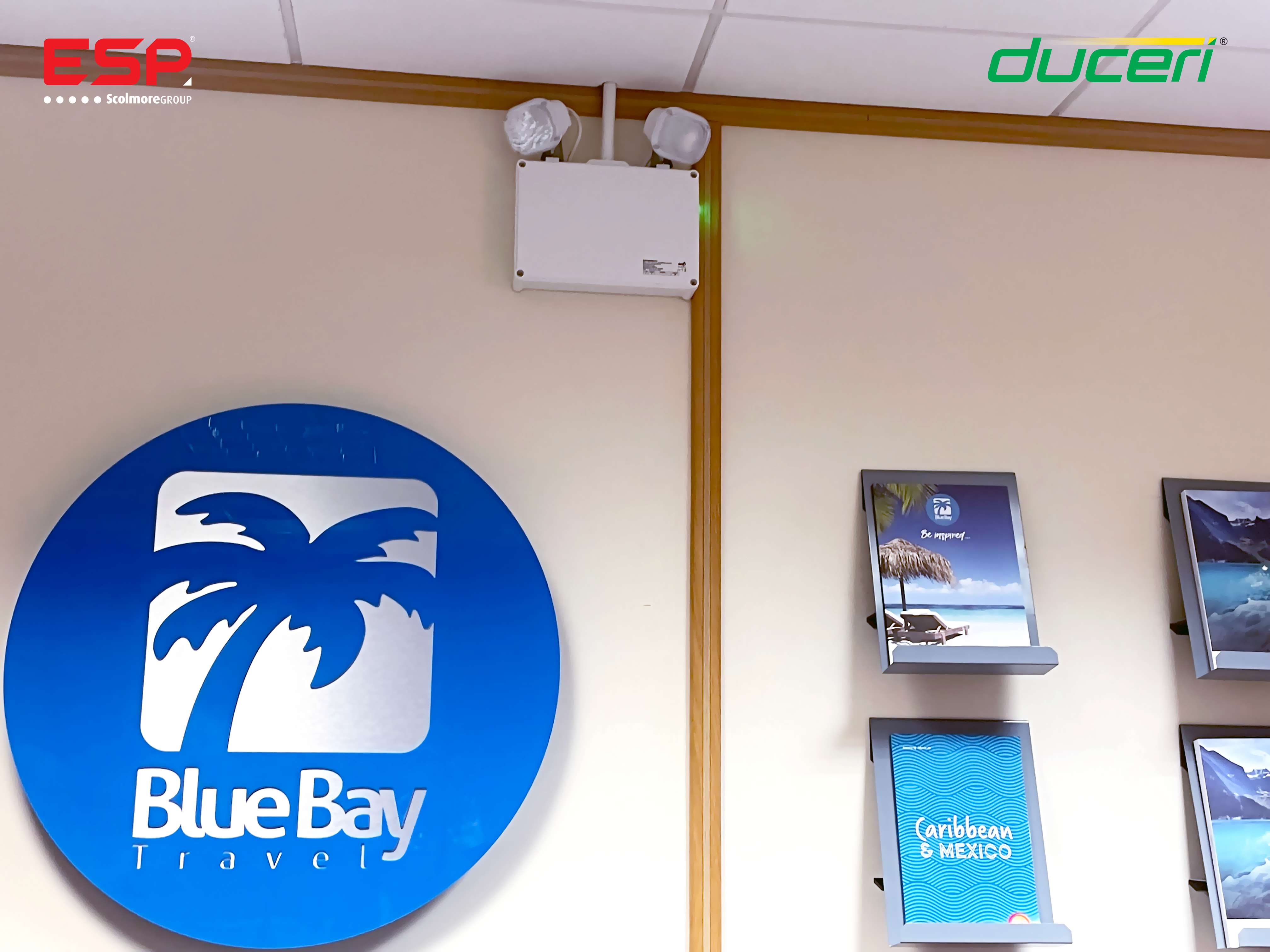 Blue Bay Travel is an award-winning UK tour operator, with over 100 industry awards to its name. Launched in 2003, the business has grown significantly in recent years, and its stylish offices in Trentham, Staffordshire, now houses a team of 120 staff.
During a programme to upgrade the head office premises – which comprises a total of four individual office buildings – the installation of a range of Duceri emergency lighting products from leading industry supplier, ESP, was undertaken.
Martyn Walley, managing director of electrical contracting firm Hide Ltd, had overall responsibility for the project and worked closely with ESP's design and technical teams to come up with a suitable emergency lighting scheme.  Although a manual test system was originally considered, it was agreed that a self-test system would be more suitable, to avoid any impact on the day-to-day operational requirements of the offices.  Self-test emergency light fittings offer numerous benefits over standard fittings by reducing the costs and time associated with manual testing and inspection.
The decision was made to install new circuits for the emergency lighting system installation so as not to disturb the existing installation and create disruption for the staff.
The emergency lighting system was installed through all four of the office blocks utilised by Blue Bay Travel, with a range of products selected for their suitability.
The Duceri 9W LED IP65 Non-maintained 3Hr Self-Test Emergency Twin Spot was selected for the general office.  For the main door to the buildings the Duceri 3W LED IP65 Non-maintained 3Hr Self-Test Emergency Bulkhead was installed, while for the rest room facilities, the Duceri 3W LED 3Hr Self-Test Emergency Open Lens Downlight was selected.
ESP's Duceri Self-Test range has been tested and complies with all the very latest standards.  The fittings are easy to install – without any need for key switches or data cables – and offer convenience and reduced maintenance time and costs.
Share this story