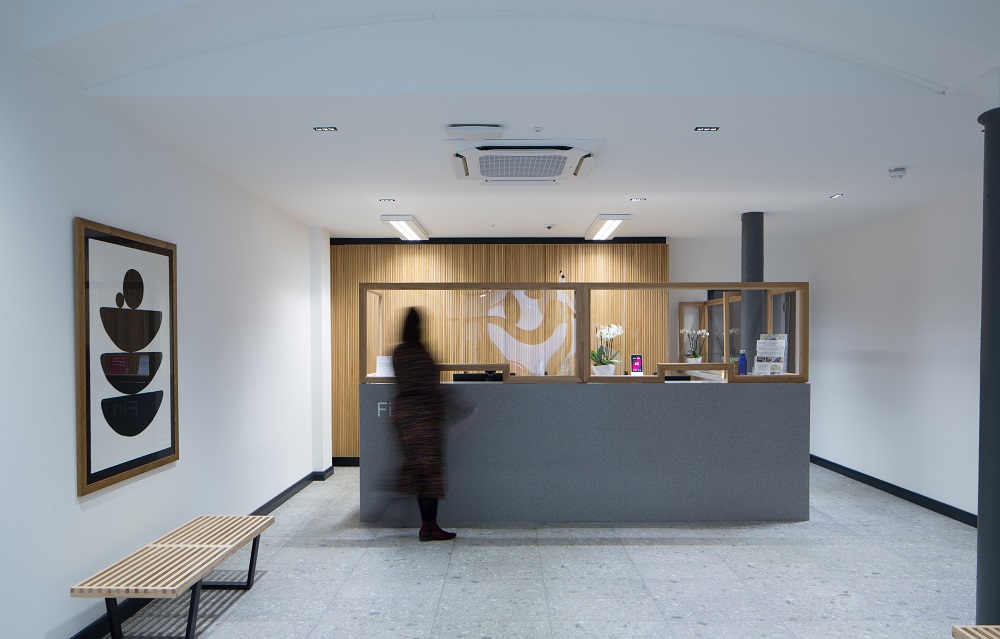 Zumtobel's MIREL and PANOS infinity luminaires were chosen for the latest FinTrU office refurbishment, keeping a consistent design signature throughout the company's property portfolio.
A good brand provides a distinct experience and evokes emotion from its customers, which is why a business needs to care about branding all the way through to its interior spaces. Extending branding to the working environment helps staff and customers understand who the company is and what makes them unique.
FinTrU, a multi-award-winning company specialising in the areas of KYC, Compliance, Legal, Risk & Controls, and Operations, works with Investment Banks around the globe designing technology-enabled solutions to help its clients meet their regulatory obligations.
It employs over 900 people worldwide across Belfast, Derry/Londonderry, London, Dublin, Maastricht, and New York.
The firm considers itself to have a fundamental social purpose of creating high-quality professional employment and cares deeply about its culture and values of Partnership, Passion, People, and Professionalism, which are embedded and are at the core of everything that they do.
FinTrU recently embarked on its latest office fit-out, following projects completed at its Pakenham Street and Gasworks offices in Belfast.
The key to the interior brief was to keep a consistent design, feel, and aesthetic across all FinTrU locations. On previous projects, FinTrU appreciated the 'cellular' appearance of the Zumtobel MIREL evolution luminaire, and it soon became a signature in the design scheme.
With this in mind, Zumtobel was the natural choice of luminaire supplier on the project.
The Zumtobel lighting design team worked with Colin Harvey Design and FinTrU to find the best solution for this latest office fit-out, keeping the design consistent and in line with previous projects, reflecting the company's ethos, while still delivering the lighting performance they had come to expect.
A winning combination to continue FinTrU's design language
Replicating the earlier office schemes, Zumtobel's MIREL evolution and PANOS infinity luminaires light the City Factory office.
MIREL evolution is fast becoming a popular stylistic choice for offices. An obvious departure from classic louvre luminaires, its distinct appearance integrates energy-efficient LED technology into a tried-and-tested stylistic idiom. The lenses and the light source of MIREL evolution are visible to the user and help create a striking design feature in the FinTrU office environment.
Complementing the MIREL minimalist luminaires, designers chose PANOS infinity downlights. A high-quality, highly efficient choice with a minimalist design and a luminaire efficiency of up to 135 lumens per watt.
The range incorporates unique LED technology that achieves a stable colour temperature of 3000 K or 4000 K throughout the service life of 50,000 hours and an excellent colour rendition of > Ra 90.
The winning combination delivers an excellent, highly efficient, and high lighting quality working environment for FinTrU employees and blends with their other office spaces for a consistent corporate identity.
The City Factory office layout differed from the earlier sites, presenting challenges for the designers. Alternative mounting solutions had to be found to position the MIREL luminaires on exposed cable trays.
Craig Gregory, Head of Office Facilities, FinTrU, comments, "At FinTrU, we aim to deliver highly effective workplaces for our staff members. The Zumtobel lighting scheme we have delivered in all our offices helps us to achieve this. Zumtobel's products are highly effective to achieve a close to natural light feel without the harsh output other products deliver. Once you have used these products for some time, it highlights the luxurious feel Zumtobel's range offers. They also have a catalogue of aesthetically pleasing fixtures which assist hugely when design is a focal point of the workplace."
For more information on Zumtobel please visit the website https://z.lighting/en/zumtobel/
Location: City Factory Office, FinTrU, Northern Ireland.
Project team: Colin Harvey Design, Webro Engineering.
Products: MIREL and PANOS infinity.
Photograph accreditation: Warner Corporate Photography.
Share this story