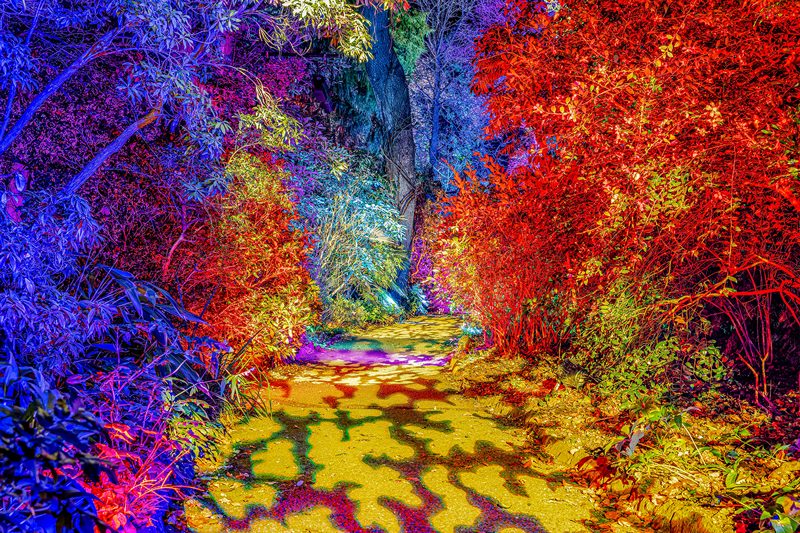 Ollie Titterington of O T Events Technicians knows every inch of the path that winds through Abbotsbury Subtropical Gardens for ILLUMINATE. That's not surprising; after three years of working on this winter light celebration at the historic garden (it dates back to 1756), he's traversed the event's well-planned route time and time again, visiting the site months in advance to look for optimal lighting positions.
Still, even Titterington couldn't help but feel a delightful sense of newness and discovery every time he walked down this year's ILLUMIATE path. Seeing the brilliant bursts of reds, blues, purples and other colours playing against shadows of forested paths never gets old. Neither does gazing at a fallen pine tree laying near scenic objects in a peaceful pond, all embraced by dreamy gobos. Nor does coming upon a classic statue that beckons at the end of a wooded path as it shimmers in light.
There is in the words of Titterington, a "continuous route of light, a canvas of colour," that has "no start or finish, all flooded with light" at this popular annual event, which has become a source of pride for all Dorset.
Helping Titterington and the O T Events Technicians team create this magic was a collection of CHAUVET Professional fixtures that included the Maverick Storm 1 Spot, Ovation E-910FC IP color-mixing ellipsoidals, and COLORado Batten Q15 linear, IP65 ratted lights.
These fixtures helped light a carefully-planned ILLUMINATE walk-through route that is just over one mile long. They also contributed to an electrifying 3.23 minute timecoded sound and light show that began in complete darkness, before unleashing its dazzling effects. W-DMX 4x f2 g5 receivers were used to send data to the Maverick Storm 1 Spot fixtures for this event, as they already have it in-built. The Ovation and COLORado units were hard lined DMX.
Whilst the Ovation E-910FC and COLORado Batten Q15 were used to create enchanting colour mixes along the event's route, the Maverick Storm 1 Spot was relied on the send dramatic shafts of light and gobos through the thick tree canopies. "The gobo selection in the Storm was excellent," said Titterington. "Abbotsbury is on the coast so gets lots of natural frosty haze and sea mist, which added to the impact of the gobos."
Like the vast majority of successful attractions, ILLUMINATE is constantly evolving. For example, this year's event had much more movement than previous editions; and it took guests deeper than ever into the garden.
"We work closely with the GM of Abbotsbury Subtropical Gardens,' said Titterington. "All of us involved are always looking for ways to expand and grow year after year."
Shaped by a philosophy like that, it's no wonder that ILLUMINATE always feels new.
Photo credit: Shazz Hooper Photography – Dorset.
Share this story