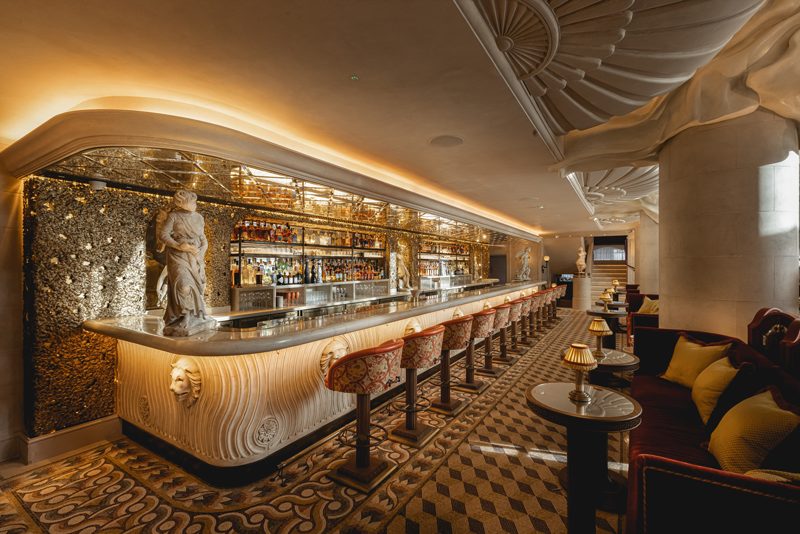 New restaurant from Caprice Holdings uses ABB building automation for precise control of lighting to create the optimum ambience 
When Caprice Holdings opened Bacchanalia in November 2022, the restaurant became an important place to be seen in London's Mayfair as well as one of the world's finest dining experiences. The menu is inspired by the finest Italian and Greek European dishes and is served by an expert team in a setting that features custom-made Damien Hirst sculptures, 2,000-year-old artefacts.
The restaurant's smart building technology thanks to ABB is another important aspect of the experience. It helps to create an inviting and relaxed atmosphere, while adjusting to reflect the time of day and the intensity of natural sunlight. Caprice Holdings asked smart building consultancy and contracting firm Intecho to design and deliver a project for Bacchanalia, having previously delivered schemes for other Caprice Holdings restaurants, Sexy Fish, Annabel's and The Ivy Asia.
"The ABB smart lighting system at Bacchanalia is designed to place the dining experience, menu and the diners themselves in the best possible light," says Will Brudy, Intecho's building controls team leader.  "Over the years, we've developed a good understanding of how Caprice Holdings uses technology to create an inviting atmosphere while freeing up front-of-house staff to focus on service."
Having had good experiences with ABB's i-bus KNX DALI technology at other projects for Caprice Holdings, Intecho turned to ABB again when it designed and delivered the smart lighting for Bacchanalia. The scheme combines data from light sensors and timing schedules to adjust the atmosphere seamlessly as service progresses through day, dusk, evening and night and ensure a comfortable ambience. Automation provides the benefit of greater convenience for Bacchanalia's front of house staff so they can focus completely on service. In addition, Bacchanalia can call on Intecho's experts to access the system remotely and immediately diagnose and resolve any issues that arise, for example by changing settings.
"ABB's i-bus KNX smart building technology provides the ability to create human-centric lighting that automatically changes the tone and brightness of lighting. Bright and white light works well at lunchtime but as the day goes on, it slowly transitions to a warmer and dimmer setting to create a more intimate atmosphere in the evening," comments Dean Reddy, ABB's Product Marketing Specialist for building and home automation solutions in the UK.
Smart building technology can also help the hospitality industry act more sustainably and control costs by dimming lights, controlling shading and adjusting the HVAC (heating, ventilation and air conditioning) to reduce energy consumption.
Image credit: Johnny Stephens Photography.
Share this story