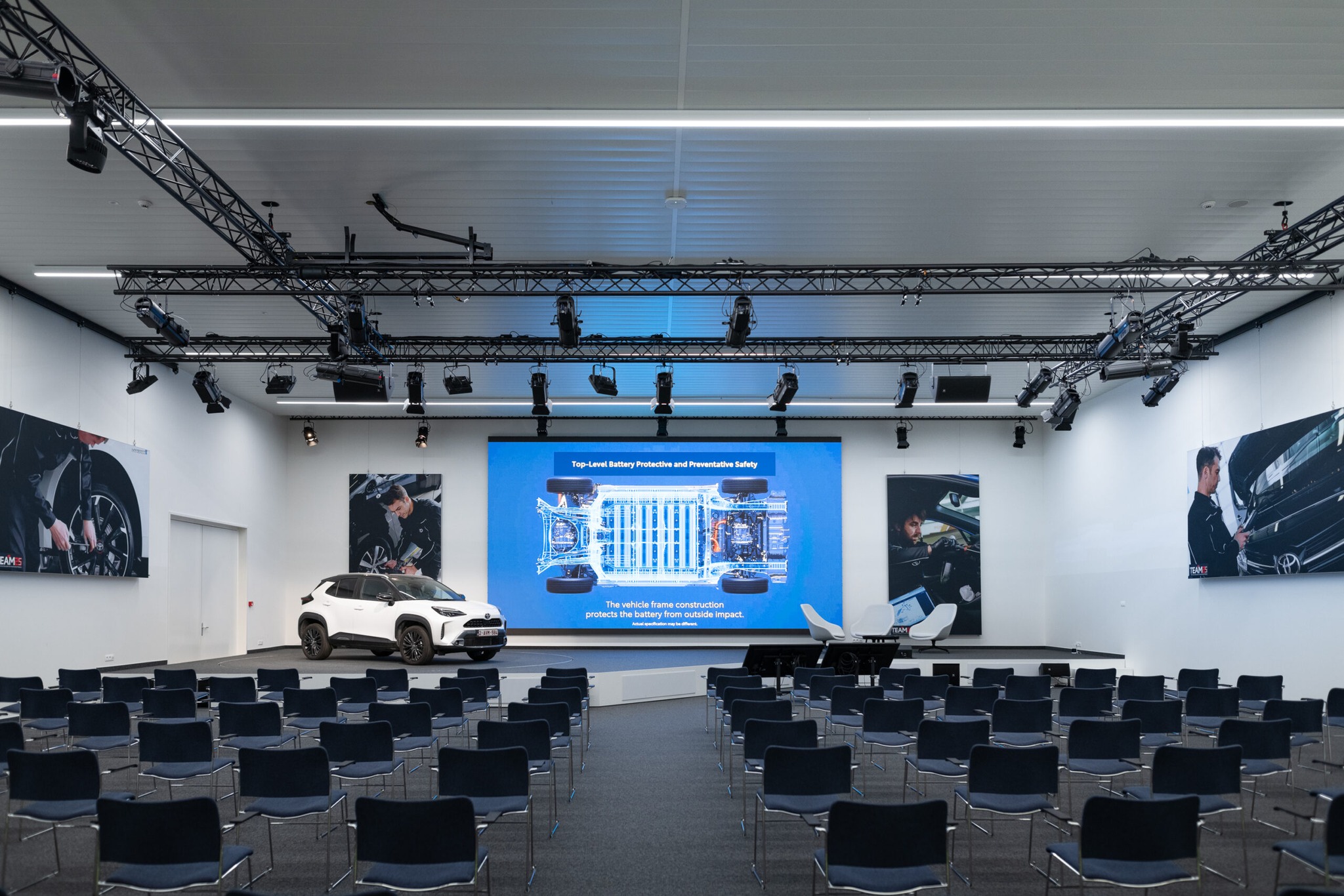 Toyota Motor Europe has had plenty of exciting developments to share with customers and the media of late thanks to its impressive array of recently introduced hybrid and electric vehicles. Now, with the opening of its Brand Experience Centre, it also has a sleek and engaging new platform for highlighting these innovations.
Located in a former workshop that has been transformed into a contemporary auditorium complex, the new facility features an event space/theatre, studio, and Sky Lab meeting rooms. Auvicom, which has been a major AV supplier to Toyota Europe for over two decades, was responsible for the design and equipment installation at the new centre in consultation with the D-Side Group event agency.
The facility's 400 m2 events space is fully equipped to stage press conferences, product launches and other live happenings, including recording and live-stream broadcasts. Auvicom has ensured that these activities will all take place in a supportive and optimal setting by installing a full AV system that features a 33m2 LED wall, a fully functional control room, PTZ cameras, microphones, sound-and-image systems, and an advanced lighting rig, which in keeping with the environmental commitment of the company and its client, is comprised of all LED fixtures.
Featured in this lighting rig is a collection of 34 CHAUVET Professional fixtures, including five Ovation F-145WW Fresnels, five Ovation E-260WW ellipsoidals, six Ovation F-265 Fresnels, and 10 Ovation CYC1 FC units, as well as eight moving fixtures, four Maverick Force S Spots, and an equal number of Rogue R2X Washes.
A flexible truss structure controlled by eight automated hoists makes it possible to position these fixtures precisely for any event. Thanks to this flexibility, the lighting fixtures, which are controlled by a ChamSys MagicQ MQ80 console, are easily moved to serve different functions depending on the needs of various events.
With their high output, colour mixing prowess, wide zoom ranges, and 16-bit dimming, the eight Maverick and Rogue moving fixtures are called upon to create dynamic looks for key moments in events, such as the start of product introductions. These fixtures are also used to highlight speakers and products.
The Ovation ellipsoidal and Fresnel fixtures are relied on to provide smooth, even key lighting and stage washes for presentations. Their colour temperature and flicker-free, quiet operation make them ideally suited for lighting livestreams.
In addition to overseeing the technical design and equipment installation at Toyota Europe's Brand Experience Centre, Auvicom provided extensive training to the technical staff to ensure that they are able to derive the maximum benefit from the new facility.
"For more than 20 years, we have been one of the major audio-visual suppliers of Toyota Europe in Brussels," said Bart Van Den Daele of Auvicom. "We are proud that in this project we have shown our capacities and know-how."
Anyone who visits this impressive facility would readily agree with that!
Share this story